428 Favourites
62 Comments
4K Views
So I had a phone call with my bank and then I made this....

But jokes aside, it was of course inspired by the last season of Game of Thrones.
Not
based on
, so no spoilers to be found here, just sort of an interpretation of the whole thing in a vague way.
I worked most of the time in black & white but at the end I was plying with color toning and came up with this edit.
I... think it's better than the original but I'm still not too sure, so in the end I couldn't decide and had to post both.

Find the original one here: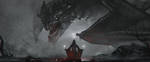 These are downloadable as wallpaper for monitors up to 4k 21:9
As usual, an animation of my process can be found here: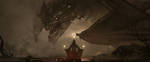 For commissioned work, send me a note here or e-mail me at roger.creus@digitalrowye.com
My online portfolio:
Follow me:
Instagram · ArtStation · Behance · Facebook · Prints and more
---
Stock used:
Magical and Mystical - 14
E S Black dragon
pixabay.com/illustrations/mons…
---
More dragons: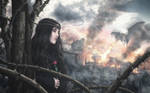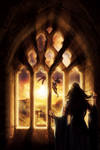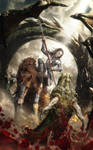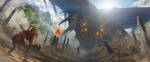 Image details
Image size
3840x1600px 3.15 MB