Description
This is my entry for
After the end - Digital Art Contest
.
In this post apocalyptic future AI has taken over and now controls the previously most populated areas.
Humans are relegated to the wilderness where they can avoid AI drone surveillance.
And they better hide well as their fate is cast if they are discovered.
....Super original I know. xD
Again trying stuff out with Daz3d, finding ways to blend the 3d in...
Lots of fun to be had posing people and playing dress up haha.
Let me know if the 3D is too obvious.

Process animation here \o/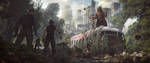 For commissioned work, send me a note here or e-mail me at roger.creus@digitalrowye.com
My online portfolio:
Follow me:
Instagram · ArtStation · Behance · Facebook · Prints and more
---
Stock used:
Skull Hill By Sweetbananadreams (1)
Tree Stock Photo DSC 0080- PNG
pixabay.com/photos/plane-wreck…
pixabay.com/photos/airbus-a380…
pixabay.com/photos/sheep-choud…
www.photobash.org/red-creek
www.photobash.org/tropical-hil…
www.photobash.org/deciduous-tr…
www.daz3d.com/atlas-armored-su…
www.daz3d.com/brown-bear-by-am
---
More of my art: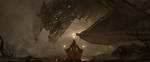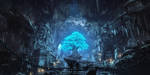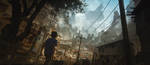 Image details
Image size
1920x807px 1.92 MB