Well it's been a while since I posted any new art... Finally had some time to do personal art now, but then I got sick so meh! xD
See what else I come up with but for now, speed testing myself... Done in about 5 hours inspired by lately playing the Fallout series.
My idea is that it would be cool to do one of these per evening (with the fail ratio that entails xD), but for that I need to not be coughing my lungs off so hopefully soon...

I recorded this for a YouTube speed art video:
Also, as usual I made an animation:
For commissioned work, send me a note here or e-mail me at roger.creus@digitalrowye.com
My online portfolio:
Follow me:
Instagram · Facebook · ArtStation · Behance · Prints and more
---
Model:
The Mercenary - 1
Photos from packs by
Photobash.org
,
And everything else from
Visualhunt
:
visualhunt.com/f2/photo/135113…
visualhunt.com/f2/photo/553349…
visualhunt.com/f2/photo/136110…
visualhunt.com/f2/photo/110510…
visualhunt.com/f2/photo/379548…
visualhunt.com/f2/photo/334230…
visualhunt.com/f2/photo/822579…
---
More of my artworks: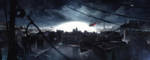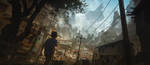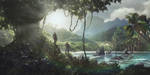 Image details
Image size
7872x2536px 26.39 MB