I documented my current workflow and process a bit! Hopefully this displays properly- I don't think I've made a Deviantart journal
since Stash was introduced,
ha oh god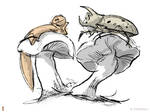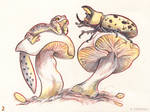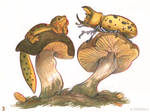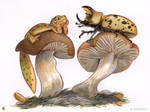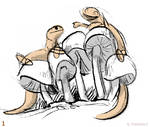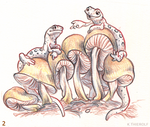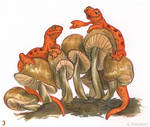 I do a ton of ballpoint and graphite sketching, but when planning a complicated traditional piece I prefer to play around with gestures and forms digitally.

The initial digital sketch was refined a little, and then transferred to paper using whichever method you prefer. For these I printed them out and used the good ol' tape it to the window technique, but I much prefer a projector, printer, or lightbox when they're available! I put down extremely light graphite lines before jumping right into an application of colored pencil lines and little bit of tone blocking to put my mind at ease. I'm using 140 # Fabriano hotpress watercolor paper('natural white' instead of 'extra white', which accounts for the inconsistent yellowish backgrounds oops) and Prismacolor colored pencils.

Blocking in some base colors with watercolor! Really, you could use a multitude of things for this step; marker, acrylic wash, gouache, brush pen, inks…I've just come to enjoy this particular combo of paper, pencil, and paint. For larger projects I'd most definitely have an involved color comp to work off of, but the palettes on these were fairly simple.

The final step: attacking the painting with alternating layers of pencils, a smidge of white gouache, and more watercolor! …Or whatever gets the job done, really. This is where I appreciate the waxiness of Prisma pencils, as they (usually) layer beautifully on the hotpress paper. I enjoy working greys and blues into warm watercolor bases, as you can probably see. Somethin' satisfying about it. :]
After completion I make any necessary touchups, erase stray graphite lines, remove border tape (if any), and give the whole thing a layer of matte spray fixative for protection. Then comes scanning and digital processing, what fun!

Feel free to comment here with any further questions! I lived for this kind of thing when I was a kid, so I'd love to share as much as possible.

This post is also on Tumblr, here and completed artwork is below: