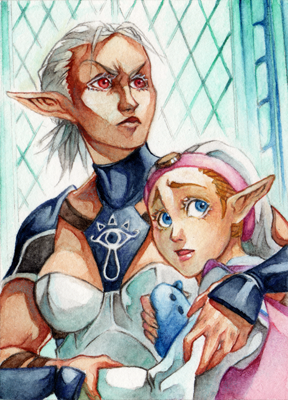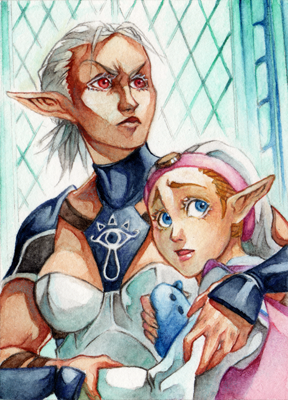 Watch
The Legend of Zelda series is definitly my favourite game serie ever. I havn't played all titles, mostly because of the lack of consoles. XD But the ones I played are really great both in gameplay and design. So I decided to make an ACEO serie featuring some favourite characters of the series (to pratice my watercolor skills - damn, I just love watercolors althought I'm using it like a moron! XD).
I start with Ocarina of Time for it has been the first title I've ever played and which I like the most till now.

Wahnsinn! DAS hast du auf eine Kakao bekommen?! Es ist wunderschön! So fein mit Aquarell zu arbeiten ist wirklich krass! Ich bewundere dich dafür!
Reply

Wow! I love the range of techniques you've used and how defined Impa's cheekbones are! I also love how radiant the sun glow is behind the two!
Reply

This is so awesome. Ocarina of Time is my first and favorite too!
Beautiful work.
Reply

Reply

Very beautiful colouring and details! I heard the LoZ is a great game series ^^
Reply

This is a great drawing! I love the shading >3<
Reply