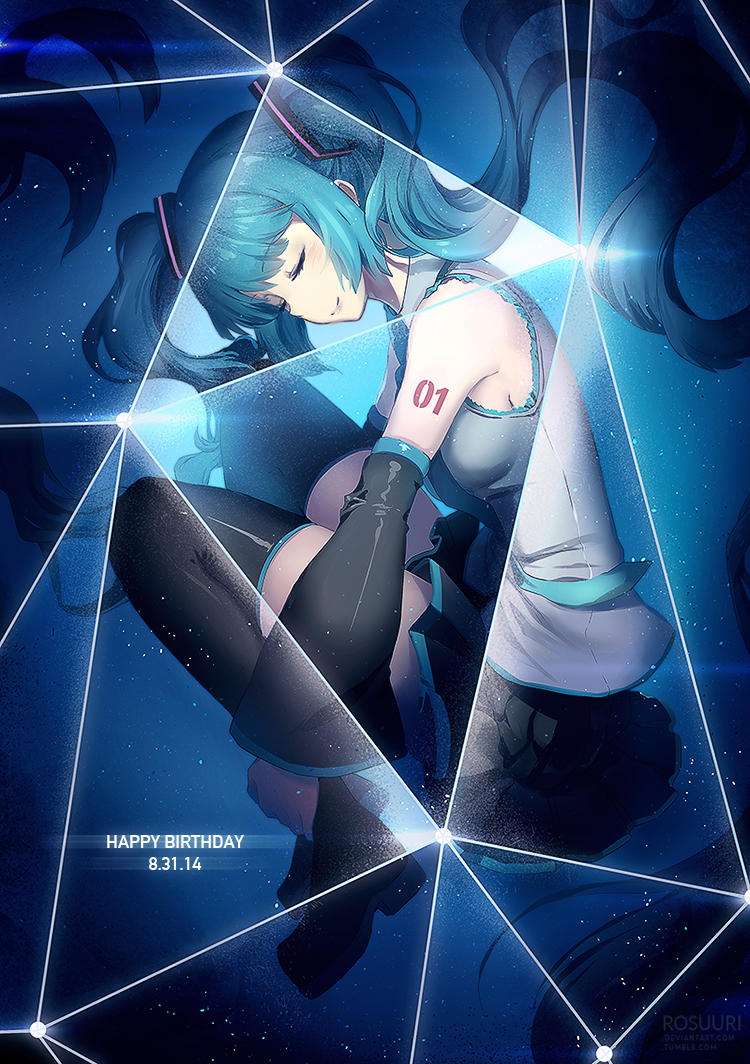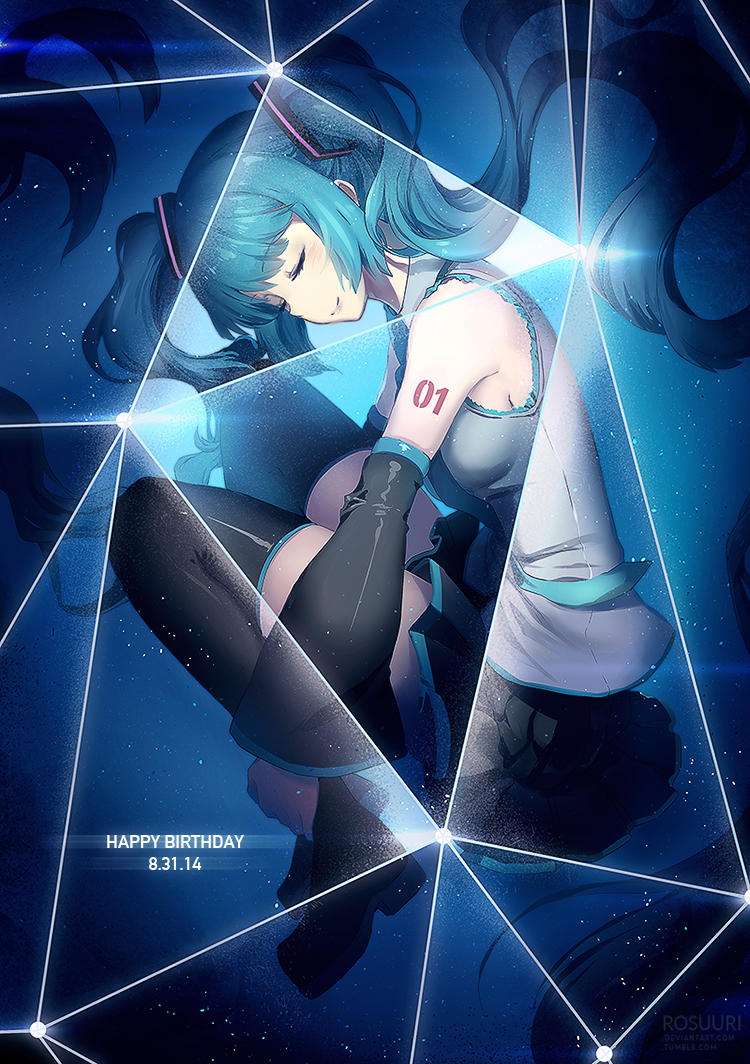 This is the full version of the phone wallpaper version I posted a month ago.
For our virtual diva--Miku's birthday!!

I'm so proud of her, she's getting more and more popular! ; v ;

This illustration will be included in a collab Vocaloid fanbook me and cherriuki are doing. It will be released by the end of the year!



Progress shots on Tumblr - rosuuri.tumblr.com/post/996638…

Posted in Pixiv, Tumblr & Tokyo Otaku Mode a month ago!





---
Frequently Asked Questions
Webcomics: Alice's Cross | Spider & Rain
Other Links: Twitter | Tumblr | Facebook | Pixiv | Prints Store }
The colors you chose for the project are really lovely, seeing as you went with Miku's color pallet itself and went off it. The actual drawing itself it's strikingly beautiful and leaves an impression on me. Miku is neither human nor robot. She is a Vocaloid that has fought her way into our hearts with her beautiful songs. And you captured this perfectly. The fetal position is something I see often in serious Vocaloid fan art and it works nicely. You pulled it off very well here and I can feel that you put a lot of effort into making the position seem natural. All in all it is a very lovely piece and you should most certainly be proud of it.
The Artist thought this was FAIR
73 out of 76 deviants thought this was fair.
this honestly looks really nice. the colors, the background, and the position are very stunning and honestly perfect! they're honestly really beautiful.

what i first want to mention is how you have a very constant style, and that is not necessarily a bad thing, but it can affect originality. i think the position, the face, and the head shape are some things you should really work on putting some difference in. like, try to make characters and just people in look more diverse. i honestly see how you add diversity too breast size, hair, accessories, and glasses, but i feel like its not enough. there is little body diversity, racial diversity, facial, headshape, and weight diversity seen in your art. while your art is honestly so beautiful, it has SO much more potential, and i mean A LOT more potential. i think how i see your art looking the same in the ways i mentioned honestly brings down the impact of your art for me.

also, i've noticed this in your art too, but there is a pretty big anatomical mistake with legs it seems? normally when someone is in a fetal position, they're knees arent able to be at the same level with the top of their head, or even above the head. usually, the legs go around the chin area or a bit below, depending on the length of the persons legs. also, it seems like the legs are almost too large. i dont know how to explain it, but the upper thigh isnt usually bigger than the torso, ESPECIALLY on somebody as skinny as miku. what i really think you should do is try referencing more when drawing, because honestly other than the legs, the anatomy looks 100%.

anyways, i think that the only thing you should focus on for now is originality, impact, and anatomy. your art really is beautiful !
The Artist thought this was FAIR
14 out of 15 deviants thought this was fair.