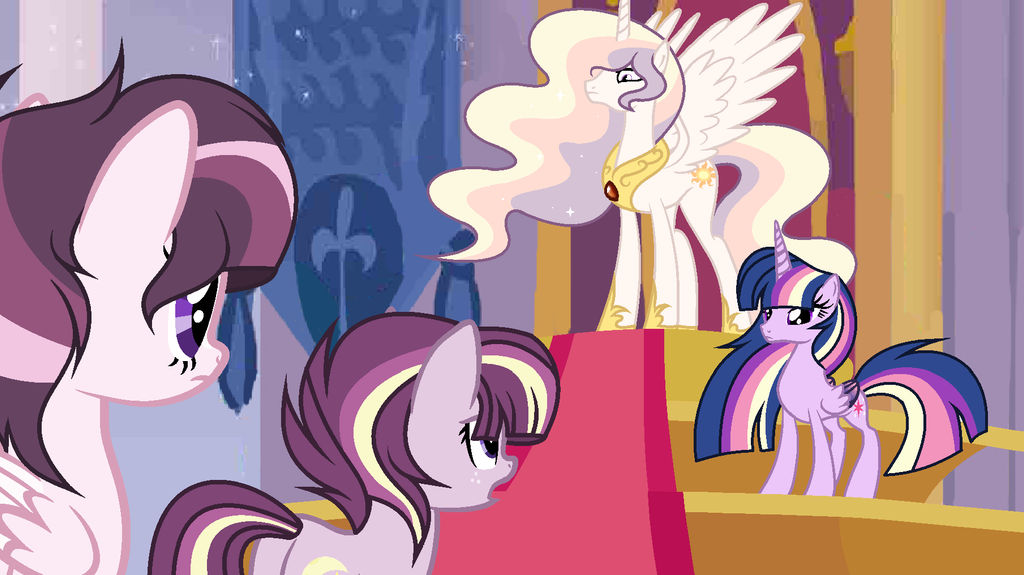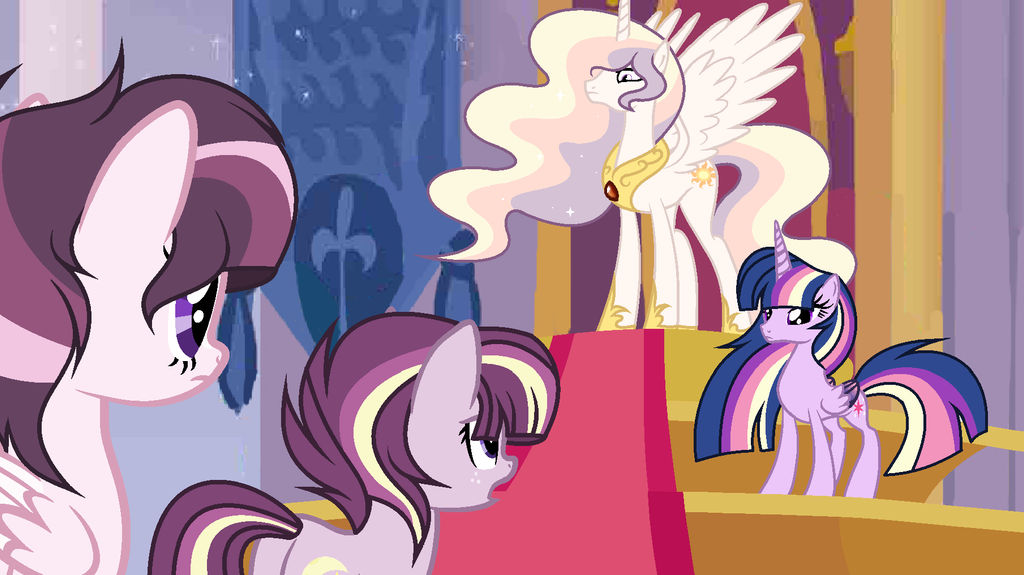 Base:
ZoZoRaRaRa
Celestia's and Twilight Cutie mark's by:
BlackGryph0n
Castle background by:
theirishbronyx
Celestia and Twilight belong to: Hasbro -I created the older designs for them-
Mystery Moon and Dreamy Daze belong to: Me
-Also yes I know Celestia's gem on her chest plate is purple and a different shape. But I wanted to give her a sunstone on her chest plate instead ;w;-
I don't normally write so forgive me if its bad. This is gonna be part one to the first story in the rosyverse
In relation to:
RosyVerse: Yes Mother
Celestia and Twilight Sparkle were in the middle of a meeting when Mystery Moon and Dreamy Daze trotted in.
Twilight: Dreamy? What are you doing here?
Dreamy: Well erm...You se-
Mystery: Something bad is gonna happen!
Celestia: -looking at Mystery- And what exactly would that be?
Mystery: Well...I umm...I don't know exactly. But I just get the feeling something is gonna happen! And its not good..
Twilight: -She looks at Celestia and then back at the two infront of her- What exactly are you talking about?
Mystery: Well...Something just doesn't feel right...I just have a bad feeling that Canterlot and Ponyvill are in deep danger...
Celestia: -She was still staring at Mystery- How sure are you on this?
Mystery: I...-She hesitated a moment thinking- I'm 100% sure something isn't right..
Celestia: -She sighs thinking for a second- I'll...I'll have some guards search both Ponyvill and Canterlot.
Twilight: -She looked at Celestia about to say something but decided not to-
Celestia: You girl can head home and I'll talk about this with Luna more
Twilight: Right. See you soon Celestia. -She walks toward Dreamy who waved bye at Celestia and Mystery-
Mystery: -She glanced at Celestia bowing and turning to leave-
If you guys wanna take guesses on Whats going on let me know ^^