COUNTDOWN

You may use this Roseilorn base for your NPC designs!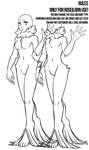 It has all of the usable traits on it for the contest, but does not have hair options, sorry!


NPC Creation Contest
- Design NPCs for the world of Roseil.
RULES
You may use any traits up to SR (no Legendary, No mutations)

If you win, your design will become an official Roseilorn NPC! This means you will not own the design. Rights to the design go to the Roseilorn group.

If you do not win, you may keep your design, however if you used any R or SR traits, you must either:


A) Edit the design so that all traits are C/UC.
B) Purchase a MYO slot for the appropriate rarity. (e.g. if your design contains a SR trait, you must purchase the SR MYO slot)

Winning designs may be edited or altered, and in some cases, only portions of the design may be used. You will still be credited! Your art will not be edited or altered. Any changes will be made when the design is redrawn for official use.

You may enter more than one design, and you may win more than once!
You may only keep ONE non-winning design for free.
Additional non-winning designs will require a rarity appropriate MYO slot to be purchased in order to keep them. (e.g. If you enter 3 designs, 1 wins, but 2 do not, you may keep 1 design for free, so long as you edit the traits to be C/UC in rarity. The 2nd design must be discarded, or a MYO slot purchased for the appropriate rarity. You MAY edit your design to a lesser rarity, but you still must buy the slot affiliated with it.)
PRIZES Winners:
There is no set limit on how many can win this contest. Any winning designs will receive a SR Roseilorn MYO slot, and 500 Bloom.
NPCs needed:

-Banker
-Tailor
-Jeweler
-Doctor
-Mod shop (trait upgrade shop)
-Casino
-Historian
-Pet shop
-Holiday Focused NPC (xmas, easter, v-day etc..)
And whatever else you can come up with! Get creative!
DISCLAIMER

By entering this contest, you are giving the Roseilorn group the right to use your entered NPC design as we see fit, should it win. The Roseilorn group will hold the rights to the design, and designs may be altered as needed. Proper credit for the design will be addressed in the masterlist/official reveal of the new NPCs.

Congratulations!! You found it! Your prize is a C MYO Slot!

A serial number will be PM'd to you, please keep it for your records :>