MAY W/DTA WINNER
This month was even harder to chose who won the DTA/WTA design! You all gave me such wonderful stories and art to look through.
In the end, the winner wrote a story that pulled at my heartstrings, hinting at a time before the Roseilorns were secluded in Roseil.
LadyEmeraldAFalcon

A Sirens Song, May DTA/WTAA sweet sound rippled across the waves the fog rolling across the seafoam as the crashing covered the ghostly sound. It happened every night, the sweet lonely sound that drifted along the waters toward the sleeping town. So unlike the others, a distant bloom away from the cluster. How he wished to be among them. To walk along the paths they walk. To replace his algae eye with that of the pretty flowers they loved. He had seen the petals drifting on the surface. He collected them and kept them in the shells below, stared at him when he became so lonely he couldn't take it anymore. Tonight was a special night though, it was the night that he had found someone who had embraced him.
They had met on the docks during the festival they celebrated. The other had been dropping lilies into the water, sweet and just bloomed. He had loved the white flowers and how they mixed with the swirling bubbles and mixed. The sweet yellow pollen speckling the rushing white. He had stared up at the othe
I hope this sweet, sad bean is able to find eventual happiness with you, Emmy! Congrats!
Here are the other entries, please take a look! They were all incredibly wonderful as well!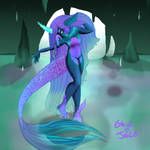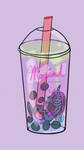 ---
UPCOMING EVENT ANNOUNCEMENT
The Festival of Saint Roseil
June 21st - July 28th, 2019

There will be raffles, contests, games, etc during the summer festival!

An official announcement will be made closer to the festival date, with more details on what you can expect!
You can learn more about the festival here!