This is

with our tenth interview with
twobeafe
Interviewed and Edited by
RoosterStencil
!!
Where are you based?
Im from a small country, El Salvador, Centro America.
When did you begin painting graffiti?
When I was 16 years old, but I was stopped painting by the police when I was 17, it returned my way in the following years when I start in the university.
How did you get into graffiti and what made you start painting?
I started painting graffiti because of a friend, he showed me photos and sketches. He explain me what is graffiti about, We were just kids.
How did you choose the names that you write?
For my life style, my family and my love at the time (2005) that is my reason for twobe.
Do you write with any crews and if so which ones?
I painted with: UCB from Guatemala city, with my friends Veck16 and Able, Chacuatol Crew both Nicaragua and many crews of my country for example Apk, Uk, Bak, Cke, NoName, ESC and my own crew Hell Acmez.
How would you describe your style?
Like a style that begins with many influences like popart, liquid, plastic and comic horror but mainly I like to describe it as something clean and with much patience with lots of enormously although I need way to cross, simply it is my passion I believe that describes it.
Where did you paint your first piece?
Hidden behind a residential part of my city.
What are your feelings on the graffiti and street art scenes in the
El Salvador at present?
I feel that we need to do much more to be able to even raise our country, but like in all scenes people who go by very good ways and the people who not yet know the do it. Simply I believe that we go by a good young way and with a great enthusiasm.
Have you done many collaborations with artists overseas or
travelled abroad for your art and if so then where is the most
exciting or interesting place you have painted?
I got shock by Nicaragua's art specially by illegal art.
Do you see yourself as an artist or a graffiti writer?
I would like to be classed as both but I live my life like graffiti writer.
There is a very fine line between those who view graffiti
as art and those who see it as vandalism, what are your views on this?
I think that the people don't get wrong because the graffiti always going to be a street art but we will never live the illegal way. Everybody starts the same way, the only thing that it changes is in which we wish to get better.
Have you ever 'felt the long arm of the law'
because of your art and if so can you tell us about it?
I've felt it but graffiti in my country is automatically believed to be related to gangs, for that reason we get mistreated because the police think that we are gang members.
What is the biggest risk you have ever taken for your art?
Thank God I've always been safe, I never wait for my blessings to change.
Where is the most obscure place you have ever left a tag or piece?
In a freeway totally without illumination hidden between the shrubs!
What is your preferred tool for making marks with?
Cans: Aero Comex and when I have some money MTN!
What is your colour of choice?
Red, Black, Green Moss and Pop colors
Whats your Favorite Piece you have done?
None, I always think that it could be better. I only like them when I finish them.
What are you working on currently and what plans do you have for the future?
At the moment only studying, but I plan to live through my art and to combine it with my study and thus want to manage to be the first store that sells clothes with my style and aerosols like Montana or Ironlak.
What kind of music are you into?
I like to listen to fast music that gives me energy like metalcore, posthardcore, deathcore, drum & bass and also for the moment of inspiration instrumental and environmental music.
Anything else you would like to add?
I do not want to be the best one, but I want to be remembered and I want to continue living my life with the graffitti as the have been living until now and hope to arrive at places that no one in my country has gone and also thanks to the people in charge of all this and all of those they read that this.
We are from different countries and different languages but we have something unites to us. We grow with humility and we unite this, respect for the old school but now we are becoming the new school.
Peace respect and blessings.
Twobe.
Thank's Twobe!
I have done my best to edit this, so I hope you enjoyed the interview!
Here is some more of
twobeafe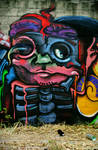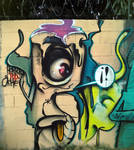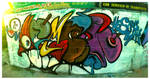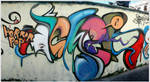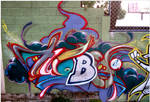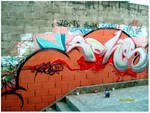 Don't Forget to Click the love heart top left if you enjoy the interview and check out

and our other interviews!!