This is

again with are forth interview with

interviewed by

!!
Where are you based?
In Hoofddorp (the Netherlands), close to Schiphol Airport and Amsterdam.
When did you begin painting graffiti?
I started writing graffiti about 6 years ago.
How did you get into graffiti and what made you start painting?
I read an article that told you how to do graffiti, step by step. The article wasn't really useful but together with a friend I started writing.
How did you choose the name Setik01?
I wrote down the alphabet and I chose my favorite letters. I mixed them up and placed them next to each other in a way that made sense for me (for the composition of the total piece).
Do you write with any crews and if so which ones?
My crew is SDC (Static Dynamic Crew) and apart from that I also write FF (Fresh Force) with my friend Gaos.
How would you describe your style?
A blend of oldschool graffiti and modern graffiti style. It's in between, I think. I want the letters to be the fundament of my piece, and sometimes I use arrows or other shapes to create more balance in a piece.
Where did you paint your first piece?
I cannot really remember the first one but it must have been in my hometown (Hoofddorp).
What are your feelings on the graffiti and street art scenes in the Netherlands at present?
My town does not have a lot of writers, but those who write make good pieces, and some of them are well-known in the Netherlands. Most of them are older (I'm 19 years old) and used to do a lot of illegal graffiti years ago, nowadays they paint productions. Because I live close to Amsterdam and Haarlem you also see a lot of work from those 2 cities, and other surrounding places. It's both a lot of legal and illegal graffiti, I think it's ok. I just don't like the 'beef' stuff between writers but that doesn't just count for my town.
Have you done many collaborations with artists overseas or travelled abroad for your art and if so then where is the most exciting or interesting place you have painted?
I have only painted abroad twice, that's because I'm still young and of course I would like to travel a lot more in the future, whenever that's possible. I once painted in Nottingham (UK) and that was great. I also painted a wall in France with my cousin 'Kreas'.
Do you see yourself as an artist or a graffiti writer?
As both, I write my name but I try to do this in an artistic way. I never understand writers who say that graffiti is not an art. Paint brands don't have huge color ranges for no reason, and what's the use of improvement and research for paint brands if writers would only damage things and graffiti is not supposed to be an artform..? Maybe writers say that because the situation was like that 20 or 30 years ago but graffiti has developped so much over the years, which makes it hard to deny that graffiti is not (or cannot be) an art.
There is a very fine line between those who view graffiti as art and those who see it as vandalism, what are your views on this?
Graffiti nowadays has so many styles and categories, that it can be an art, but it can also be seen as vandalism. I prefer doing legal graffiti because in some way it forces you to do things better the next time you paint. You exclude factors like a time limit and possible stress so you are able to create pieces with higher quality. Sometimes it's also possible to make high quality pieces when you go out at night but it's a big difference.
Have you ever 'felt the long arm of the law' because of your art and if so can you tell us about it?
Not so long ago I painted a wall with 2 friends of mine at daytime and suddenly the police came by. It was a risky spot. We had to come with them and they brought us to the police station. After hours of waiting we had to explain why we painted there etc. etc. but I never had to pay a fine for that. I once got a fine for carrying spraycans with me in the middle of the night... but I paint on legal spots most of the time so I never have big trouble with the law.
What is the biggest risk you have ever taken for your art?
Except for some running away from certain spots, I never had to do any really crazy stuff.
Where is the most obscure place you have ever left a tag or piece?
Abandoned buildings.
What is your preferred tool for making marks with?
A spraycan, I think it gives the best result.
What is your colour of choice?
My favorite colors are blue, purple/pink, red and yellow. It's hard to choose just one because I always put more colors in one piece.
Whats your Fave Piece you have done?
I have more personal faves, but the most recent one is a piece I did with a Johnny Bravo character next to it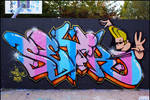 What are you working on currently and what plans do you have for the future?
I study graphic design so lately I put less time into sketching and painting.. but I try to work on my style-development. In the future I would like to paint bigger productions, with better backgrounds. And of course I want to travel to all kinds of countries to paint.
What kind of music are you into?
I listen a lot of 70's funk and breaks / 70's 80's 90's Hiphop.
Anything else you would like to add?
Shout to my crew SDC and my friends Boks and Gaos.
Another Great interview thanks for your time...
Here is some more of Setik01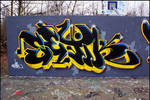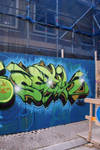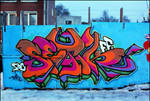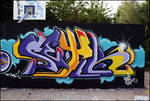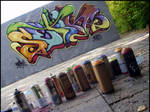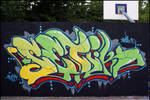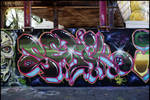 Don't Forget to Click the love heart top left if you enjoy the interview and check out

!!