This is

with our fifth interview with

interviewed by

!!
Where are you based?
Latvia / Riga city.
When did you begin painting graffiti?
I started to paint on walls in 2003.
How did you get into graffiti and what made you start painting?
I think it was like a natural progression. I was doing drawings since I was a two years old kid and then I later began to understand I was drawing in a similar way to graffiti I saw on the internet.
It was also around the time I started to skateboarding. All the skateboard fashion is full with street art and so I think it's one of things that inspired me to do it.
How did you choose the name Saim?
Actually everybody here in Latvia knows me as SAIM (Saimis), it's been my nick-name ever since I started to skateboard. The name KIWIE is my characters name, I just wanted to call him in a word which would provoke nice associations in people, and when I thought what kind of word it could be I had a kiwi fruit on my table.
It's green, it's full with vitamin C, it's positive! I decided put an 'e' on the back of kiwi making KIWIE… it's dynamic, it's simple, it's cool to write on a wall as a tag and simple to remember for everyone who doesn't know what a Kiwie is! At the start it was strange… but then it became natural and I can't imagine him being named any other word.
Do you write with any crews and if so which ones?
Yes, here in Latvia I have a lot of friends who do graffiti and actually everybody knows each other. I paint with SAKI, TRON, FROST, CUE, ACME.
How would you describe your style?
I don't know which sort of styles I'm in to. When I started to paint I loved everything in 3D, all with shadows and other effects, but then I realised that 2D pieces are fresher and it's more fun to draw them, fast and with dynamic lines. A real pleasure! Now I try to mix 3D and 2D.
Where did you paint your first piece?
It was near my village where I grow up on some old wall.
What are your feelings on the graffiti and street art scenes in Latvia at present?
Here in Latvia graffiti is pretty new stuff compared with other countries. There was like a …new wave… in 2004-2006 when I think there was an explosion in the graffiti scene and also in street art. Posters, stickers, throw-up's, pieces… everyday something new.
Anyway… I think Latvia is just starting out, there are many new artists here with big potential and awesome styles.
Have you done many collaborations with artists overseas or travelled abroad for your art and if so then where is the most exciting or interesting place you have painted?
I'm a pretty young artist, that's why I mostly paint in Latvia with my homies. I'm planning to do a trip this year and make contacts with artists/writers from all continents. If we talk about a place… I think the most exciting place where I have painted is in mountains… near Nica in France on some rock.
If we are talking about about hardcore, then it's definitely spot's on roof-tops here in Latvia. A lot of old abandoned buildings from CCCP times.
Do you see yourself as an artist or a graffiti writer?
It's pretty hard to tell. I don't like to say I'm a street artist because I do a lot of bombing, tagging and throw-up's… or a writer because of characters, stickers, stencils and posters that I love to make. I just do everything I like to do.
There is a very fine line between those who view graffiti as art and those who see it as vandalism, what are your views on this?
It's definitely vandalism… but beautiful vandalism!
I think it's stupid to say "it's not a crime"… It is… and that's one of the best things about graffiti!
Have you ever 'felt the long arm of the law' because of your art and if so can you tell us about it?
I need to check my back all the time. There have been situations when we ahve had to run from cops, or security, or just from stupid angry people! Just need to be careful and keep your mind fresh.
What is the biggest risk you have ever taken for your art?
To paint on Police car, while policeman is siting in car and drinking coffee.
What is your preferred tool for making marks with?
Basically i use only cans.
What is your colour of choice?
When I was a kid I hated purple, yellow, brown… but now I understand that no matter what kind of colors you use, that even with some really bad colors you can make some pretty fresh pieces.
Whats your Fave Piece you have done?
Got a lot of them, honestly, every piece is full with memories and emotions. I think it's because when I go to draw in day light, at some chill spot with my friends, that's the time when I can rest from busy days. It's like meditation, I don't think about any kind of problems, just listen to my iPod and chill.
At night it's different, it's more hard-core. I'm concentrated more on the action and so there's no time for other thoughts or problems.
What are you working on currently and what plans do you have for the future?
I'm working now on my web page, www.thekiwie.com, and plans for this summer - together with my homies, we will travel around europe to paint wall's!
What kind of music are you into?
I'm listening old school hip-hop, funk, electronica, dub-step and jungle.
Anything else you would like to add?
graffiti is like porn, look's nasty, but feels good!
Great interview thanks for your time...
Here is some more of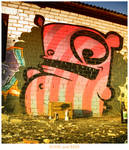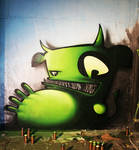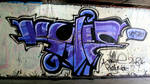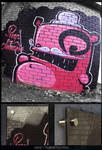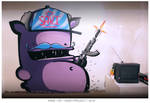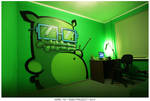 Don't Forget to Click the love heart top left if you enjoy the interview and check out

and our other interviews!!