Hey this is

and this is are first interview with

interviewed by

!!
Where are you based?
Liria, a small town in the Eastern side of Spain 25 kilometres from Valencia city.
When did you begin painting graffiti?
At 16 aproximately.
How did you get into graffiti and what made you start painting?
Because of some friends who started to paint. Just curiosity. I've started to involve into it just sketching all day whereever I could. And then my recent years sketches have improved.
How did you choose the name 'Shit/alive'?
'Shit' just means I was fed up with all things surrounded me around. When I chose it was not my best age and 'alive' means a resurrection, and it's more stylish.
Do you write with any crews and if so which ones?
No, I've never been a part of a crew. Always on my own.
How would you describe your style?
I like clean letters on the walls but I try to do new things writing on paper. I like to choose different colours and styles in every new sketch.
I' think it's still very poor off the streets but so developed through sketches and stencil canvases.
What about your stencils?
I like clean lines and shapes. One colour made it once. Most influed from pop art and tryin' new things too: faces, architecture, skylines, famous portraits and titles (not tags).
Where did you paint your first piece?
In an abandoned factory . . .
What are your feelings on the graffiti and street art scenes in Spain present?
Valencia it's truly developed on graffiti art.
Have you done many collaborations with artists overseas or
travelled abroad for your art and if so then where is the most
exciting or interesting place you have painted?
No, I haven't. My only colaboration with CEIS.
Do you see yourself as an artist or a graffiti writer?
As an artist!
There is a very fine line between those who view graffiti
as art and those who see it as vandalism, what are your views on this?
Art if it's well done. Crime is for toys, you know!
Have you ever 'felt the long arm of the law'
because of your art and if so can you tell us about it?
Yes once. Some private guardians at metro station caught me after tagging on the bottom of a window.
What is the biggest risk you have ever taken for your art?
Crossing a superhighway.
Where is the most obscure place you have ever left a tag or piece?
An old abandoned factory, very dark but peaceful and quiet.
What is your preferred tool for making marks with?
Squeezer With inferno ink.
What is your colour of choice?
My fave it's yellow!
Whats your Fave Piece you have done?
After bombing 21 10 09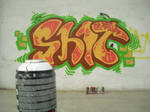 What are you working on currently and what plans do you have for the future?
I'm doing nothing but I'm working as waiter in a hotel from next month in England.
What kind of music are you into?
All hip hop genres, dubstep, drum'n'bass and progressive house.
Anything else you would like to add?
Glad you chose me. Thanks!
No problem Thanks for your time!
Here is some more of Jois85's work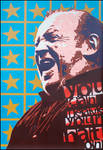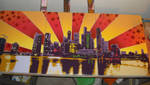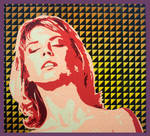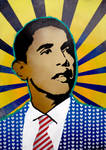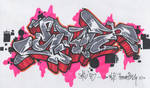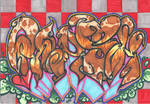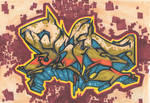 Keep an eye out for more

Interviews
-