This is

again with are second interview with

interviewed by

!!
Where are you based?
The most isolated city in the world, Perth, Australia.
When did you begin painting graffiti?
When I was about 14, had a huge 13 or so year break from it, just re-started in the last 12 months (started again dec 08)
How did you get into graffiti and what made you start painting?
Well ive always been into the elements... specially Dj'ing and graff. My bro had turntables when I was about 8/9 so I got into hip hop n dance music early. I guess painting was the next step to expressing myself.
How did you choose the name 'hot/enve'?
Hot... god knows... I think its just a nice short word, t's are always good to use at the end, o's u can always stick a character in... I think it was around the "Paris Hilton" prime stage... were everything was "so hot rite now!" so I started doing so hot.
enve... cant go into it to much, its to close to home..lets just say its a play on words.
Do you write with any crews and if so which ones?
Well I did when I was 1st writing but not since ive been back into it, I could do if I wanted but...until I find a crew that suits me, ill just go solo.
How would you describe your style?
my style? shit.. keep trying new stuff! keep trying to improve.. .enter battles, do stickers, new characters take anything that comes to me... so my style is evolving constantly, I just aim to keep getting better.. ive been trying to do more characters of late as I feel more at ease doing them.
What about your stickers?
At the moment im looking at getting some printed, the 100's ive done so far have been pretty much hand done...instead of doing a tag or hand style on a sticker... I do a character or what I used 2 do that I aren't done much of late is photo's of my face around the town... im keeping a watch on the city... ive sent some stickers to iran/uk/dubai/south africa and canada so im trying to go abit more global with them... thats why getting some printed would save me a lot of time.
Where did you paint your first piece?
A YMCA for a painting workshop..had some wicked ppl showing me the ways!
What are your feelings on the graffiti and street art scenes in Perth at the present?
Perth is killing it... well there are some insane painters coming out...my inspiration comes from Perth, KID ZOOM!!!
There are some wicked crews and good painters about... we have had law's banning the sale of cans and markers to ppl under 18 so this may effect the younger kids... but they'll find a way around that...
I have to say... a big respect to the Perth painters...
Have you done many collaborations with artists overseas or
travelled abroad for your art and if so then where is the most
exciting or interesting place you have painted?
Well nah, not yet... but I like to travel and im sure ill hook something up next time I go gives me time to get my skills down anyhow!!
Do you see yourself as an artist or a graffiti writer?
Well depends how u look at it...I do my work for free and its mostly on the street...
how about this... im a graffiti artist hahahaha
There is a very fine line between those who view graffiti
as art and those who see it as vandalism, what are your views on this?
Well its down to the individual, I do find a lot of hand style/tags as just vandalism... i can see the artistic talent in some ppl's styles but yeah... its still just writing on a wall... when you start using colour's n form n figure I guess that's were the more art and creativity come into it.
Have you ever 'felt the long arm of the law'
because of your art and if so can you tell us about it?
Oh yeah... I have when I was younger I went on holiday to uk. When I got back I was hell itching for a paint, so I went abit overboard I was doing throwies all over the place did a few down a busy main road at about 8pm so I was seen and the cops got me!
got done for trespass recently as well hahahahaha fuckers
What is the biggest risk you have ever taken for your art?
r=Risks? not anymore... im to sly for that get it over and done and out, I sticker the main cbd/suburbs of Perth, no problemo.
Where is the most obscure place you have ever left a tag or piece?
A sign about 2 stories high in the nightclub area of Perth, they were building next door so just used the scaffolding...
What is your preferred tool for making marks with?
Mtn94, ironlak, razor and any stickers I can find!
What is your colour of choice?
Mother fucking pink's or blues!!!
Whats your Fave Piece you have done?
Fav character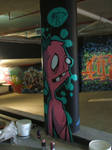 Fav piece
What are you working on currently and what plans do you have for the future?
Well I just got myself a flat that ive been doing up, that's kept me busy as fuck now its xmas n new years, so I just forward to sitting down and having a paint, 2 weeks without playing or trying shit and its killing me, mite have a couple of payed jobs painting shops and prob going to get those stickers printed as I said as for that who knows!!
its a crazy world out there!
What kind of music are you into?
Ive got approx 2500 vinyl, ive been djing 15 years now this years ive played gigs off tekno/jungle/house/dnb/breaks/oldskool.... I want to be a proper party dj that can play anything...so im into good music...sorry to say, I don't like mc's very much..the odd 1 here and there..but I love the beats
Anything else you would like to add?
Shouts out to all the DA crew..
shouts to the Perth crew
big shouts out to
orangedust
who got me back into it after so many years break
shouts out to the bear for putting up with my shit!
And
KEEP KEEPING ON!
practice makes perfect...we all were toys at some point!
Thanks Enves
Here is some more of Enves work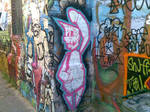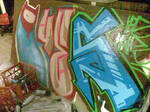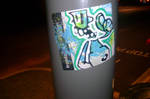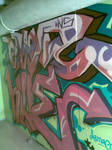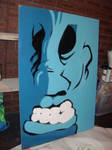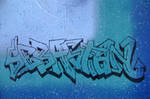 Keep an eye out for more

interviews
-