This is

with our eleventh interview with
EkaOne1
Interviewed and Edited by
RoosterStencil
!!
Where are you based?
In Sun city ADANA from Turkey.
When did you begin painting graffiti?
In 1999
How did you get into graffiti and what made you start painting?
I started to draw about 7 years old. I like painting, In college I met my friend, Bboy, first I saw his graffiti, then I saw other examples in a magazine then I decided to start.
How did you choose the name that you write?
My father chose the name.
Do you write with any crews and if so which ones?
No.I work alone cos you must descover yourself!
How would you describe your style?
Wildstyle and my other style is just simple.
Where did you paint your first piece?
In Adana, I painted on a whole house but it was only one floor.
What are your feelings on the graffiti and street art scenes in the
Turkey at present?
Turkey has a great heritage, art exists in our veins, we are developing and i believe we will get better...
Have you done many collaborations with artists overseas or
travelled abroad for your art and if so then where is the most
exciting or interesting place you have painted?
Unfortunately no, except BlackSea Region, I visited many city in Turkey for Graffiti. But I have some plans to go abroad.
Do you see yourself as an artist or a graffiti writer?
As an artist actually, because I show respect and love, I also represent my personality, I try to be a good example to other people.
There is a very fine line between those who view graffiti
as art and those who see it as vandalism, what are your views on this?
Grafitti is like a body, grafitti started illagelly, that why its skeleton set on illegal. I show respect to whoever does graffitti. But I have soul when I graffit, I do it with respect and also expect respect. I can not accept people's unrespectful approch and I also never give harm anyones goods.
Have you ever 'felt the long arm of the law'
because of your art and if so can you tell us about it?
No, but few times police caught us, but each time wejust chat with them, they just want to know what is grafitti, then they released us.
What is the biggest risk you have ever taken for your art?
I want to devote my life! That's a big love not a risk.
Where is the most obscure place you have ever left a tag or piece?
When ever I have done one on a train!
What is your preferred tool for making marks with?
Spray, marker and the computer.
What is your colour of choice?
All colours are important for me but its changes with my moody while drawing.
Whats your Favorite Piece you have done?
I always change while drawing and I discover new thing, so I can't decide.
What are you working on currently and what plans do you have for the future?
I studied grafic desing at university I have to work a lot it takes all my time but I always think of grafiti cos it's my life and I live for it.
What kind of music are you into?
HIP HOP HOORAY!
Anything else you would like to add?
Thanks to Allah for my skills! And Thanks for the interview PEACE!
Thanks dude!
I hope you enjoyed the interview!
Here is some more of
EkaOne1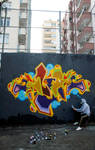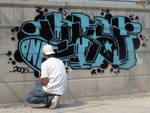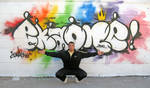 :thumb153227912:
:thumb141219286::thumb131941362: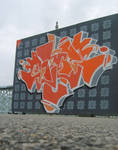 Don't Forget to Click the love heart top left if you enjoy the interview and check out

and our other interviews!!