This is

with our eighth interview with
EUKEE
interviewed by
RoosterStencil
!!
Where are you based?
London, UK
When did you begin painting graffiti?
I started toying around in 1987 but started properly in 1988
How did you get into graffiti and what made you start painting?
In 1987 somebody brought the book 'Spraycan Art' into a very boring technical drawing lesson. The contents of it changed my life...
How did you choose the name EUKEE?
I write two names, CUTE and EUKEE. They were both chosen for their letters- I love those 'E's, so versatile...
Do you write with any crews and if so which ones?
Back in the day, I never felt the need to belong to a crew, or rather the truth is I probably didn't trust anyone to cover my back. Nowadays, I rep DAGR and REM elsewhere.
How would you describe your style?
Lazy. Hahahhahahahaha!
Where did you paint your first piece?
On the side of a pedestrian bridge. It was the wackest thing you've ever seen but I loved it...
What are your feelings on the graffiti and street art scenes in the UK at present?
The scene? The UK is very healthy at present. Lots of new blood pushing the bounderies and old gits like ROUGH, CRUEL, DILK, DERM, SYSTEM, PART and others serving up the old school vibe.
Have you done many collaborations with artists overseas or
travelled abroad for your art and if so then where is the most
exciting or interesting place you have painted?
I've had invitations but something's always come up to stop it happening. It suits me fine, I'm not a fan of attention.
Do you see yourself as an artist or a graffiti writer?
An artist. If you want to be taken seriously as an artist (and I do) you need to move beyond the limitation of traditional graf and venture into more unfamiliar territory...
There is a very fine line between those who view graffiti
as art and those who see it as vandalism, what are your views on this?
If you make a mark or a line anywhere it's an act of creativity, so technically, it's art. Society may not agree with where you make it and it may argue the aesthetics of it, but it's art.
Have you ever 'felt the long arm of the law'
because of your art and if so can you tell us about it?
Oh yeah...I got busted back in 1990 after a night of bombing. RISK and REKA had just robbed my school and I was unlucky enough to be walking home that way at 3am. The cops pounced...
What is the biggest risk you have ever taken for your art?
Having a solo exhibition - scarier than any night chase or climbing I ever did. Artistic risks are the biggest...
Where is the most obscure place you have ever left a tag or piece?
I stickered GoldenGai in Tokyo. You can see it here on my id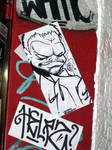 What is your preferred tool for making marks with?
Black ballpoints on the page, MONTANA 94 on the wall.
What is your colour of choice?
Pinks and purples. Mmmmm.
Whats your Favorite Piece you have done?
My latest piece is always my favourite. You can see it on my page.
What are you working on currently and what plans do you have for the future?
I'm currently working on selling my postcards [link] I'm doing a book of black and white outline designs (still accepting submissions) and I've got work appearing in a couple of books this year.
What kind of music are you into?
All kinds. In the old days, hip hop and dance- Krush, NWA, Public Enemy, DasEFX, Ice T, LL Cool J, Silver Bullet etc.
Anything else you would like to add?
Don't fall into the trap of thinking violence and aggression make you a man, they just keep you as a boy. Use your gifts to do service to the world and you'll always be happy. Know yourself.
Peace.
Thanks for the time BroSki...
Here is some more of
EUKEE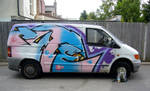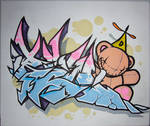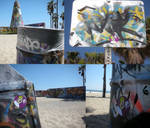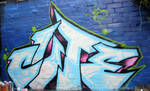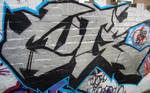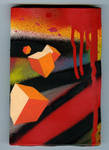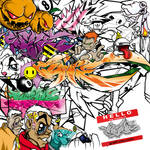 Don't Forget to Click the love heart top left if you enjoy the interview and check out

and our other interviews!!