This is

with our fourteenth interview with
Dhos218
Interviewed and Edited by
RoosterStencil
!!
Where are you based?
Right now I am studying in Germany's oldest city, Trier.
When did you begin painting graffiti?
Well, I did my first sketches and spray attempts around 2000/2001, when I was 13.
How did you get into graffiti and what made you start painting?
To be honest there was a video to Limp Bizkits ,nookie' where Mear One from LA painted the future album cover. I was pretty impressed so I started drawing the Limp Bizkit characters and some stupid graffiti fonts.
How did you choose the name that you write?
Destiny, hehe.
Do you write with any crews and if so which ones?
Zinc Nite Crew (Singapore/Worldwide)
MonkeyForce (Germany)
How would you describe your style?
It's hard for me to stick just to one style, otherwise this would mean to me that I stopped developing. I will always be trying to move on - getting the most out of my letters.
Where did you paint your first piece?
Probably in some old, run down factory building.
What are your feelings on the graffiti and street art scenes in
Germany at present?
There is a shit load of good writers out there, no matter where they're from - and that's one of the reasons that keeps me running - there is one nice quote I can't forget - ,you can't be the best, just one of them'
Have you done many collaborations with artists overseas or
travelled abroad for your art and if so then where is the most
exciting or interesting place you have painted?
I painted in Australia, Singapore, Netherlands, England, Spain, Luxembourg and met a few fine writers in different countries and I will definitely continue this list in the future.
Personally I don't have any favourite spots - Of course there where some nice locations I painted, but I can't name my favourite one.
Do you see yourself as an artist or a graffiti writer?
Tough one. Probably graffiti artist would do it.
There is a very fine line between those who view graffiti
as art and those who see it as vandalism, what are your views on this?
I respect both sides as long as you love what you do and you are honest to yourself and your work.
Have you ever 'felt the long arm of the law'
because of your art and if so can you tell us about it?
Nothing serious, I am a lucky bastard.
What is the biggest risk you have ever taken for your art?
I should have died a few times. Stepping on some used needles in a Melbourne back alley is my favourite so far.
Where is the most obscure place you have ever left a tag or piece?
This would be a cliff in Tasmania, where I was hanging between two rocks just to leave some character.
What is your preferred tool for making marks with?
Spray cans, of course.
What is your colour of choice?
Raspberry pink!
What is your Favourite Piece you have done?
They are all my babies and I even love the ugly ones.
What are you working on currently and what plans do you have for the future?
Working on my own vinyl toys, I will get the concept work online soon. Moreover I am working on a short movie with some graffiti content.
What kind of music are you into?
Some hardcore some hip hop.
Anything else you would like to add?
Shouts to my homies and crew mates - especially Zesk, Tasir, Zare, Poster, Kow, Peak7, Soldat, Crek, Astor, Slacatsu, Clog2 and all writers in general.
Thank Dhos218 great interview!!
Here is some more of
Dhos218
...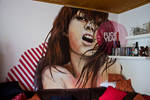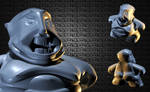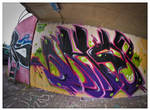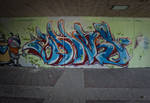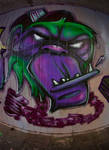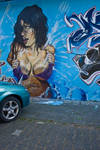 :thumb92640874:
Don't Forget to Click the love heart top left if you enjoy the interview and check out

and our other interviews!!

Sounds like a good outlook, except for the bit about writing on a cliff-face in Tasmania, not so sure I like that idea >.>

sweet interview...
"I should have died a few times. Stepping on some used needles in a Melbourne back alley is my favourite so far."

ahh Melbourne, home sweet home!!!