This is

with our sixth interview with

interviewed by

!!
Where are you based?
I'm from Turkey, Adana "The Godless City"
When did you begin painting graffiti?
I started painting graffiti in 2005, I cant still believe its my 5th year time goes fast..
How did you get into graffiti and what made you start painting?
It's in my vains man.. as u know it always starts with bubble letters it was like that for me too, i was doin bubble letters to desks and school stuff just not because i hate lessons but because those bubbles were making me feel good.. At that time i didnt know that what i was doing called as graffiti.. Bought some cheap cans and it all started..
How did you choose the name Ques?
I didnt, it chose me! At first i was using fallique, and kramnoitseuq (reverse questionmark) as my nicknames then somehow i fixed them together and started writing it, Ques means "shut up" in Turkish and it has meanings in some other languages too
Do you write with any crews and if so which ones?
I used to write with Adk(Adana Designer Kids u can check ), Rats, Wagon
How would you describe your style?
Wildstyle funky 3d would be cool.
Where did you paint your first piece?
It was in Adana with some old school guys i just appeared in the hood and asked them if i can paint
What are your feelings on the graffiti and street art scenes in Turkey at present?
Turkey has such a different blend of culture , i believe that time by time with the originality of our culture u can see lotta different styles, with different painting techniques. U should visit here and see whats goin on ur not gonna believe what ur eyes will see!
Have you done many collaborations with artists overseas or
travelled abroad for your art and if so then where is the most
exciting or interesting place you have painted?
I lived in Finland for 1 year but i was young and i was still tryin to develop my style.. But i painted in "lapland" it was so great man.
Do you see yourself as an artist or a graffiti writer?
I see myself as a vandal artist
There is a very fine line between those who view graffiti
as art and those who see it as vandalism, what are your views on this?
Graffiti is like going to a bar with your friends, they say that girl on the left with the skirt is so sexy but u still stare that girl on the right with her inner sexiness and secretary like glasses! But u never know which one is drunk! so i just dont give a fuck about if its art or vandalism coz they dont care what we think..
Have you ever 'felt the long arm of the law'
because of your art and if so can you tell us about it?
I got beaten many times but never charged with it.
What is the biggest risk you have ever taken for your art?
Except health issues, trains, highways, goin to a festival one week before my final exams and all that graffiti-addicted stuff, i didnt take any risk
Where is the most obscure place you have ever left a tag or piece?
I tag lotta creepy place so i cant realy decide now
What is your preferred tool for making marks with?
Markers and spray paints
What is your colour of choice?
I love all the colors that makes ur graff look funkier!
Whats your Favourite Piece you have done?
It's gonna be the next one
What are you working on currently and what plans do you have for the future?
Im studying civil engineering atm, im 2nd grade and hopefuly after i finnish my studies ill be traveling world to meet with new people developing my style and earning some civil engineering experience
What kind of music are you into?
Im definetly into triphop these days i just love it
Anything else you would like to add?
A fucker stole my phone 2 days ago im soo pissed off and i think ill be bombing the whole god damn city. Shit...
Cheers for the interview...
Here is some more of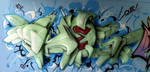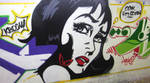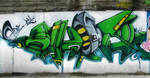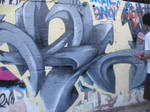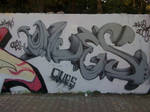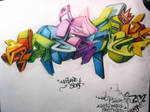 Don't Forget to Click the love heart top left if you enjoy the interview and check out

and our other interviews!!