Alt. Title
'Oh my god he can't hear us, he had airpods in'
The recent earthquakes have unearthed a new virus that unaccustomed wildlife is being affected by, which lead to the attacks. Scouts have been sent out, and traces of two culprits, possibly ones close to the area when the quakes happened, have been confirmed.

Pollex asks all volunteering for one last effort, track down and subdue these two, a cure is already in the works, and Pollex feels they can help stop it's spread.
---
Prompt 1:
Not wanting to get in too close, you choose to set traps in hopes you can hold the affect long enough for help to arrive. Draw or write about your character helping set, maintain or set off traps to help slow down one of the Kirunhounds.

Lucille... I love you, but you share one braincell and you clearly didn't have it this time round- you're going to lose something. If the Kirun doesn't get you first...
Really loving this part of the event, and enjoying this piece! Agate is fighting them whilst Luci sets up traps! Nearing the end of it now
Featuring:

Lucille

Random Infected Kirun [Created by @/skulldog]
Art + Lucille
©
rooklinqs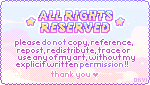 Arcane Zoo
is an incredible and friendly ARPG created by skulldog, and I highly recommend it!
Image size
805x1400px 1.06 MB