Prompt 2:
Brave, but not too brave, you choose to jump in and try to distract the beast while avoiding fighting directly. Draw or write about your character helping chase, distract or tease one of the Kirunhounds.
---
While he didn't know the Kirun personally, he couldn't leave someone in need. Putting his hooves to the test, he snarled at the infected hound behind him- a somewhat menacing threat.
SO my girl Agate got a disabled status in the recent event from being knocked out COLD with one hit, so I had to draw something for it!
Featuring:

Lucille

Agate

Infected Kirun [created by @/skulldog]
Art + characters
©
rooklinqs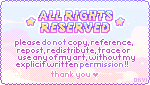 Arcane Zoo
is an incredible and friendly ARPG created by @/skulldog, and I highly recommend it!
Image size
1300x840px 881.95 KB