If you are interested, take a look at my gallery to get an idea of what I do. Then contact me with the details of what you would like. I will either accept of decline the commission. I don't like to turn away commissions, but at the same time if it doesn't sound like something I'd like to do, then I won't be into it and then I'm just wasting yours and my time.
Please describe what you want in the note. If you have a particular idea, the more detail the better. If you're okay with giving me a general idea and having me run with it, that's okay too.
I will then sketch the concept and have you look at it. Once you are satisfied with the sketch,
I will require full payment of the commission.
Payment will be made via PayPal. Once payment is
received I will finish the commission.
I'm a busy person, so I can't tell you how long it will take. It might take a week. It might take longer.
Prices:

Single character color: $65.00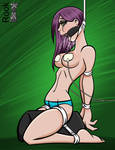 Additional character: +$25 Total of $90.00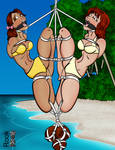 If you are interested in doing a variant, like a DA friendly and a non DA friendly piece, we can discuss the cost which will be determined once I have an idea what you want.
The finished piece will be up to around 2,500-3,300 pixels in height and width or think of it as around an 8.5 inch by 11 inch piece of paper at 300ppi, depending on what we decide. I plan on posting any commissions I do on various websites at a smaller resolution
(no bigger than 1,000 pixels in either width or height)
. I also plan on posting the full size for my Pateon page. If you would not like me to post the piece on my page, we can discuss that as an option.
I may also work on your commission during a stream on Picarto. If you would prefer me to not do this, you must tell me so.


What I love to do:
• Bondage of course!
• Gags, Especially ring gags!
• Extreme positions and or predicament bondage.

• Mild choking or breathplay.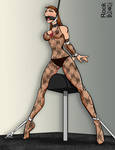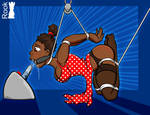 • Ropes. Not very keen on chains.
• Single characters.
What I will do:
• Your original characters, famous characters or just a random female.
• Damsels in distress.
• Tentacles.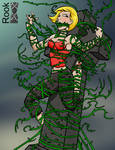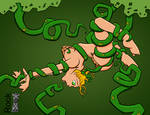 What I won't do:
Gore, blood, snuff, vore, loli, scat, etc. You know what? Just look at my gallery, if you don't see it there, there is a very good chance I won't do it.
In a nutshell, if you want to see a female in some crazy bound position with her mouth gagged. Then I'm your guy.

—Rook