I've learned some interesting things about some of the places I have previously posted pictures of. First off, there was someplace I was calling Haypress Mansion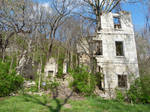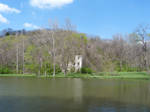 I was unable to find any information on the web about this and so it's origins were a mystery. This past week I took my wife's car over to a dent removal shop in Illinois. We were going to have to kill about 5 hours so I did a quick internet search and added the word "haunted" to my internet search. Lo and behold one of the top results was something for Sweetin Mansion. I want to look into this a bit more and then update the photo descriptions, but briefly, it was built in 1848 with three floors, walnut woodwork, a grand ballroom, three foot thick walls, and it had a natural stream running through the basement. So far, one source is claiming that the building was destroyed by treasure hunters looking for hidden gold.
On a less happy note i revisited the site of a church that was being torn down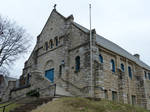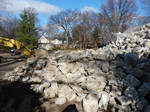 . What I had last read about this place was that the new owners of the property were going to build a big new house that would incorporate a lot of the stone from the old church. When I drove by the site this week I was disappointed to see that they instead built two McMansions and there is no sign of any of the old stone.
Here in the St. Louis area there are some Route 66 food establishments that I've wanted to visit but I haven't because they wouldn't have anything my wife would eat. So my solution was to take my father instead. We started off going to the EAT-RITE diner where the only vegetable choice would fries with or without ketchup. And then we headed to the DONUT DRIVE IN. I brought some donuts home, but my wife made me keep them in my office. I hope to get those pictures posted soon.