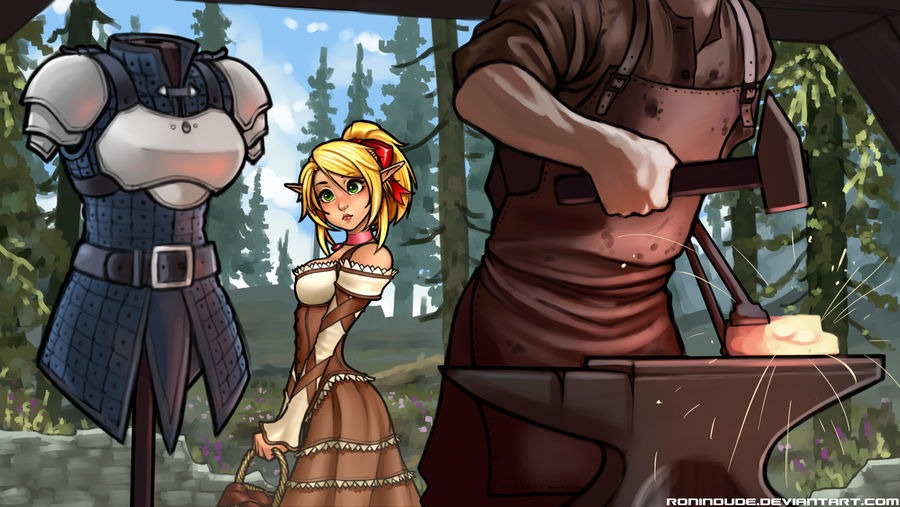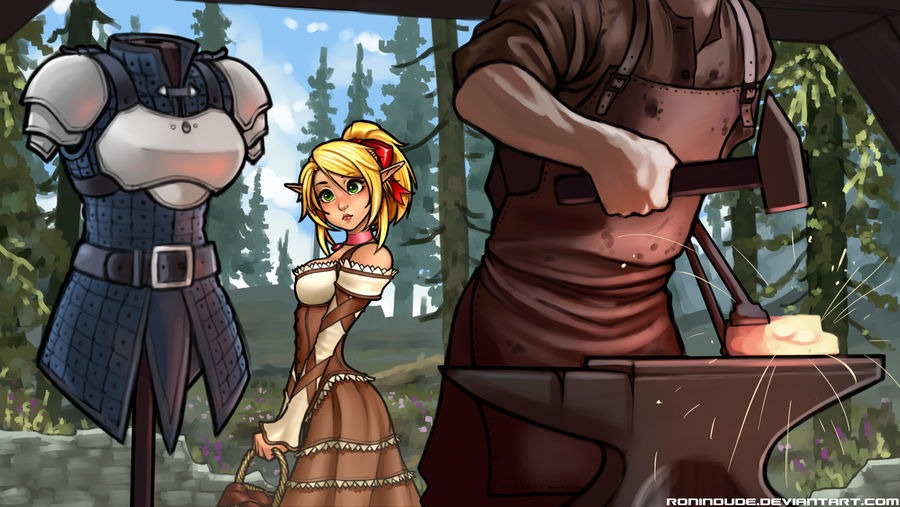 Watch
Felt like exploring Lin's town a bit more. This sketch took me about 6 hours, on and off. And just for reference, I call anything a sketch if it isn't refined. This is more of a concept, to help me capture ideas. I know that some of you might not consider this a sketch, but I certainly do. XD Anyways, it took me a bit longer than I wanted, I think because I kept playing with the composition. Also, there's 3 focal points, so that makes it harder to balance... I hope it reads well enough, to show that the smith and the armor are under an awning... Oh, and yeah, I was a little lazy and grabbed Lin's pose from the other drawing, and changed her head so it would be facing properly in this shot. Fun stuff!
About the picture:
"Each day the smith brought out his latest creations, displaying them in hopes of attracting the business of passing, would-be adventurers. Lin, on her way to work each morning, would often take a moment to admire the craftsman's handiwork. The remainder of her walk would be filled with fanciful daydreams of exploring long forgotten tombs and far away lands, equipped with such fashionable adventurer's gear. "Maybe in another life", she would think to herself... She had never been much of an adventuring type, being quite soft natured, and somewhat timid... But even if she couldn't go traipsing off to explore old ruins and fight wild beasts, she was glad to be surrounded by the thrilling tales and wonderful sights that her daily routine could afford her."
About the armor:
Since people seem very interested in the armor, I'll explain the design. It's made of three different pieces: a coat of plates (or brigandine, if you prefer), a breastplate, and the two shoulder pauldrons. A coat of plates is basically a vest made of overlapping small pieces of steel, sandwiched between two layers of leather or heavy cloth. In this case it has a leather backing and a cloth exterior covering. The rivets that hold it together are visible from the outside and distinguish the vest from a simple padded gambeson (under-armor padding). The breastplate is built for a female figure, and acts as an armored sports bra, supporting the breasts for high intensity activity, as well as distributing the force of an impact evenly to the ribs, instead of directly to the soft mammary tissue of the breasts. Because of its adjustable nature, it allows for greater comfort while wearing than a simple hauberk of chain mail would afford. This means less fatigue over time. Of course, the plate itself must be sized appropriately, so it's certainly a custom setup. The shoulder pauldrons attach to the shoulder straps of the breastplate, via loops that pass over the breastplate buckles. These are also adjustable. The armor is not meant as a military garb, but is more tailored for mercenaries or even just an adventurer who wants to maximize defense without minimizing comfort or dexterity. Basically, it's high quality light armor.

While it's not entirely historical, it's made from designs that would function, based on real world physics. In my fantasy world, women warriors are not rare, so armor has been made specifically for thier form. This means a woman doesn't have to wear armor made for a man, as was the case in our own medieval history.

Related drawing:
Would you like to see more of Lin, or some of my other characters? Or how about some sexy/cute pinups, posted every week? Check out my Patreon!

Lots of extra stuff can be found there:


Exclusive weekly pinups, posted every Friday or Saturday


High resolution images


PSD files with all the layers to how I do things, shared at the beginning of every month

Click the link to learn more:

www.patreon.com/RoninDude