6 Favourites
2 Comments
190 Views
Here are the main heroes of my project called Soul Teen, the Starking brothers, Junior and Jony, and the Sunn sisters, Jenny and Jessie, and they're all teenagers gifted with superpowers of sorts.
The brothers serves as the "muscles" of the group, able to perform superhuman feats and doing most things requiring physical action, and the sisters being the "brain", offering a support role with their psychic abilities and smarts.
Related artworks: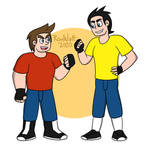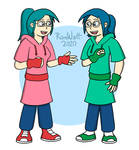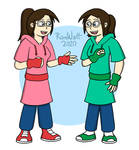 Twitter
•
Imgur (All variants)
•
Tumblr
•
Newgrounds
•
Instagram
Image details
Image size
3260x1880px 1.09 MB

Merci ! Les changements ont été plus drastique pour les frères, les sœurs sont restées presque pareilles en dehors de leurs habits, j'ai juste voulu voir de quoi elles auraient l'air si elles avaient une couleur de cheveux naturelle, qu'en penses-tu d'ailleurs ?