Description
The male main protagonists of my project Soul Teen. They are fraternal twins, very athletic, and have superhuman physical abilities. Junior is the brawler with super strength and resilience, and Jony is the runner with super speed and agility, allowing them to perform feats beyond of the ordinary.
Junior is boisterous and stubborn, while Jony is a bit cocky and more laidback, and they're both kind of foolish, especially Junior, but they're ultimately good-natured and friendly.
I haven't drawn them in a very long time, and I redesigned them a bit, specifically, I gave them both squarer jaws and a somewhat noticeable height difference. For Junior (left), I gave him a new haircut and a bulkier build, whereas for Jony (right), I changed his shirt colour from green to yellow and slightly altered his haircut.
Related artworks: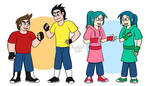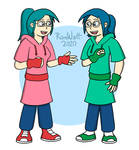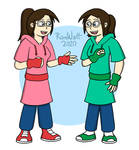 Twitter
•
Imgur (All variants)
•
Tumblr
•
Newgrounds
•
Instagram
Image details
Image size
1920x1880px 395.87 KB