Description
The female main protagonists of my project Soul Teen. They're identical twins who both possess similar psychic abilities, but Jenny's powers are more offensive, whereas Jessie's are more defensive and has healing powers. In addition, they have great intellect, being capable of logical reasoning, as well as being knowledgeable on several topics, helping them to solve problems.
They enjoy typical geeky hobbies such as reading books, watching series, or playing video games. They're both socially introverted and somewhat awkward in public, so they spend almost all their time together.
I tried to go for a modern outfit with a subtle fantasy touch, and also made an alternative version where they share the same natural hair colour (see link below).
Variant without glasses: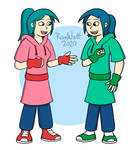 Related artworks: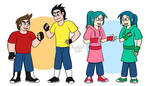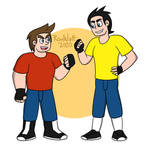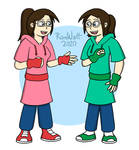 Twitter
•
Imgur (All variants)
•
Tumblr
•
Newgrounds
•
Instagram
Image size
1620x1740px 425.05 KB