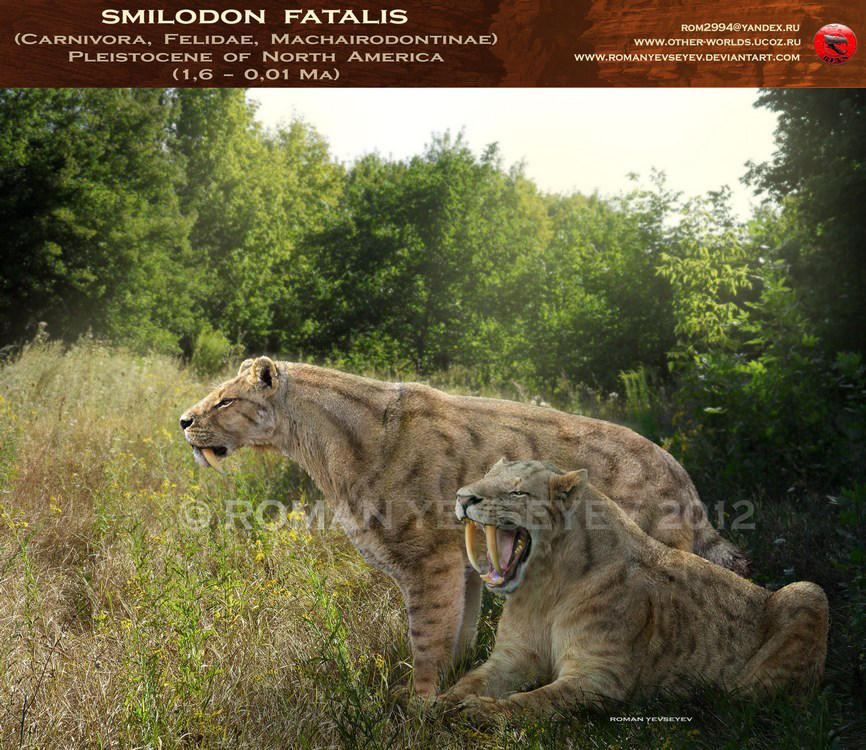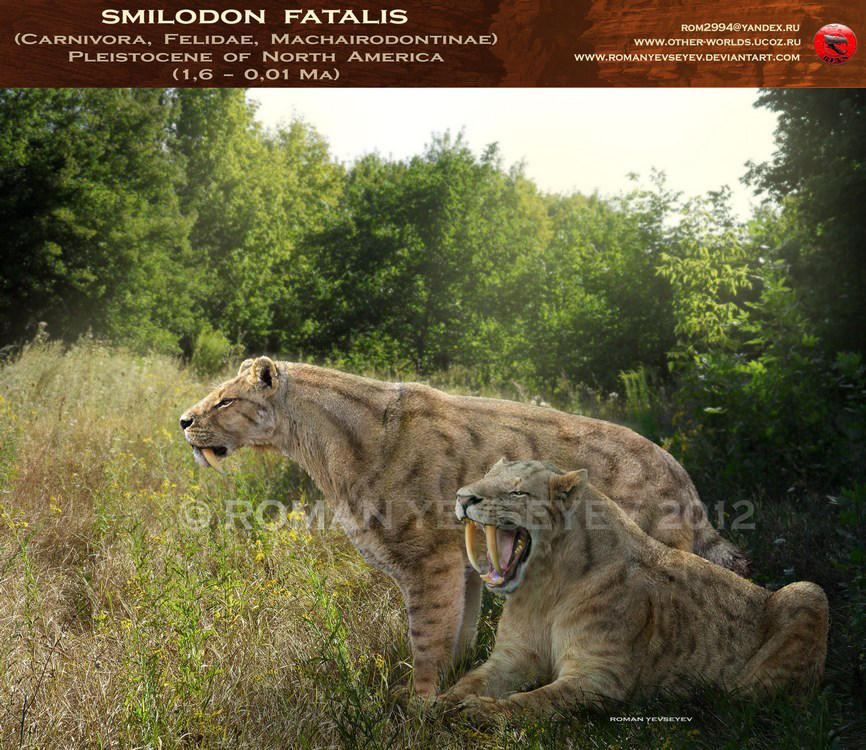 Watch
Smilodon fatalis. Pleistocene of North America.

So beautiful and inspirational! I feel like I'm in a time warp

Reply

Roman, absolutely fantastic work, your skills at rendering these guys life like is second to none. I have a question regarding your findings about the proportions of this cat, particularly the sloping back. I'm in the middle of a reconstruction project of smilodon fatalis and I too found that given a more "correct" horizontal orientation of the pelvis and the reach of the back legs it seems inevitable for the back to be somewhat sloping. Your rendering is the only one that depicts this kind of condition, so if you have any thoughts on the matter I would love to hear. Again awesome work, keep it up.
sincerely,
Serge Merjeevski
Reply

Hi Serge. Thank you. I just used pictures of skeletal exposures savepic.net/4123602.htm, savepic.net/4120530.htm . A lot depends on how a slope put humerus. But even if put the spine in a completely horizontal position, the back inevitably acquire at least some, but visually noticeable slope, because the front limb girdle lies volume and strong muscles
However, it seems, with the back slope I a few overdid...
Reply

that yawn!

Amazing!

Reply

Reply

Reply

Oh no, THANK YOU. You have NO idea how much I wish I had your talent both artistic and paleontologic! (If that isn't a word, it should be!)


When I see something truly great, I try to comment on it.
Reply

Well, it's just a photo collage. These pictures you can be easily stamped with certain skills in photo manipulation.

Reply

Fantastic in every detail!

Reply

Reply

Thanks

. Yes, this photo was taken at the same location

Reply

I knew it!

Reply

I "spill the beans"

Reply

Twice used the texture of the substrate?
Reply