Facebook Page:
www.facebook.com/RollingFishPh…
Tumblr:
rollingfishphotography.tumblr.…
Website: Rolling Fish Photography:
rollingfishphotography.weebly.…
SOME OF MY PHOTOS ARE FOR SALE!!!!
visit my Depositphotos:
submit.depositphotos.com/publi…
and my Dreamstime
www.dreamstime.com/Rollingfish…
Equipment:
Camera:
Sony a65 (a55 bit the dust :[ )and sony a230
Lenses:
Sigma 18-250mm f/3.5-6.3 DC OS HSM IF
Minolta fixed focal length manual lens with extension tubes for macro
Kiron 70-210mm telephoto with 3x teleconverter for 210-630mm range
Sony 18-55mm kit lens (rarely use)
yay stamps :3






KHAAAAAAAAAAAAAAAAAAAAAAAAAN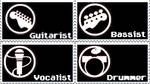 Favourite Movies
Star Trek, Star Wars, Harry Potter, The Hunger Games, Back To The Future, Inception, Scott Pilgrim, Pirates of the Caribbean, Cars, (too many to list...)
Favourite TV Shows
The X-Files, Bates Motel, Dragon Ball, Fringe, House, Star Trek TNG, Spongebob, Catdog, Rocko's Modern Life, Pokemon, CSI, Law and Order SVU
Favourite Bands / Musical Artists
Boston, The Eagles, Journey, REO Speedwagon, The Beatles, Grand Funk Railroad, CCR
Favourite Books
Harry Potter, Artemis Fowl, Let The Right One In, The Hunger Games, The Lord of the Rings, A Series of Unfortunate Events, etc. (too many to list)
Favourite Writers
J.K. Rowling, John Ajvide Lindqvist, Suzanne Collins, J.R.R. Tolkein, Eoin Colfer, Lemony Snicket, Edgar Allen Poe, John Steinbeck, Jeff and Michael Shaara.....
Favourite Games
Pokemon, Mario, Rock Band, Checkers, Chess,
Favourite Gaming Platform
Wii U, Nintendo 3DS (friend code above), PS3, Nintendo DS, , Wii, Gameboy Color, N64, SNES
Tools of the Trade
Sony a65, Sony a55V DSLT (Broken), Sony a230 DSLR (Semi-retired), Olympus point and shoot (broken)
Other Interests
Photography, Advertising, Meteorology, Psychology, Video Games, Nature, Cars, Music, Movies, Trains etc.