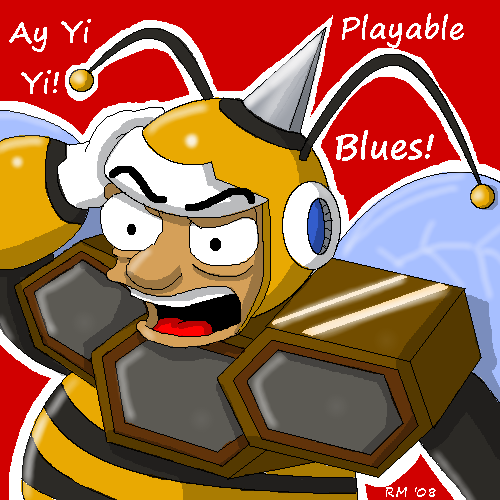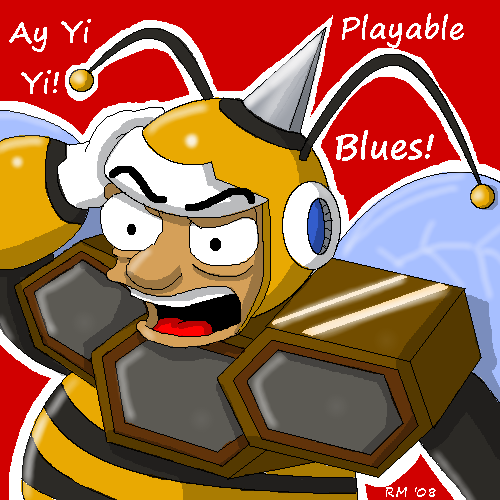 Watch
I forgot to post this during MM9 week because I was hoping to be playing a lot. Yeah, I only have like 3 and a half hours of gameplay time in.

It's beaten and all, but seeing people nearly done with all the accomplishments and having all these fast times makes me feel pathetic after all of one freakin' week. I've only got like 30% done and know I hardly care to ever pull off a perfect non-damage run. Curse you people with time on your hands!
So this was quickly doodled on oekaki because, at the time, I realized Hornet Man was like the last Robot Master to get fanart and nobody seemed that into him. I decided to parody Bumblebee Man from the Simpsons and mix them together.
Hornetbee Man here has a migraine because Blues will be playable and can slide/charge his shot. Pretend it's a valid reason for him to have a migraine.
I don't know Spanish, so sue me. I just worked off the first Bumblebee Man quote I saw Googling.

Hornet Man is Copyright Capcom
Bumblebee Man is Copyright Matt Groening

Haa ha ha,that is rich

Reply

Cool Mix with him

Reply

¡Ay, dios mio!


Also... BEEEEEEEEEEEEEEEEEEEEEEEEEEES!!!!!
Reply

I hate bees. You want to hit them and shoo them away, but you know you have to freeze and let them fly away! :/
Reply

I need to upload some Hornetman. : (
As for Hornetbeeman:

Reply

Ay Carumba! Es muy loco!!
Faving!
Reply

I'm always muy loco!

Thanks.
Reply


Splashie-chan's greatest nightmare.
Congratulations on beating 9, amigo. It sure must be sweet childhood days you have experienced again while playing it.

Speaking of 9, do you think Wily managed to get away with a hefty sum of money in his account during his latest stunt? I can't shake off the gut feeling he'll likely use it to further his...You-Know-What project.
Reply

I'm still not all thrilled with what I thought was going to be an attempt at depth in the game's story. I can only assume the bank account bit might be brought up if there is a 10th game. It served no purpose other than a jumbled date easter egg in the intro.

I can only hope the secret stage downloads give us a little more to play with and maybe some old Robot Masters. :/
Reply

Yeah, I also assume that the special DLC stage would be littered with multiple bosses like previous MM Robot Masters with one after another, and in the end awaits the real stage end boss. Maybe it's Forte? (Foreshadowed by his blue print tech-specs on Wily's monitor during the end game cutscenes? Maybe Classics Forte is reduced to a role similar to his .Exe navi counterpart being usually an optional boss of sorts.) Or an entirely new boss like the fan so-called 'Overdriveman'
Reply

Definitely what I was thinking. Unless we get Robot Dr. Light. Which would also be awesome! We'll find out in a little bit...which will feel like an eternity...
Reply