My new year's resolution is to eat more vegetables. Although I love the idea of going vegetarian or vegan, I know deep down in my heart that I simply love sweet mesquite BBQ ribs too much. So I compromised and told myself I would eat more vegetables to balance out my omnivore ways.
Squash! It's not just for putting by your front door in the fall!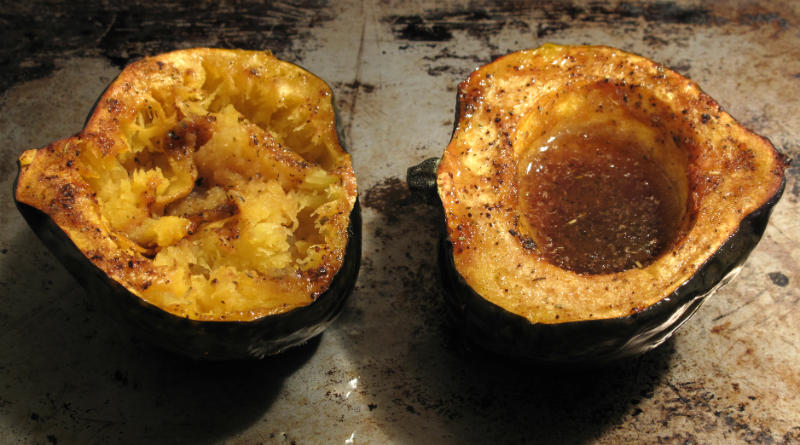 Preheat oven to 400*F and place the rack in the middle.
Cut the squash in half and scoop out the insides.
Cut a small piece off of the bottom of the round side of each half, so that they don't roll around on the pan when facing up.
In a bowl, or in one of the squash halves if you're lazy, mix:
2 teaspoons margarine
2 teaspoons brown sugar
1 clove garlic finely chopped (or a small squeeze of garlic paste in a tube)
1/2 tsp salt
Less than half a teaspoon, to taste:
Ground black pepper
Powdered ginger
"Italian seasoning" Which can include oregano, basil, thyme, rosemary, marjoram, sage (if you have those as separate bottles, feel free to sprinkle in)
Mash the butter mixture up with a spoon, or fingers if you haven't emptied the dishwasher yet.
Split the mixture between the two halves, coating the bowl and the inner side.
Lick fingers clean and place on a baking sheet in the oven for 45 mins to and hour.
Check halfway through and re-baste the sides if you feel like it.