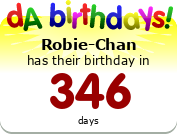 :thumb314461639:


:thumb329753823:
































:thumb318872750:



:thumb68235630:








































:thumb149596821:


:thumb61863637:





















:thumb128372026:

:thumb163235613:







:thumb69658963:

























:thumb194402318::thumb72548368:










:thumb86457533:






















Hi there everyone and welcome to my channel, here you shall find anime work as I am a anime artist in training but I don't draw anime all the time, look through my gallery and your sure to find something different

The name is Robert but please call me Robie or Rob, I shall leave you to take your pick XD
Please do not be afraid to talk to me I don't bite XD I love to make new friends on here and at the same time check out your art

you shall find that I am a nice person to get on with and if you ever need anyone to talk to just drop by my channel and I will help out as much as I can

.
Apart from drawing I am also a gamer, mostly Nintendo as that was the company I grew up with the most.
If you have a 3DS or Wii U and would like to add me please tell me

I like to gain new followers and friends on both the 3DS and Wii U.
My other interests are watching anime, reading manga, hanging out with friends, collection model trains and anything else I can think of but not yet added yet XD.
I have made many great friends on DA, here is a short list of some of my great friends, here on DA. In no particular order
























I hope you will take time to look through my gallery and fav and comment on anything you like.
I also hope to make many more friends here and I hope my talents will grow and be like my inspirations that I have here.
Thank you and Enjoy