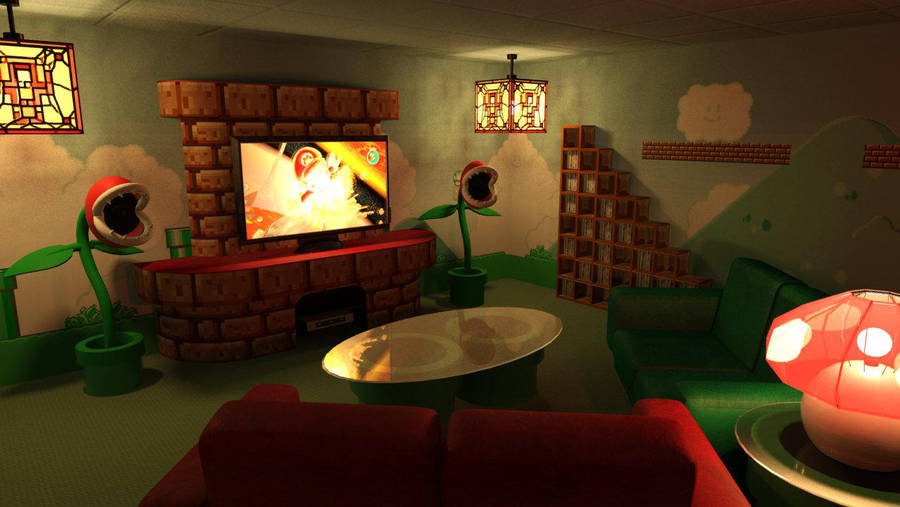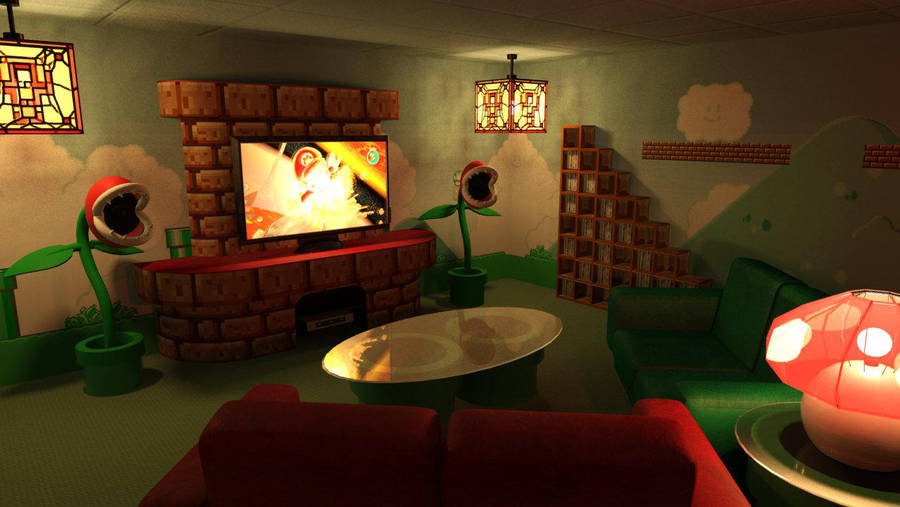 Watch
Here's what I'm planning for my home theater... Once I get my own home... And can afford to install a theater...

Anywho, features:

- 60" HDTV on end-of-level castle stand
- Bluray player inside castle "door" opening
- Surround sound (speakers inside Piranha Plants)
- Block-stair media shelf
- Stained-glass question mark block hanging lamps
- Mushroom table lamp (I'm thinking maybe the lampshade frame is too angular...)
- Glass-covered green pipe tables
- Matching Mario Red and Luigi Green couches
- Mario bros level mural walls

And of course, a Wii. I think I'll have some doors in the front of the castle tv stand on either side of the "door" opening. More media storage, plus the hidden Wii.

I'm not sure whether or not this is fanart... I think it's more interior design for fans.

P.S.: I'm loving 3DS 10's photometric lighting. DL for huge version.

That is one sweet room. If only this were real. ;_;
Reply

What program did you use to make all of this?
I was really hoping it was all real until I read in the comments that it wasn't. (If it were I'd be looking online where to buy some of this stuff. lol)
But I guess it's off to finding stuff in junk yards so that I can build this stuff!

Reply
3D Studio for the modeling, probably some photoshop to play with textures.
Reply

Hahahaa I found you cuz

Nice work. Love it!
Reply

Reply

I am faving this so I'll remember to show it to my contractor. I want this in my house.
You did a fantastic job. I absolutely love the lamps.

Reply

This is so the kind of room I want. I'm gonna include something like this in the plans for my home I want to build someday. You did this with a computer? That's so realistic that it scares me.
Reply

Shouldn't you be working? lol

This is pretty cool, though. Brian says you're his hero for the day. :-p
Reply

Reply

EPIC!
I plan a Legend of Zelda Themed Theater...still need to actually think of it

Reply

Oh my, could something be possibly more awesome then this?
Reply

Words cannot describe the amazement I am feeling.
Reply

If I had a nickel for every ounce of awesomeness this had, i'd have enough money to buy the whole set.
Reply