Star Trek: The Seekers was a series of faux book covers I did for a faux Star Trek spin off, set in an alternate universe where NBC execs had better sense than to pull the plug on the original show after the third season. I did the Seekers covers because I had so much fun doing revisions of all the Blish novels and wasn't quite ready to stop playing with the idea. So there they are…books one through five. If only they could be real…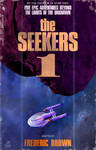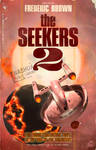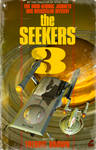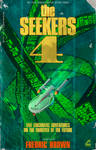 Apparently the writing team behind the landmark Star Trek: Vanguard series saw them and had the same wish… only they had a few more strings that they could pull (and talent to push) to make it happen. And next year it will! Apparently the writing team saw my covers when they were fishing around for new project ideas and it clicked with them – both the cover format and the general series tone/concept. I got the call by David Mack, out of the blue, a few weeks ago informing me that this was happening and asking me if I wanted to be part of it. After playing coy for about half a nanosecond I said yes. Only I said it in all caps… with about eighty exclamation points.
If you'd like some more background on both how the series came to be and what their scope and tone will be, check these blogs from The Vanguard Boys:
David Mack:
www.davidmack.pro/blog/?p=4675
Dayton Ward:
daytonward.wordpress.com/2013/…
The Rollout PowerPoint Slides:
www.davidmack.pro/seekers.html
The first book comes out a year from now, with the second following the next month. Needless to say I'm stoked about this… and would probably still be even if I wasn't part of the project. The writers demanded that the Blish format be part of the project and I think that's an inspired choice on their part. Never under estimate the power of nostalgia in marketing! And the whole idea of episodic exploration stories gets back to what I love best about Trek.
I'll pass on more news when I can but hopefully this is enough excitement for now. Hey – enough about me. How 'bout them other great DA artists!!!!