Hey, folks!
Wanted to let you know about a major update to my OPDS website:
operationdragonslayer.com/
Please have a quick look and let me know what you think. I'd really appreciate it!
If you have ever done any artwork for OPDS, paid or unpaid, you've got a link back to your DA page; just go to "Headquarters"page near the top, and follow the link down to "collaborators" section. Happy to make adjustments if requested.
Host updated their web builder software, so I was obligated to revamp before losing access to old content. "Optimized for mobile access" -like everything. Evolve or die, that's the basic rule. Especially where web-based media is concerned.
But truth be told, update needed to be done anyway. Added a LOT more stuff. Will add more in time. Thinking it could use a few more sections, such as;
-blog for art updates
-list of major world powers, and links to separate galleries w/ country's mech info
-more gameplay stuff, like Skill classes detailed, etc...
-a page for characters, heroes, villains, NPCs, etc...
OPDS Character chart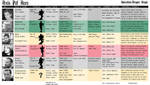 -Guess I need the obligatory 'share subscribe' social media stuff.
Any other ideas, I'd love to hear 'em. Thanks!