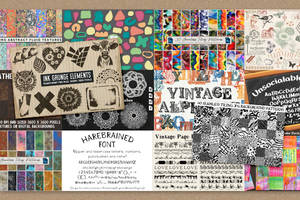 HG Designs Subscriber Area
Lots of high resolution goodies for graphic design including textures, photoshop brushes, seamless patterns and more.
---

Dry Brush Pack for Manga Studio 5 (Ver. 1)
222.9K
Views
4
Collected Privately
Description
**UPDATED VERSION:
roastedstix.deviantart.com/art…
Since I couldn't find brushes like these for Manga Studio anywhere, I ended up just making my own and also decided to share it with you guys. They're not perfect yet, but they're alright.
They're pretty fun to use especially for simplistic paint-ey looking backgrounds which is what I'm using them for!
I'll probably be making more of these soon. Maybe. Enjoy!