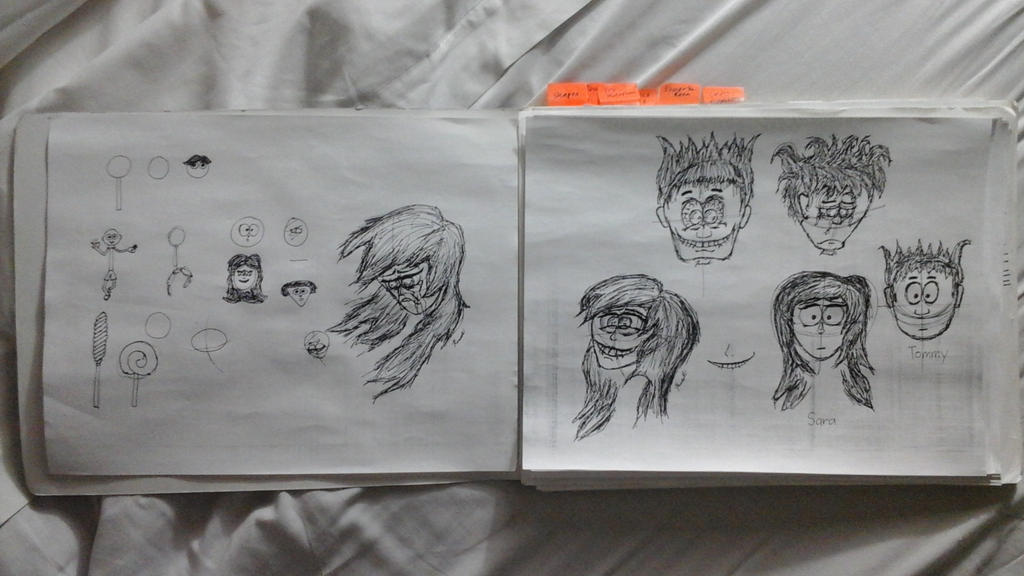 I've been working on cartoon faces just last night after doing some research and observations on it. The result is Sara and Tommy! Although, it's not considered final, I'm very satisfied with the result. If you noticed, I've been brainstorming on a new comic idea. I'm trying to find an ideal comic that would suit most people's (including myself) attention spans (lol). The final version of this should look more minimalistic (I'll try to describe a character with the least amount of lines/pen strokes as possible). For cartoons, I believe that "less is more" and it looks pretty good.
So what I've learned so far? I learned how to start the shape of a cartoon face and the placement of the eyes, nose, mouth, etc. to make a pleasing look. I've also learned that small things, like the hair and chin shape, has a big effect on the age of the character. For example, a young boy's hair would look "smaller" and simpler in style. On the other hand, an old man's hair is bushier and only appears on his temples, and a shiny dome (haha). These I learned from Google search.
I've also used knowledge that I've learned from other places. One would be from the TV show
Brain Games
. I learned that it's difficult to recognize faces without eyebrows, but it's easier to recognize faces with the eyes missing. This is the result of us perceiving things as a whole, rather than in individual parts. So, this meant that by simply changing the person's eyebrow shape, I could create an [entirely] new character! I've done this already with Sara and Tommy, so I'll experiment this using two neutral and identical faces later on. Of course, I've watched cartoons and anime as a child, so I have a foundation on what an ideal cartoon character should look like. What I've learned while looking around in DeviantArt is that the best artworks are the ones that impacted me emotionally.
If you're wondering about the names, they come from an idea of a comic series that I came up with more than a year ago. I've already made two pages of it, but realized that it would be too long (I don't wanna make a graphic novel). However, this would fit well in a form of an animated series, which is not possible with the given situation I'm in (I'm a student).
Although I think (and hopefully you think) this is good enough, don't expect Sara and Tommy to appear in my new works because they don't meet my requirements for the artwork(s) I've been brainstorming on. One of those requirements is uniqueness. For any cartoons to stand out of the crowd, they must look less generic (looks like Sara and Tommy qualify for cliparts in Google Images lol). In other words, people should be able to recognize your drawing style, like Matt Groening's Homer Simpson and Fry from
Futurama
. There are more that I can't mention, so I encourage you to Google it up.
Well, thanks for stopping by and [bother] reading this. I'll continue to learn new things in the world of art. I hope you enjoy your stay here and learned something new. To break off this topic, I'm currently working on a 3D CGI project that I think would look super cool! I'm also in the process of touching up a school art project that I'm (sort of frustrated) with trying to make it look perfect. Hint: it's related to
It's Complicated
. So expect to see these in the future!