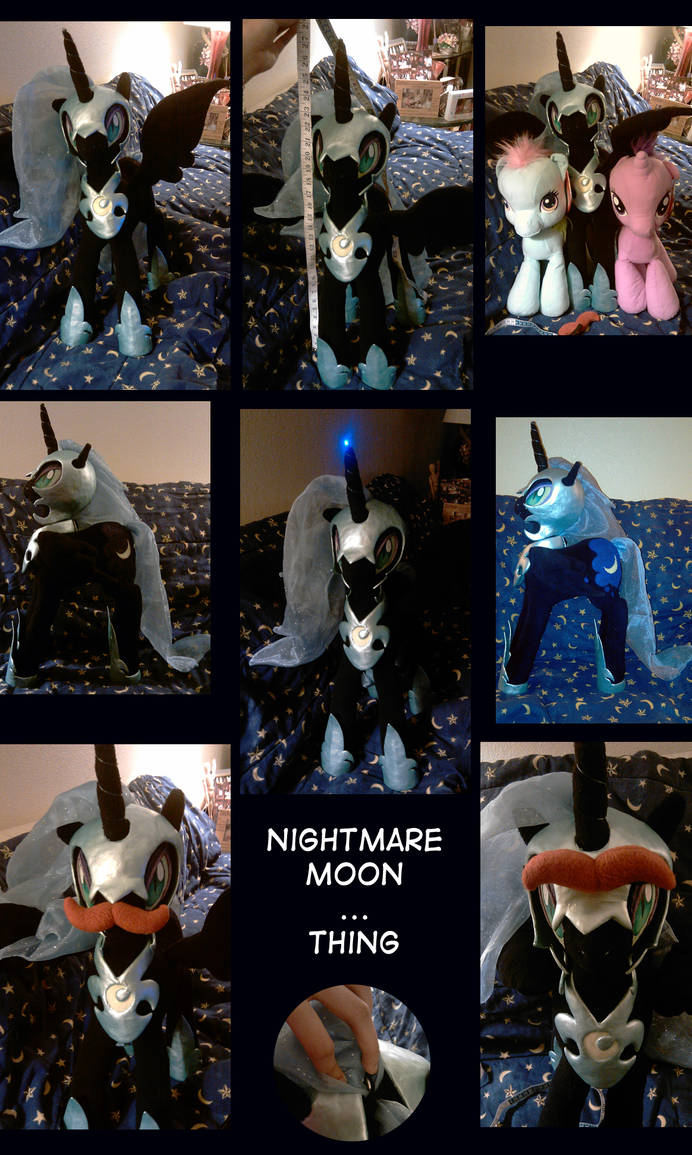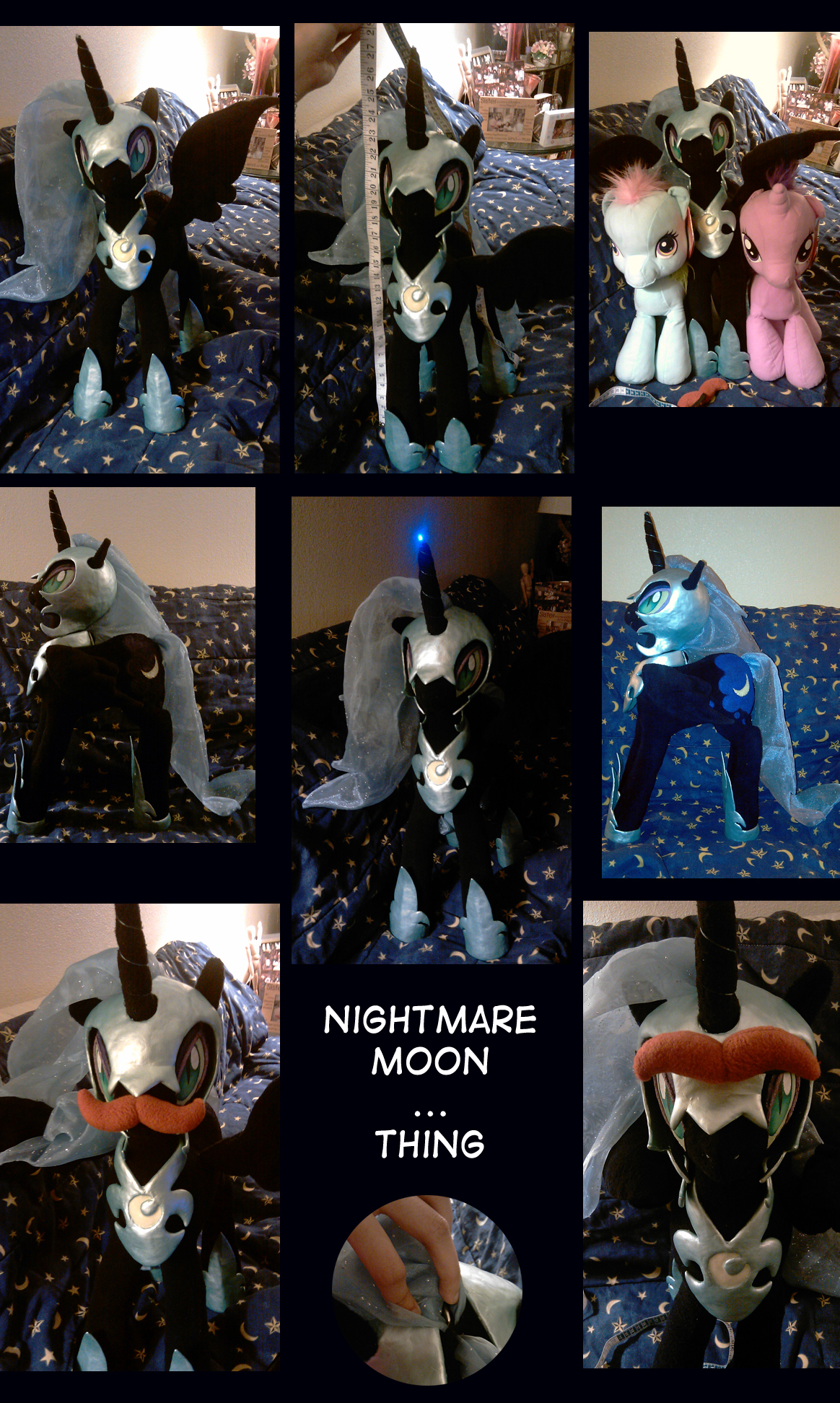 Watch
Like 99% of people on MySpace, this pony looks much better in photos, dim lighting, and after a few drinks. Just sayin'...
Can't find my camera charger, so I took photos with my phone. Just some images of fleece NMM... thing... with her armour on. Also included an image of a height comparison with the Toys 'R' Us plushies, of where her battery is hidden, and also one of her with her fabulous moustache, which also doubles as a fabulous unibrow, apparently.
Video of the glow-in-the-dark eyes and cutie mark here:
[link]
Auction is currently here:
[link]
---
Description copied from

Height: She stands at about 22 inches not including her horn and about 27 inches to the tip of her horn.
Length: She is about 10 inches long.
Wing Span: Her wings are about 29-30 inches across when fully spread out.
Fabric: Polar fleece and Organza (or at least that's what I think it is)
Eyes and cutie mark: Fabric and acrylic paint, with some Prismacolor pencils on her eyes for touchups
Blue LED on her horn runs on a 3-volt button cell battery.





Basically, I found a large piece of blue polar fleece in my room that was too dark to use for a Luna plush, so I made Nightmare Moon instead. I ended up buying some black textile paint to darken the fabric a bit, and after I was halfway through making this, GUESS WHAT I FOUND IN MY ROOM! Black polar fleece. Yay.

For the most part, I used only random things I found around the house while cleaning. Fleece, LED light, paint, etc... The only things I ended up purchasing were the fabric for her mane and tail and the black textile paint.

Her body has wire armature, so she's slightly posable (Although, I probably should've used a lower gauge). The wire is looped and covered in floral tape and fleece.

Her horn has a blue LED light at the end, which runs on a 3-volt button cell battery. The battery can be changed and is located between the two pieces of fabric that make up her mane. The button to turn the light on and off is located close to the base of her horn. (Yes, Facebook friends, this is how I burned myself the first time. I knew you wouldn't guess.)

Her mane is some organza fabric with translucent beading that I found at the store, although I was originally considering some sort of synthetic hair. They didn't have the exact colour I was looking for in stock for the organza, so this was the closest I could buy at the time. It's see-through and flows, so I thought it would work okay.

Her eyes were painted onto fleece and knit fabric. They glow in the dark (which is why you might notice the sclera of her eye is rather green). I couldn't photograph this. The moon on her cutie mark and the moon on her armour also glow in the dark.

She's filled with fiberfill and upholstery foam. Ignore the lumpy look to her limbs -- I think that's from all the weird poses I've been making her do.

I entertained the thought of adding sounds to her, but there were no pre-made sound modules that allowed for more than one recording without multiple buttons being added, and I'd definitely want more than one line for her.



A few faults to note with this plushie:


- She's actually a mix of dark blue and black since I had to use textile paint to darken the fabric. UGH. In normal room lighting, it's hard to tell, but under bright or fluorescent lighting, you can see the different colours.
- Her left wing has a few rough patches from a hairdryer mishap. I wasn't aware that the setting I was using while drying and setting the textile paint was capable of reaching temperatures high enough to MELT the fleece. Well, I learned something new that day. *sigh*
- Her cutie mark and her eyes are a mix of fabric paint and regular acrylics. Because of this, those parts of her are stiff and a somewhat glossy? Like I said, she's not exactly for cuddling, although the rest of her is still relatively squishy.
- I used the reverse side of the fleece for her horn, so there is some pilling -- but not too much since the textile paint was coated on.
- She is heavy because of her armour, armature, paint and the fact that she is somewhat large.