Journal Entry:
Fri Mar 31, 2017, 12:31 AM
I decided to play around with the Hunger Games Simulator with some OCs. Here's what happened.
*Note: Rue and Thrush's places are switched (usually the males are on top and the males are on bottom but for District 11 Rue is on top and Thresh is on bottom; I wasn't paying attention so Tyler Lawrence and Taylor Lily's pronouns are switched. My bad!)
Tiny: Smurf #1 on the sheet
Elegant: Smurf #3 on the sheet
The Tributes: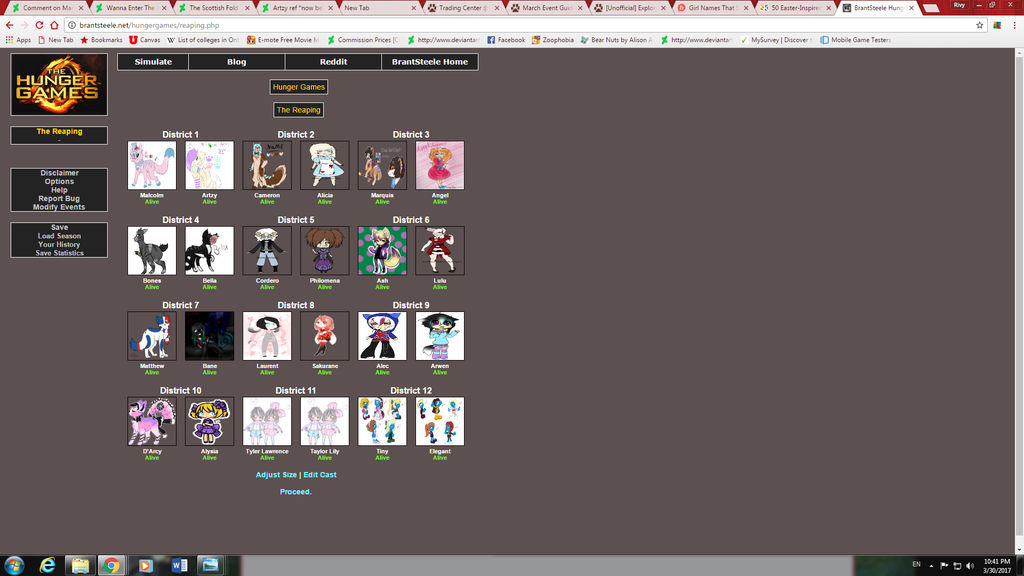 The Bloodbath: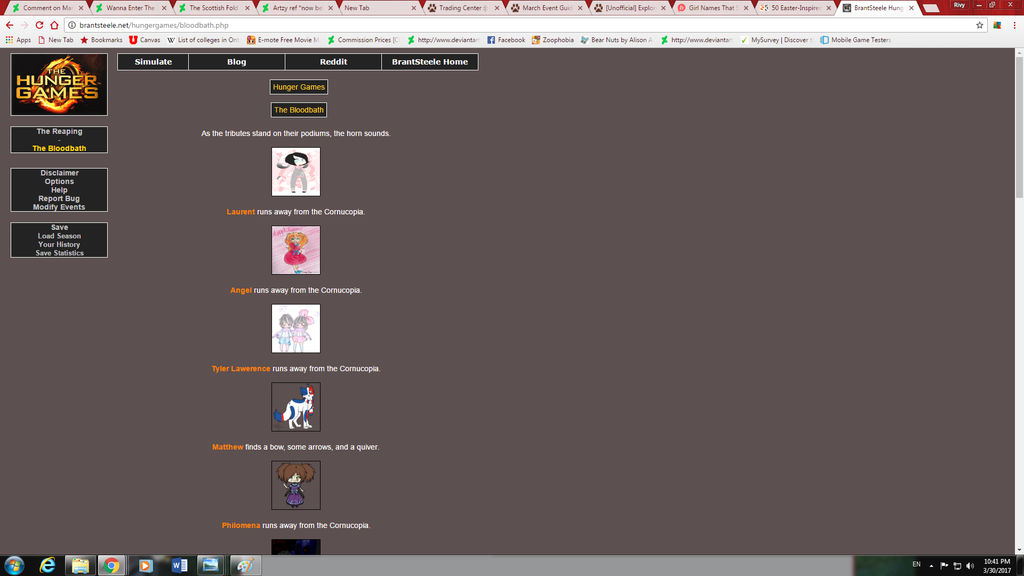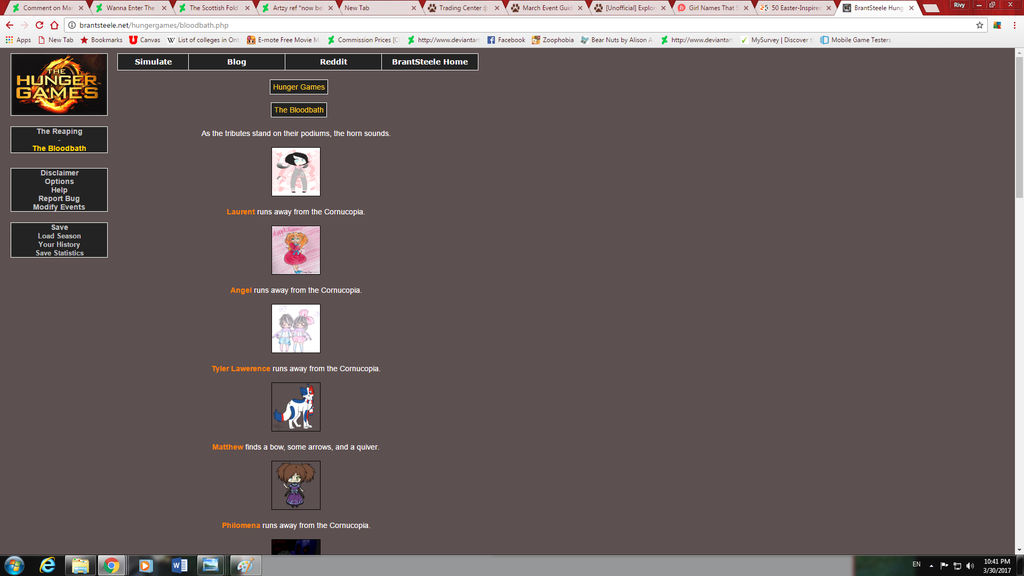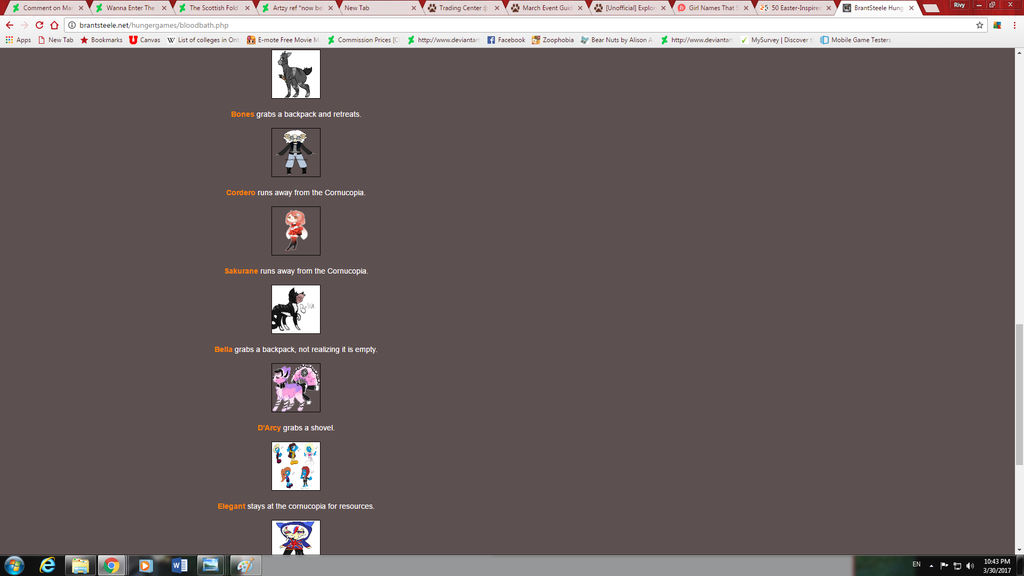 No deaths! Good start!
Day 1: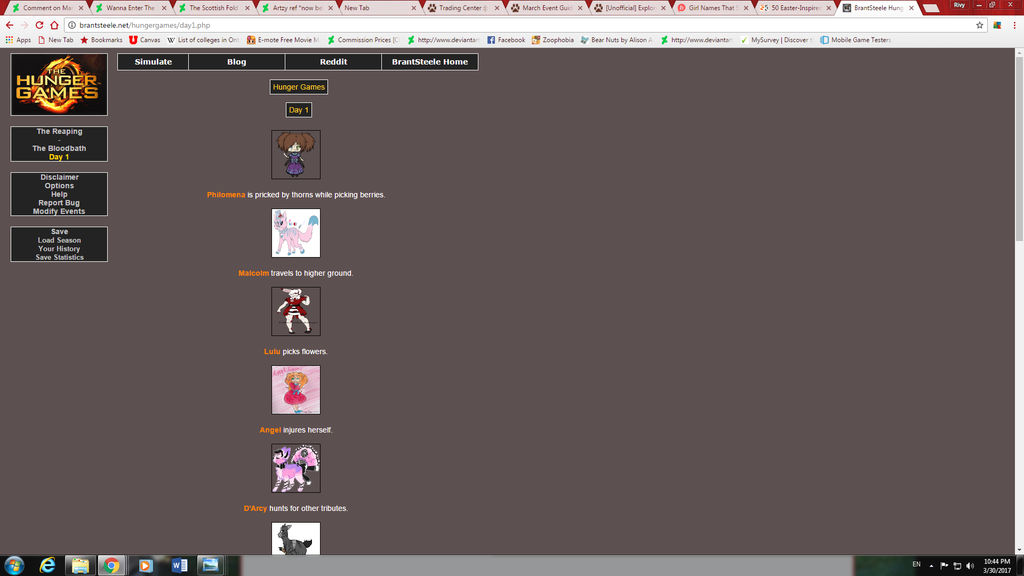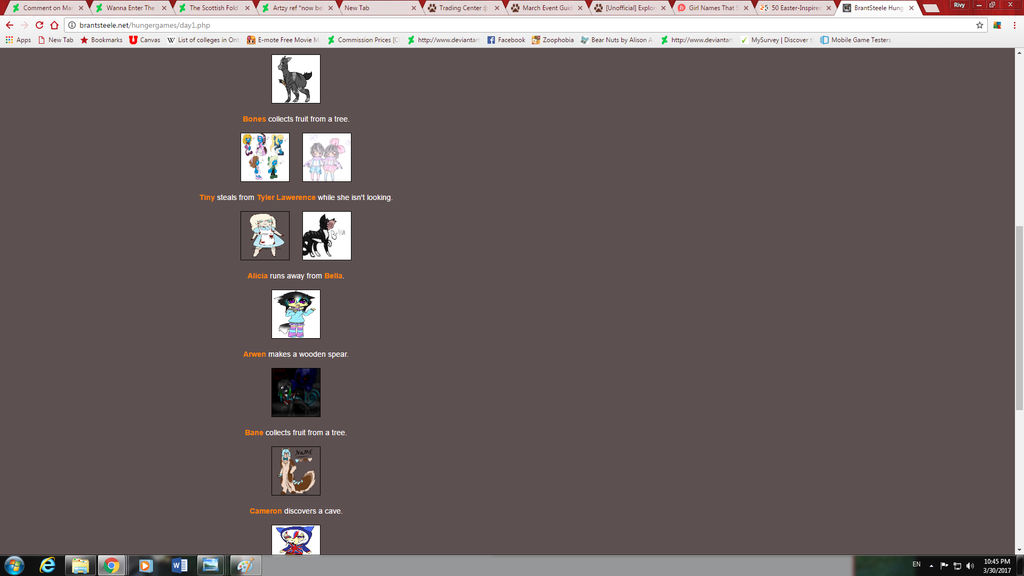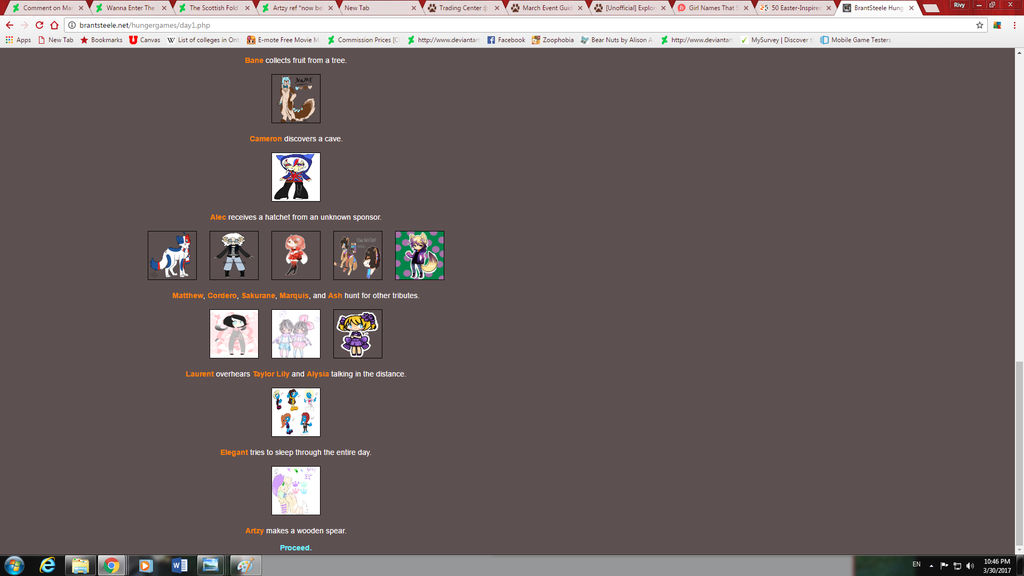 Still no deaths! Sweet! I've got smart kids.
Cannons on Night 1: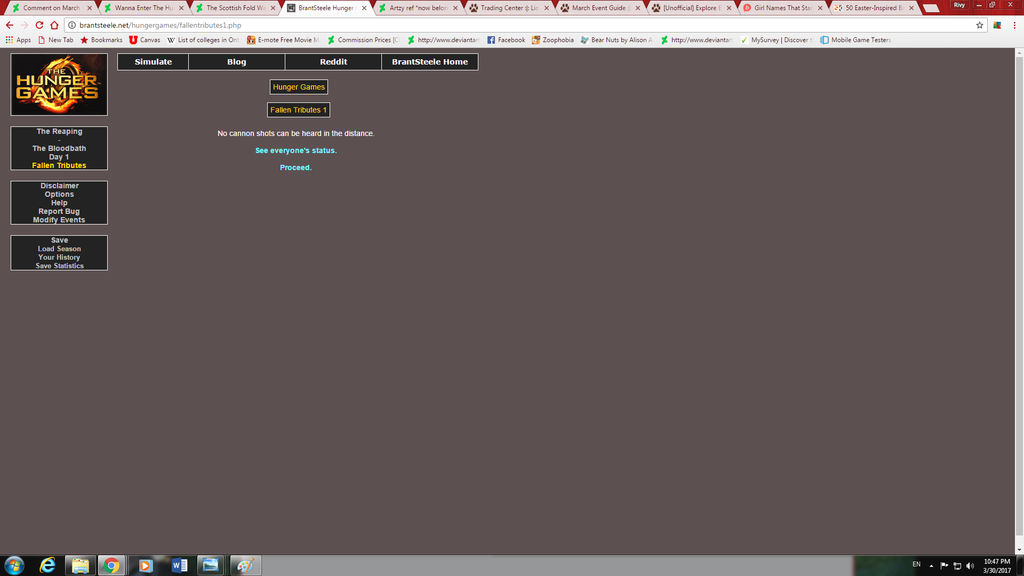 Good kids.
Night 1: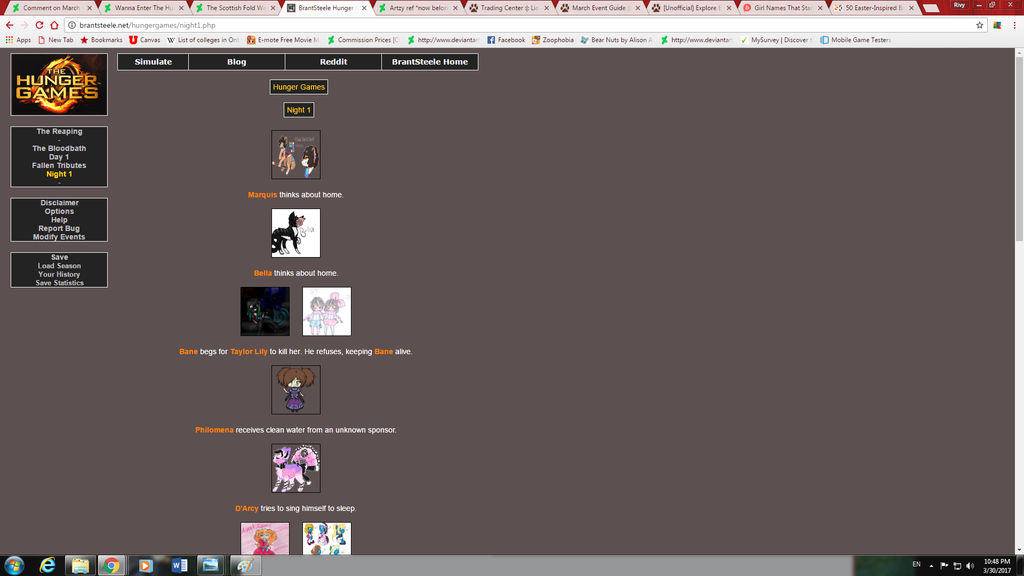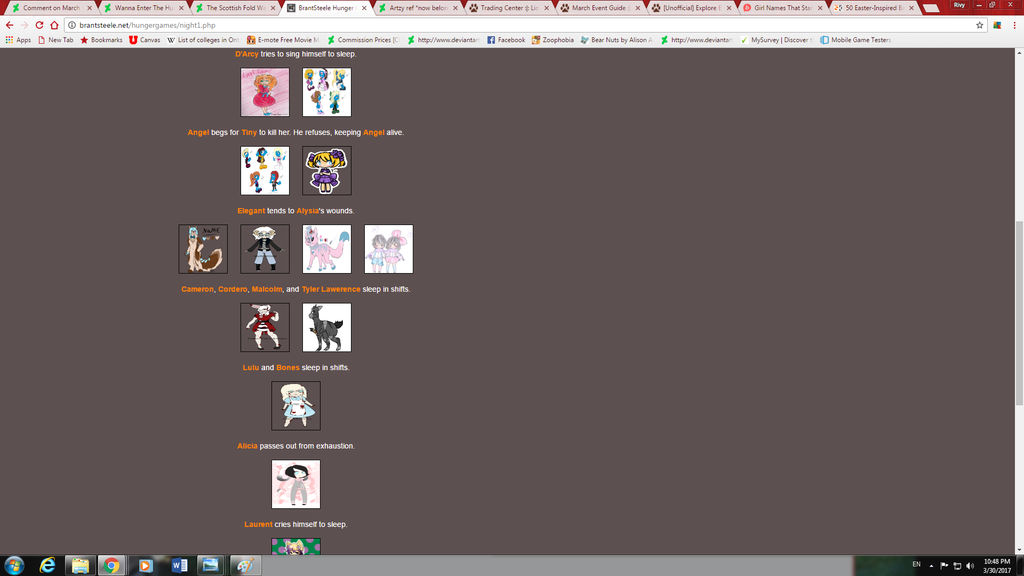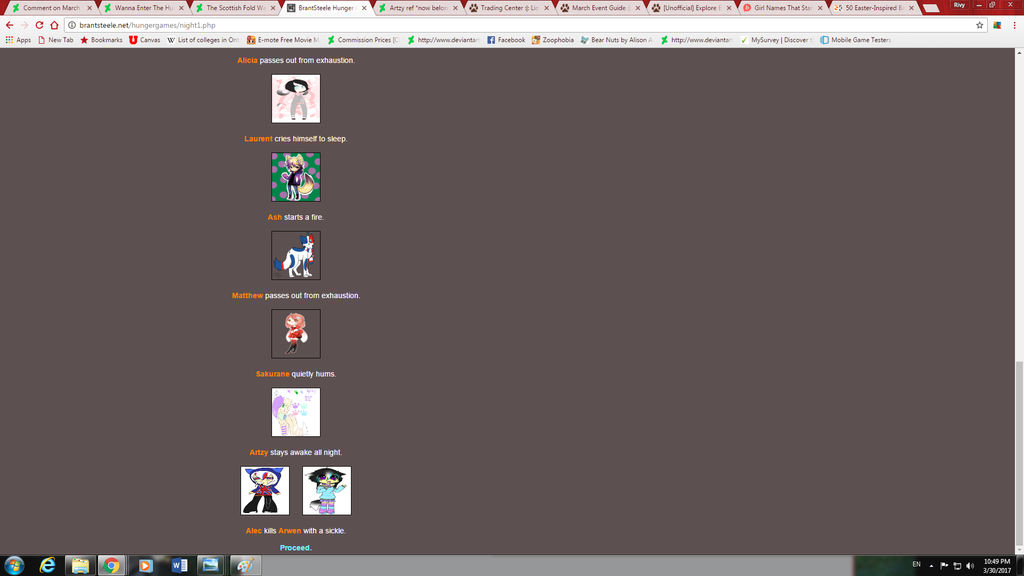 ALEC OH MY GOD
Day 2: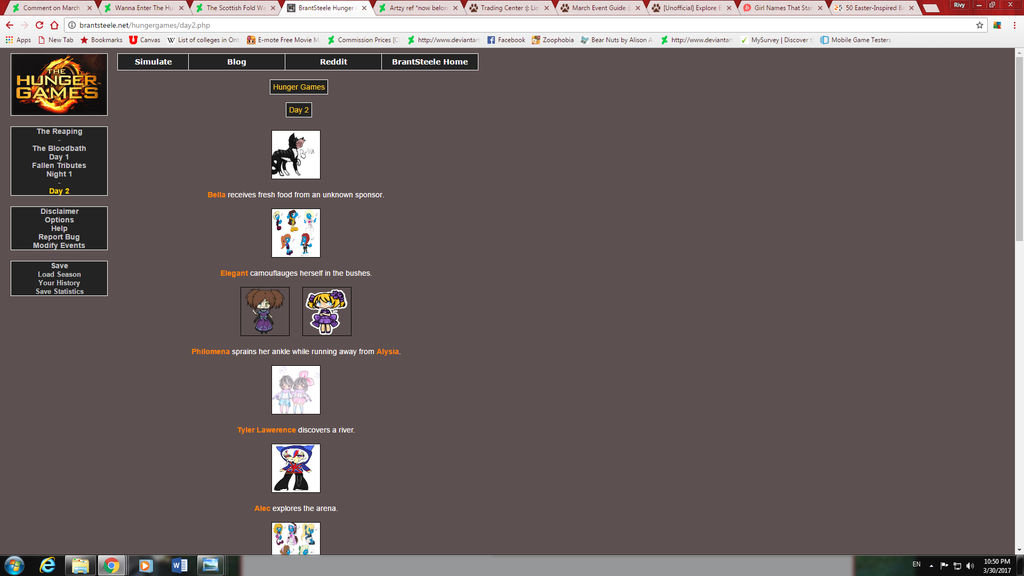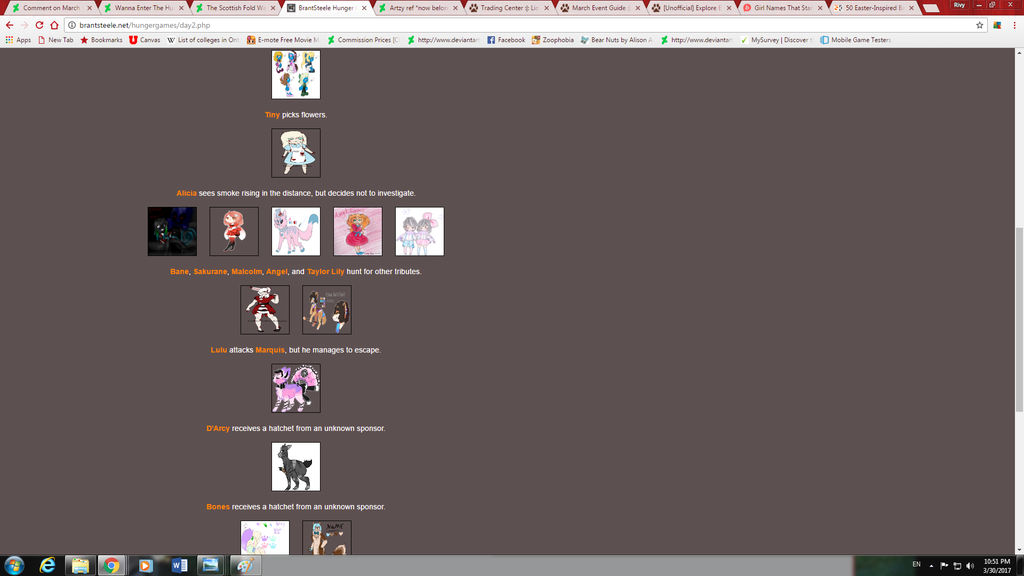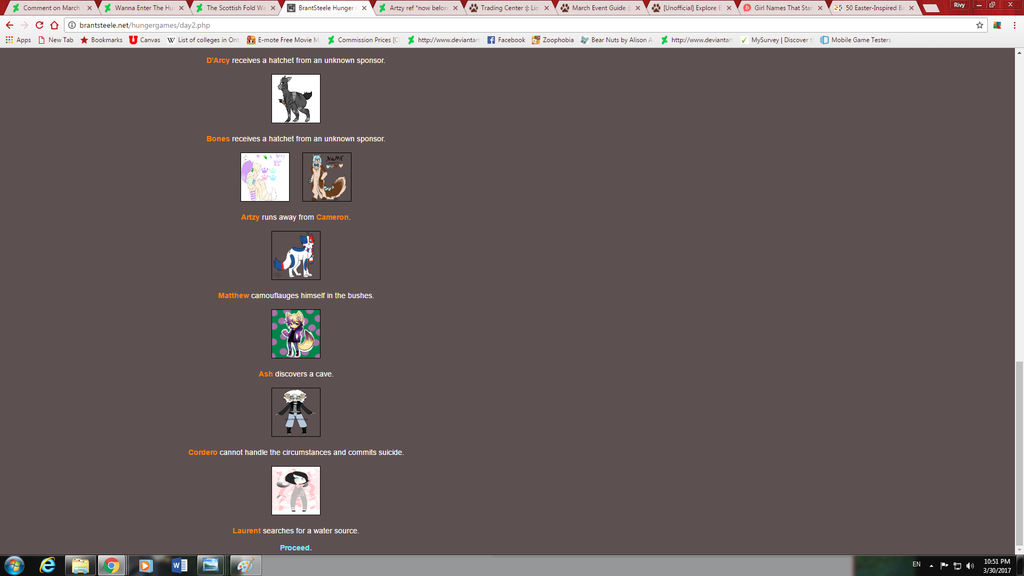 Oh Cordero baby Momma's sorry D':
Cannons on Night 2: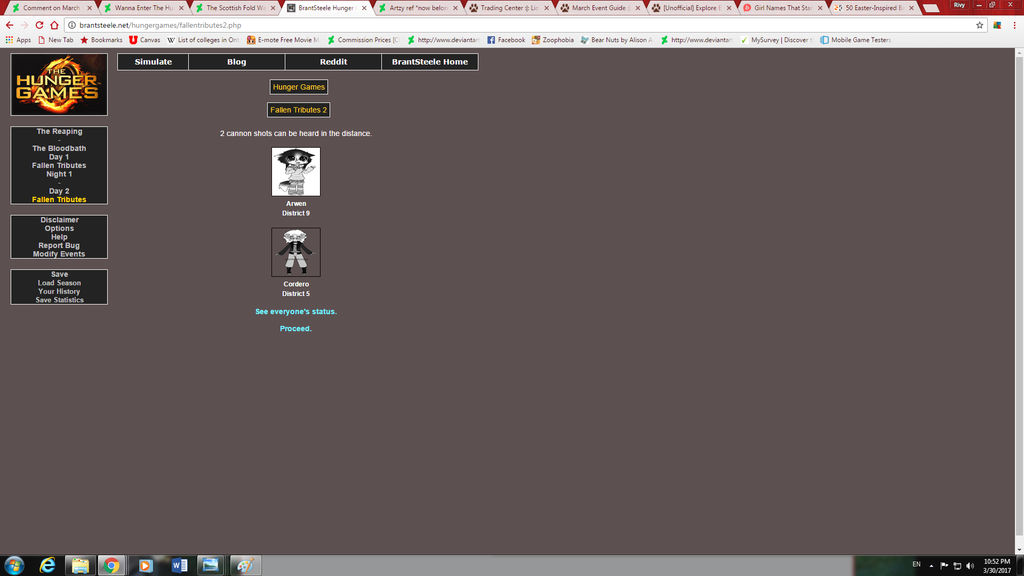 ARWEN BABY I'M SORRY
Aww Cordero honey

Night 2: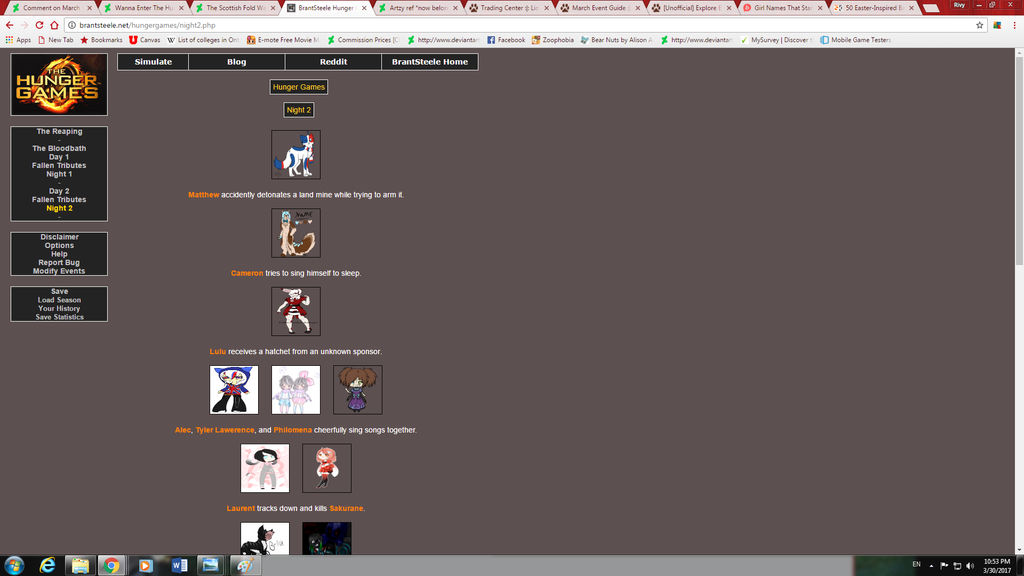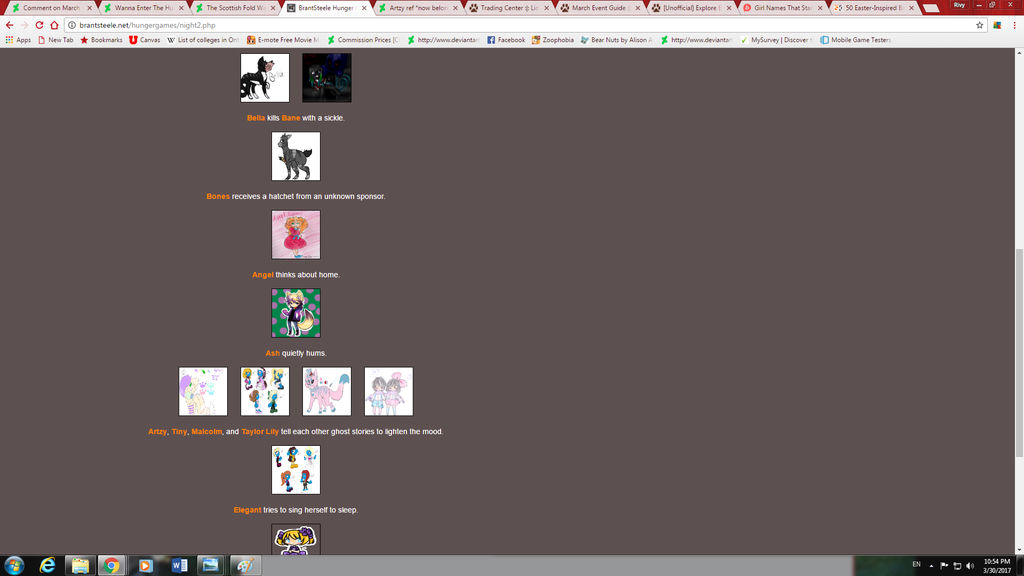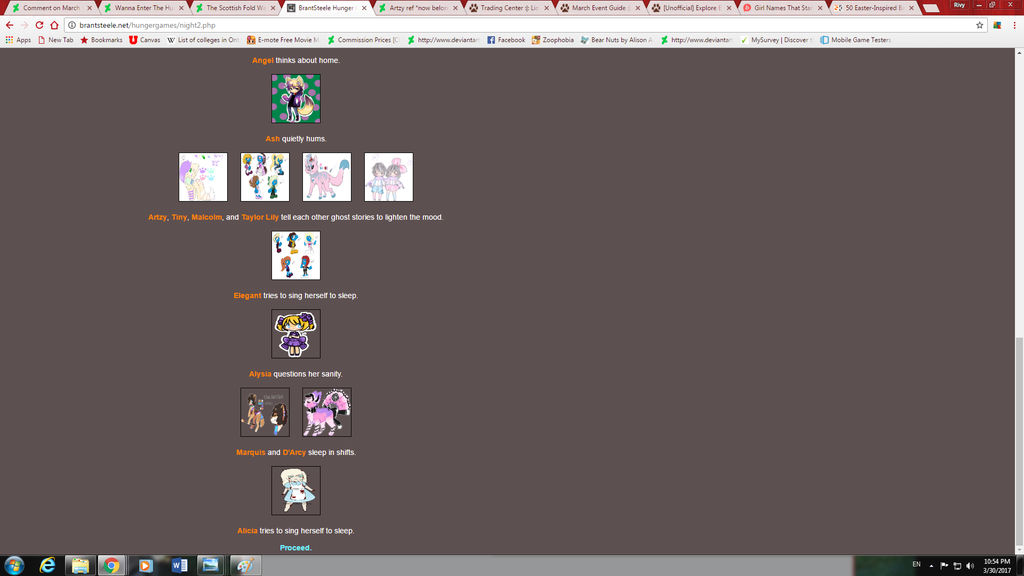 MATTHEW NO
LAURENT WHY DID YOU DO THIS
BELLA HOW IN THE FUCK DID YOU KILL BANE??? I HAVE QUESTIONS
Alysia honey I'm so sorry I did this to you ;-;
Day 3: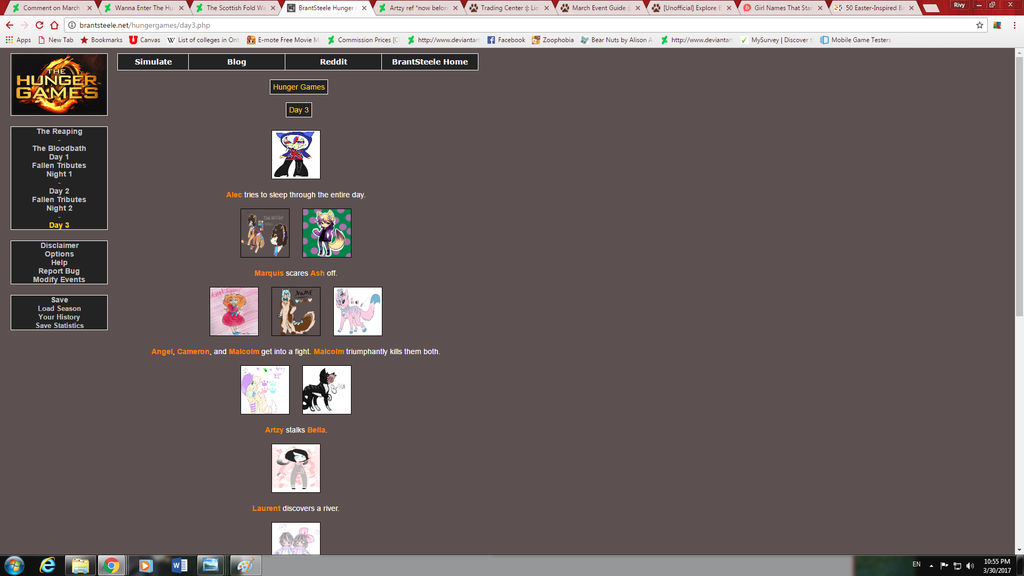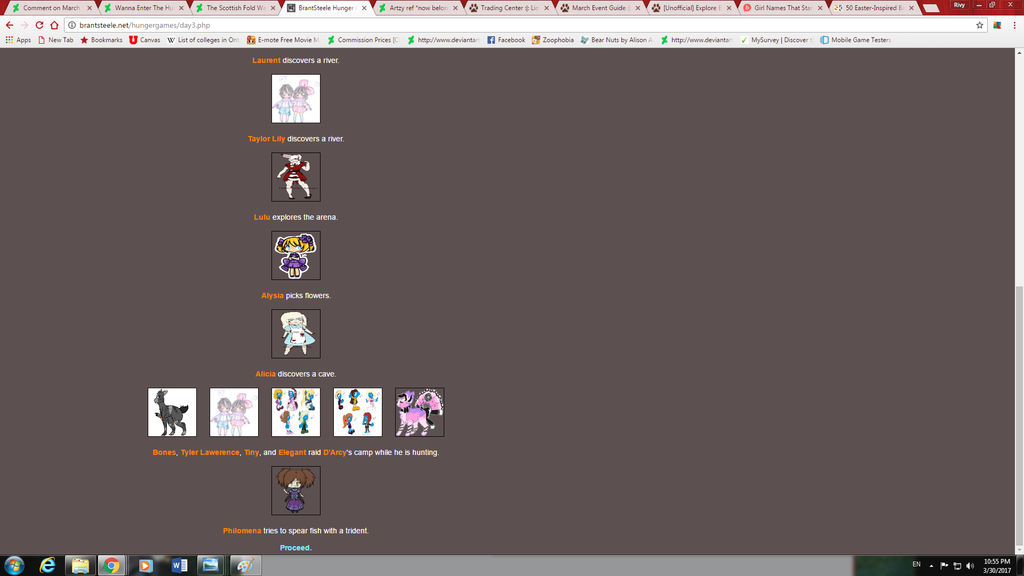 That's my Malcolm
D'Arcy honey I'm sorry they're mean to you baby boy D:
Cannons on Night 3: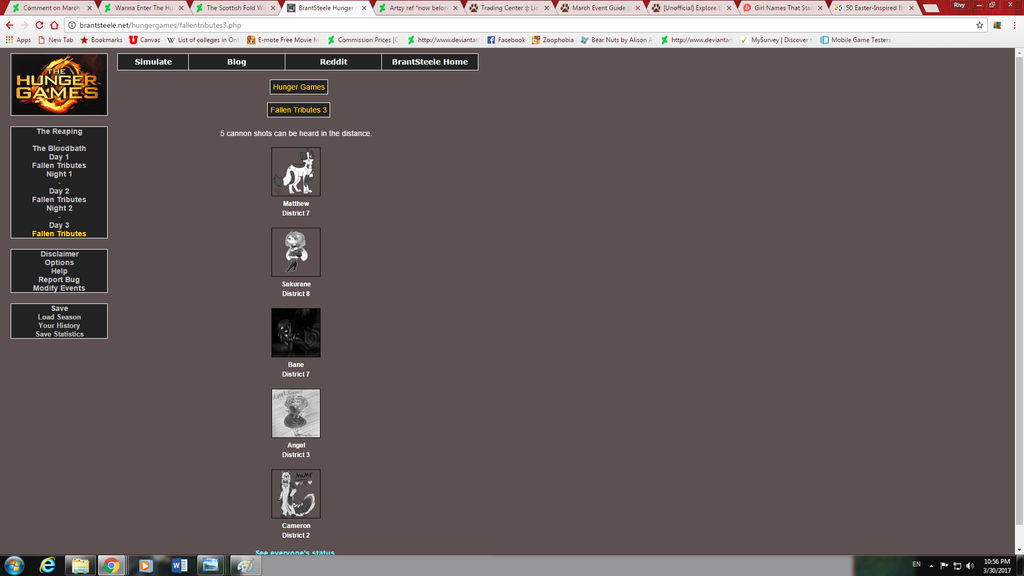 Matthew baby you didn't deserve this ;-;
Sakurane angel I'm so sorry
Bane I.... I still don't know how the fuck this happened explain
Angel and Cameron... Sorry this is what you get for trying to kill Malcolm :'3
Night 3: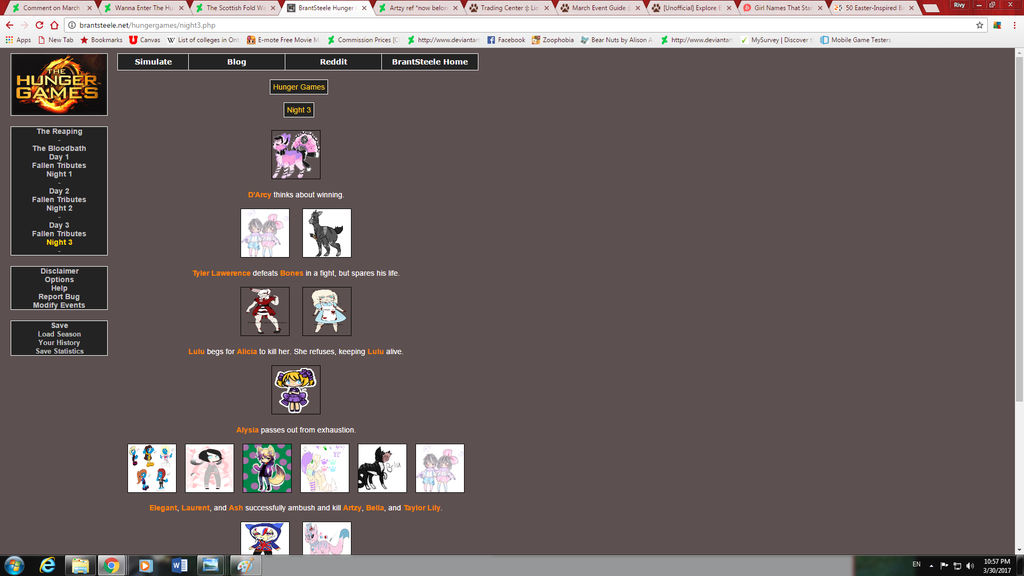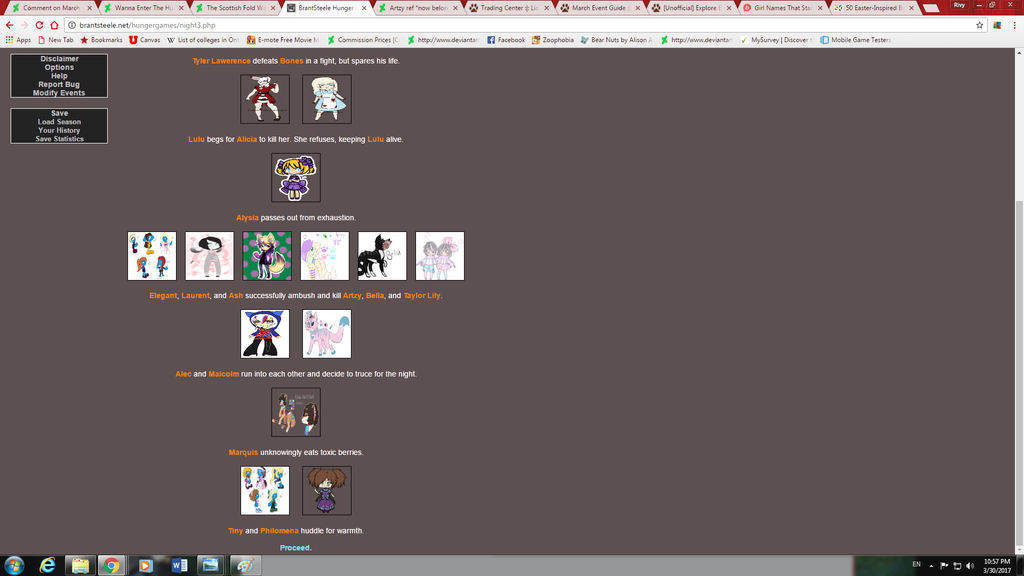 I'm sorry how did ELEGANT kill ANYONE? Like Laurent and Ash I understand but ELEGANT? Fucking how
Artzy, Bella, and Taylor Lily I'm sorry this is how you went it was unfair because you're all sweethearts but you were also killed by a fucking Smurf how even-
MARQUIS MY ANGEL NO
Day 4: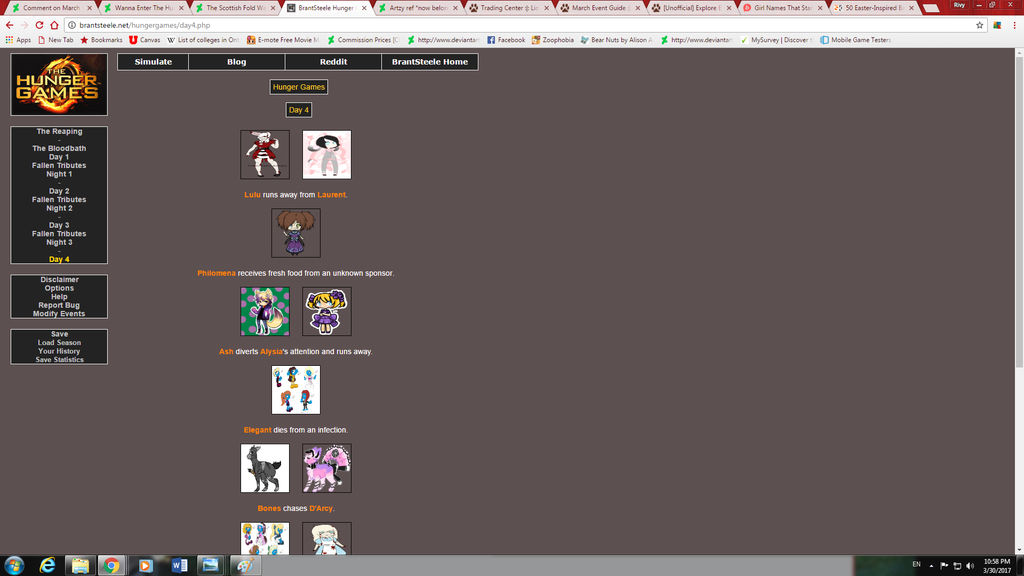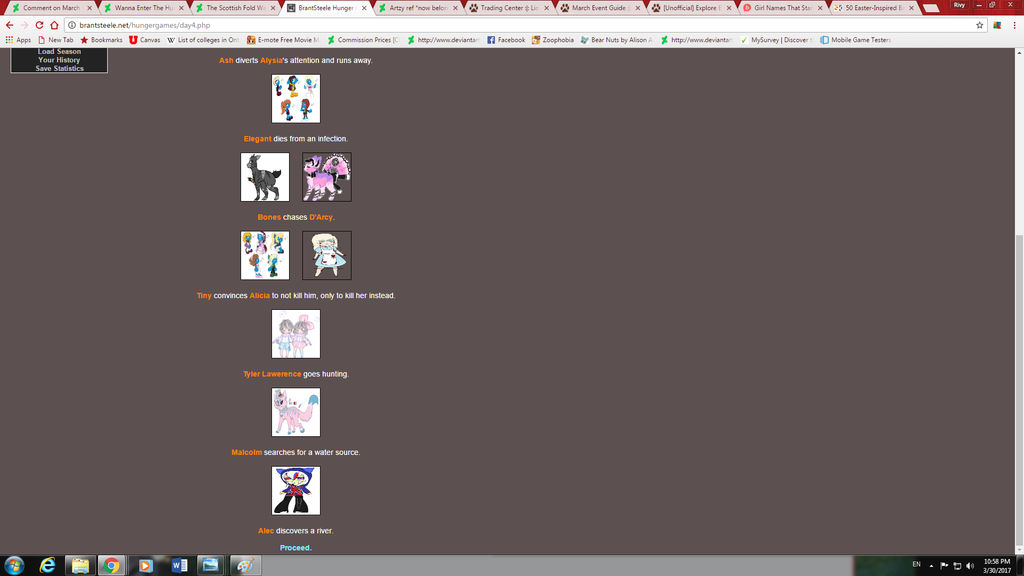 When did Elegant get an infection? Sorry girl you were a badass it sucks to go out that way

TINY KILLED ALICIA??? HOW ARE THE SMURFS GETTING THE DROP ON EVERYBODY I DEMAND ANSWERS
Cannons on Night 4: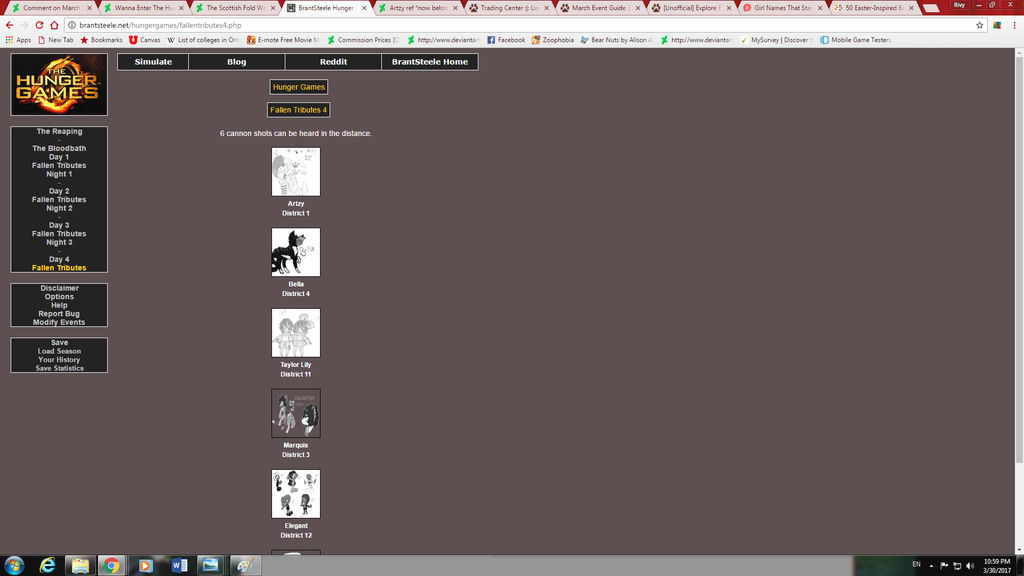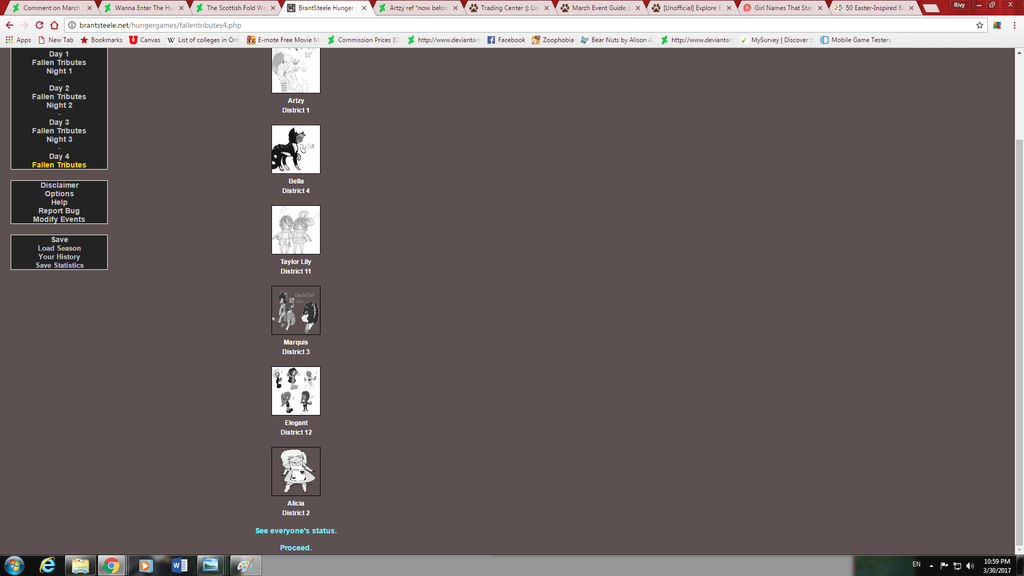 Artzy I'm sorry

R.I.P.
BELLA BABY I'M SORRY I DIDN'T MEAN IT I LOVE YOU
Taylor Lily angel let me hold you ;-;
MARQUIS MY SON HOW COULD THIS HAPPEN
Elegant you were doing great I'm sorry it had to end this way for you
R.I.P. Alicia I wish we could have seen more of you being a badass
Night 4: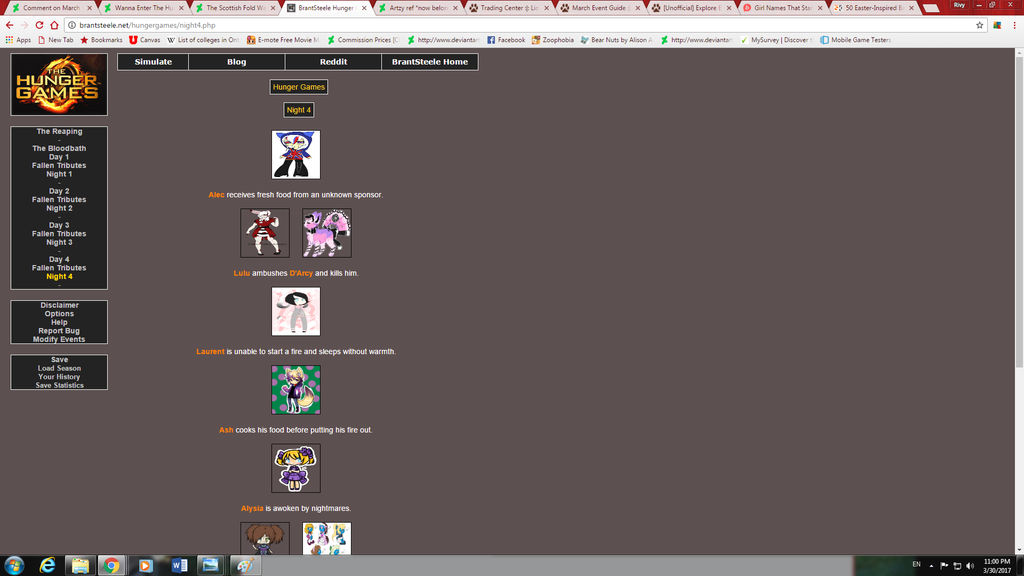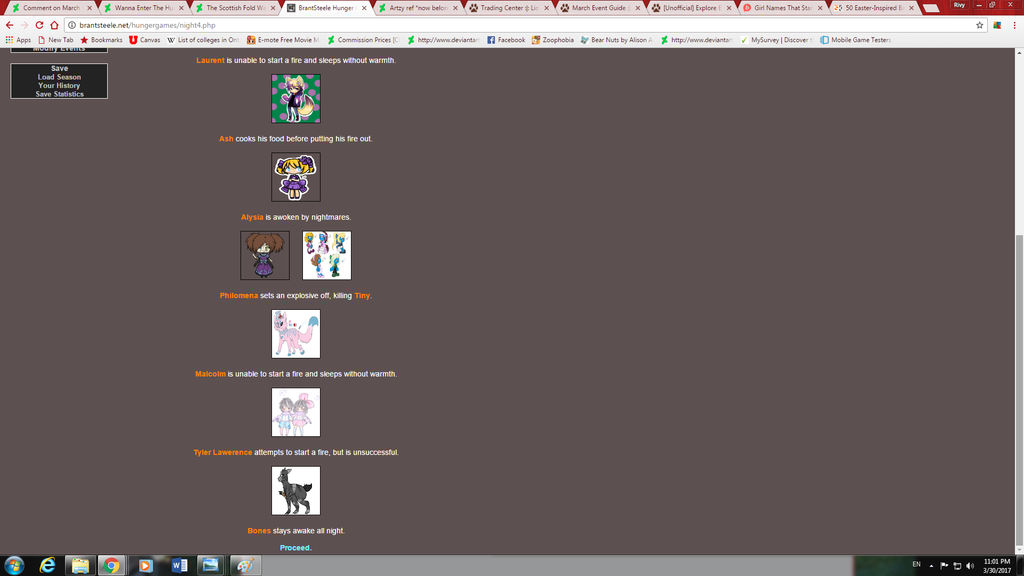 D'ARCY NO WHY THE FUCK WOULD ANYONE HURT YOU YOU'RE SUCH A SWEET LITTLE BOY
Ouch.... Bye Tiny ;-;
The Feast: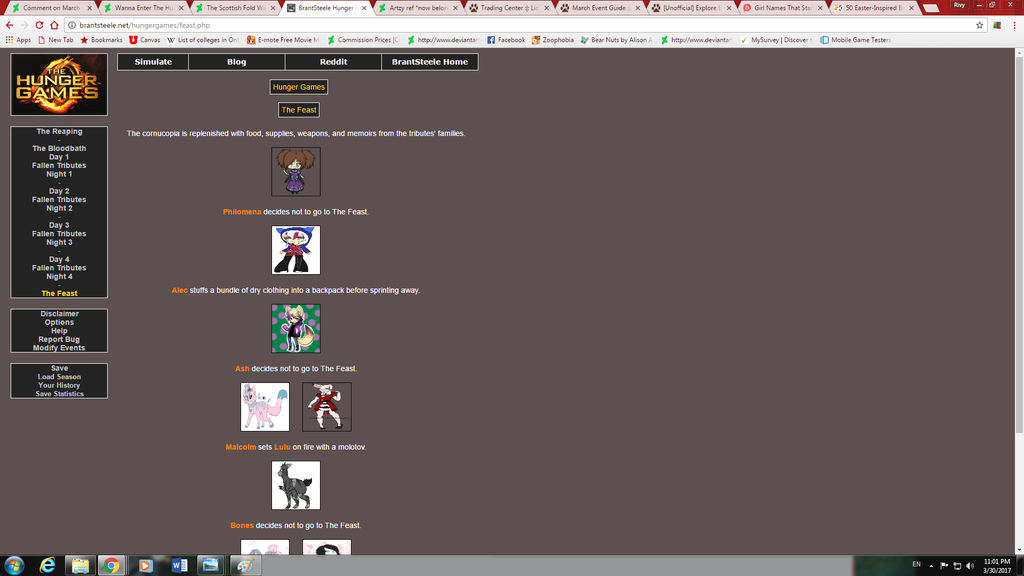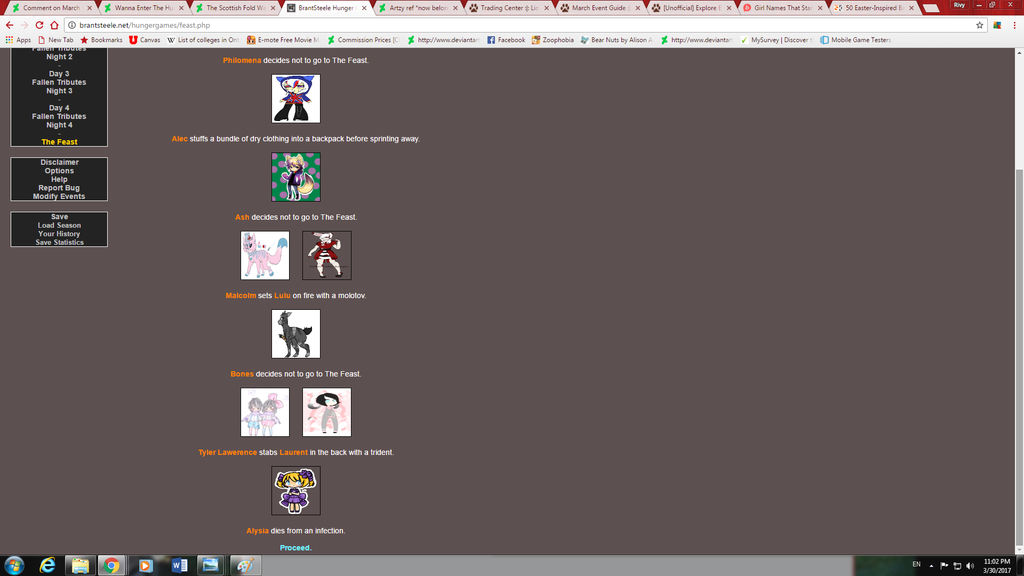 MALCOLM HOLY FUCKING CHRIST NICE JOB MY BUDDY
Tyler Lawrence that's pretty messed up you're like six
ALYSIA ANGEL I'M SO SORRY I MADE YOU DO THIS I LOVE YOU BABY
Day 5: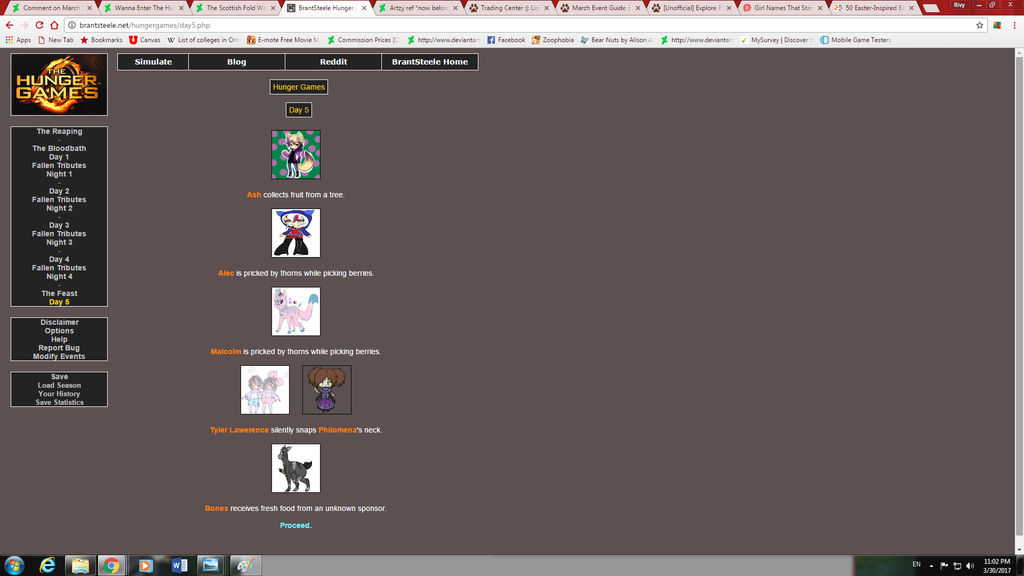 Tyler Lawrence are you trying to become a serial killer what the actual fuck JUST HIDE AND LET THE OTHERS KILL THEMSELVES OFF
Maybe he's trying to avenge Taylor Lily I don't know
Cannons on Night 5: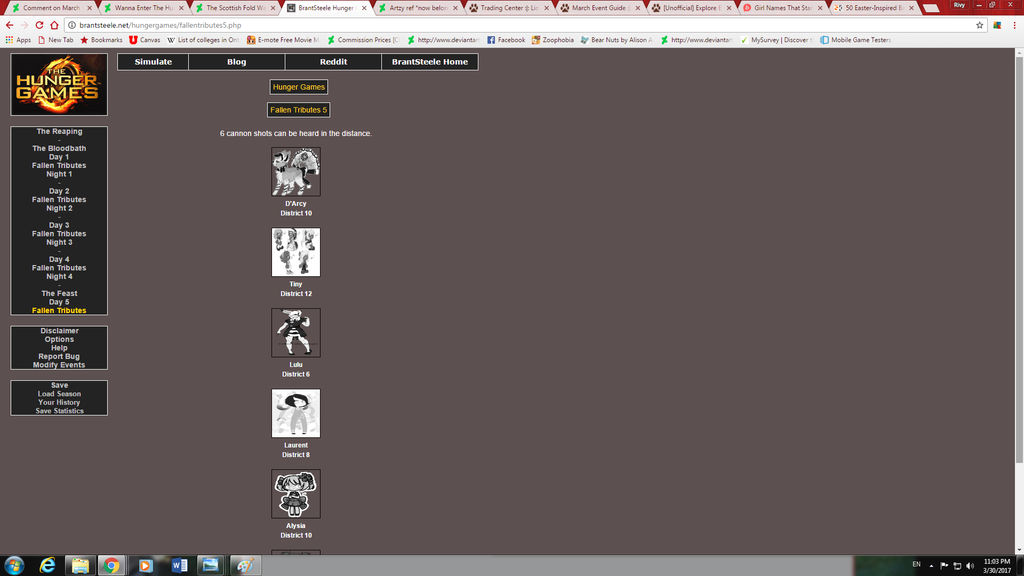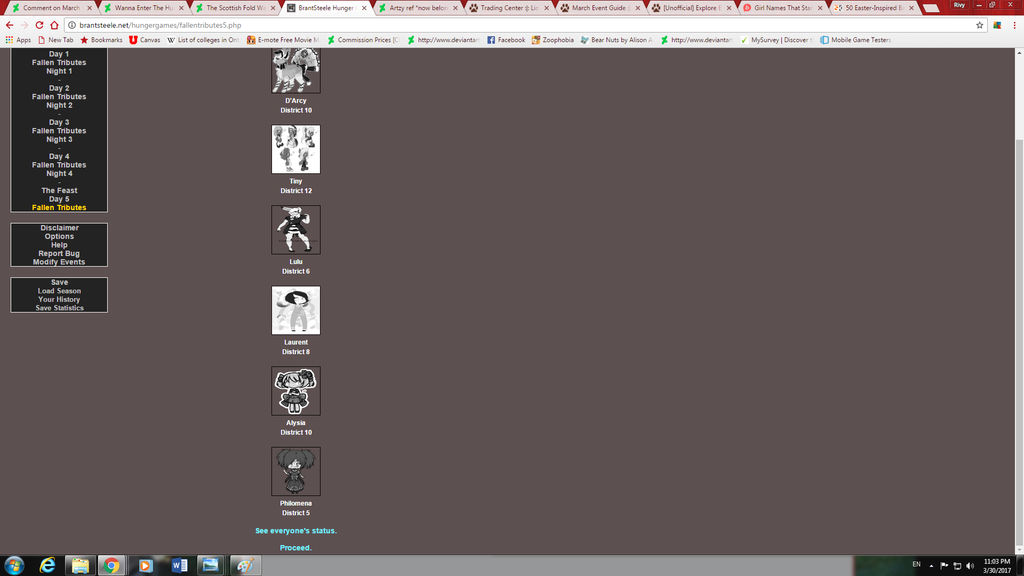 D'ARCY MY SWEET SON I WANTED YOU TO WIN THIS SO FUCKING BAD
R.I.P. Tiny. I still have no idea how you or Elegant managed to fucking kill ANYONE so kudos to you there, I guess.
R.I.P. Lulu, may there be plenty of bloody Wonderlands in the sky for you to murder in.
Precious Laurent I'm sorry for your fate you didn't deserve to die this way

ALYSIA BABY YOU DIDN'T DESERVE THIS I'M SO SORRY ALYSIA PLEASE FORGIVE ME FOR EVERYTHING I'VE PUT YOU THROUGH
Philomena I'm so sorry it ended like this I hope you aren't cracked anymore wherever you are little bone china doll
Night 5: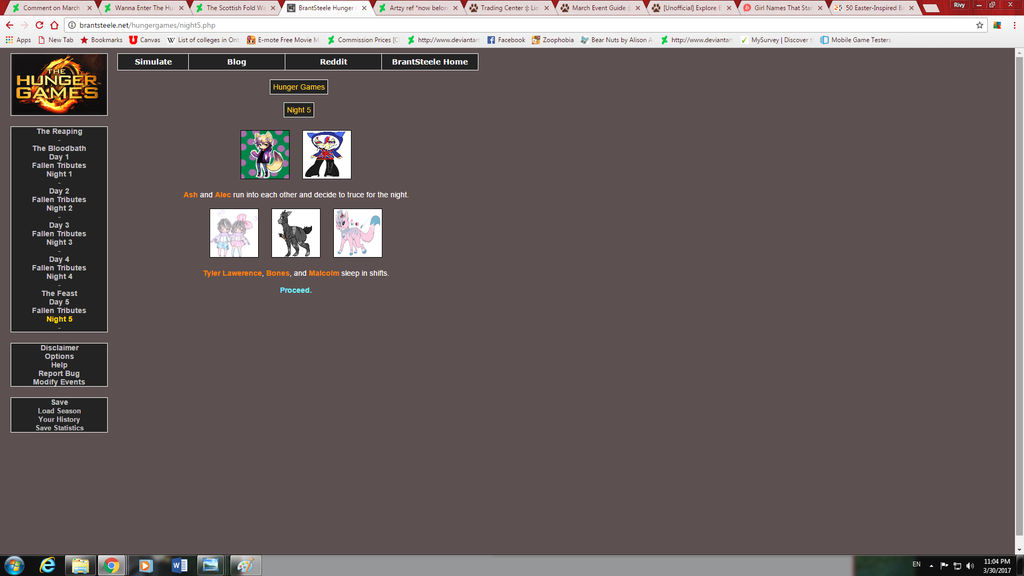 Well, everything's peaceful for once. That's good. Good kids.
Day 6: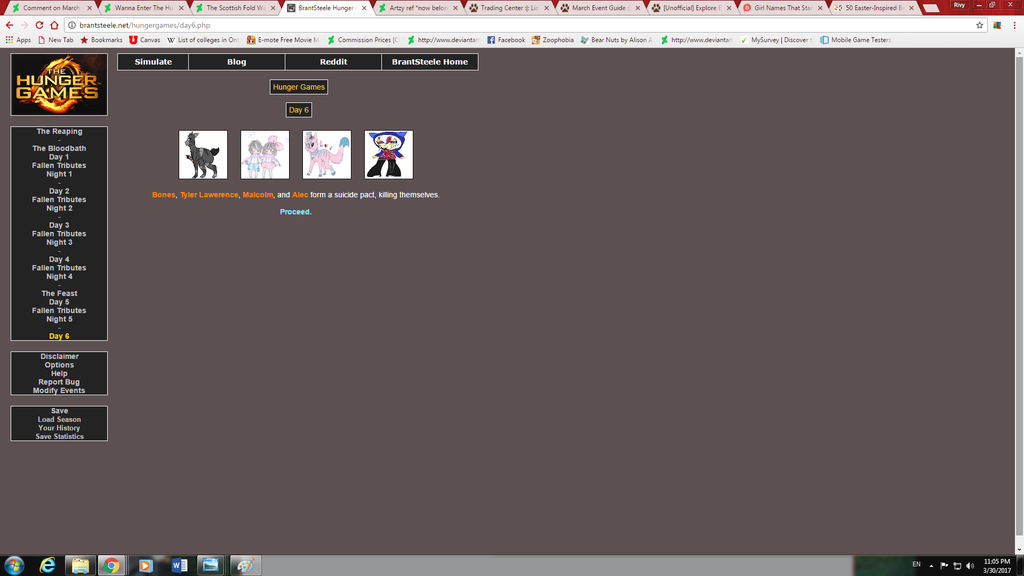 WAIT A MINUTE EX-FUCKING-CUSE ME???? WHAT
Cannons on Day 6: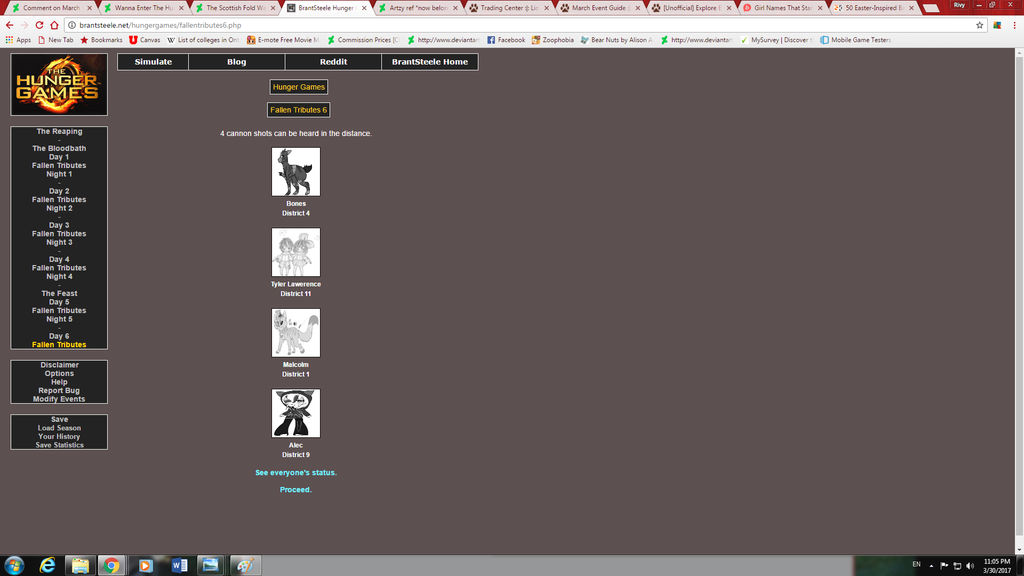 NO FUCKING GO BACK I DEMAND A GODDAMN EXPLANATION WHY THE FUCK WOULD MALCOLM KILL HIMSE-wait he's my fursona never mind this makes sense now carry on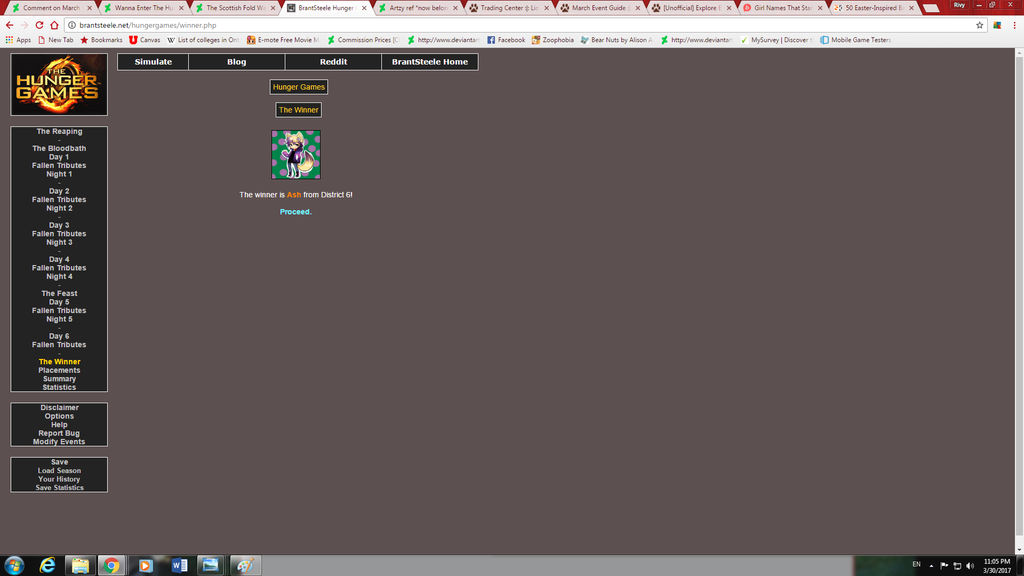 GOOD JOB LITTLE ASH. I'M PROUD OF YOU LITTLE BUDDY.
Hunger Games Placements: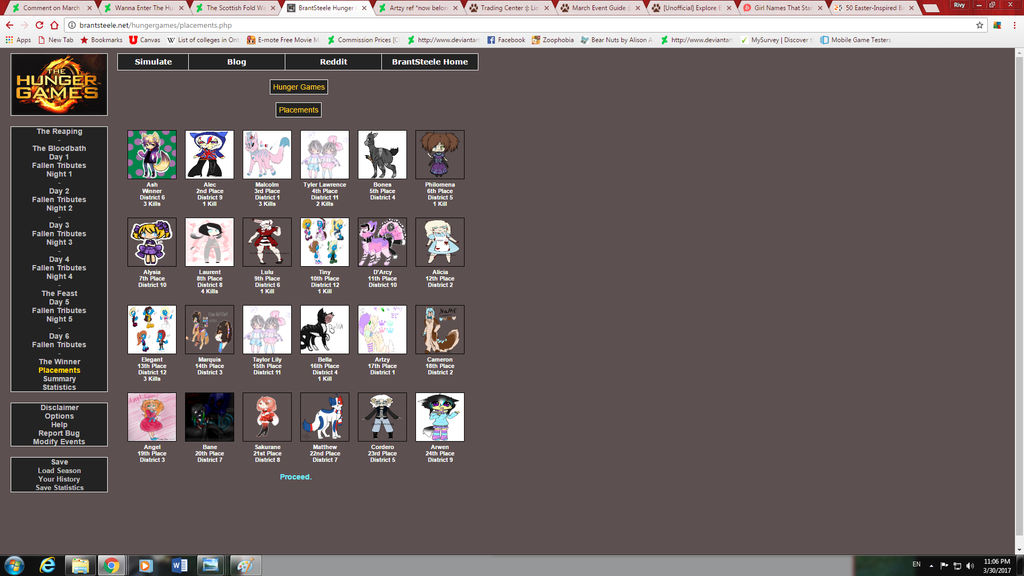 Malcolm came in third at least. Good job little buddy. Bronze medal for you.
Hunger Games Summary: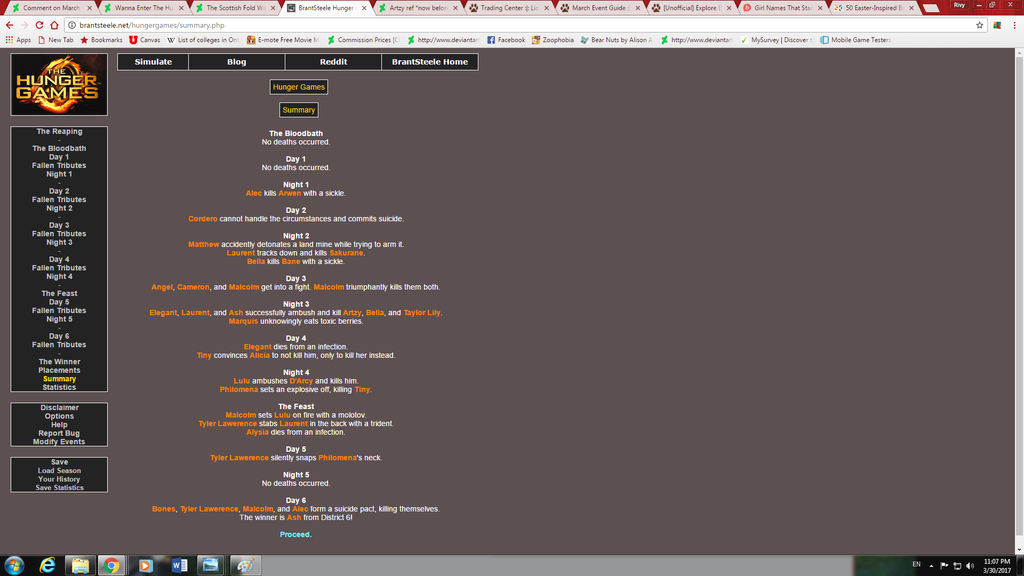 Hunger Games Statistics: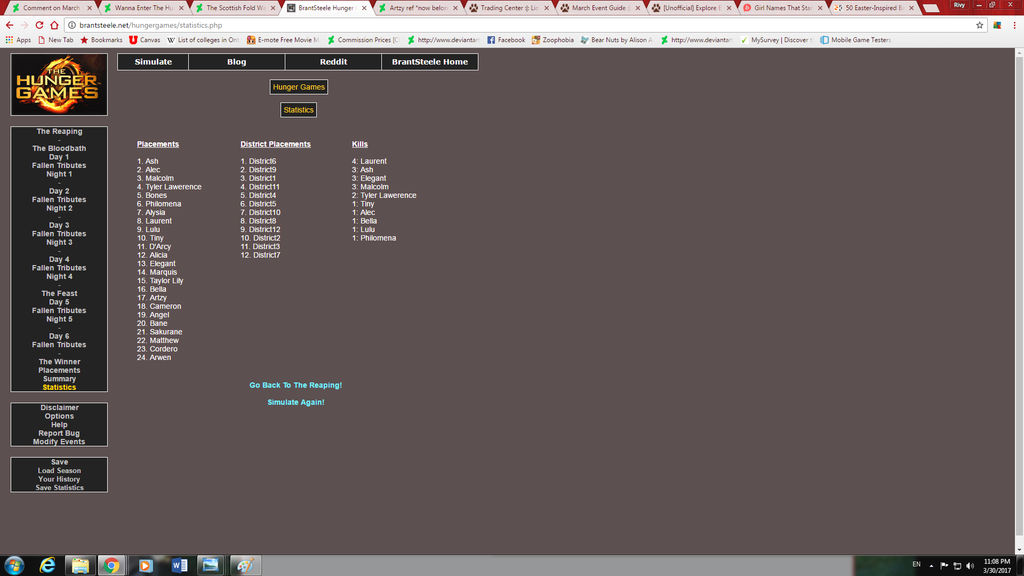 Well done everybody!
Well that was a wild ride from start to finish. I might do another one of these with just Smurfs or Watcher OCs. I dunno, let me know if you'd like to see another one!
Oh, and Arasteia is offering to let people participate in hers. I'm not formally offering one yet; just asking if you'd like to see another one.
Here's her journal:

[CLOSED] Wanna Enter The Hunger Games?Hi everyone!
Okay so I don't know about all of you guys, but I was OBSESSED with The Hunger Games a few years back, even before it became a movie. In fact I was so obsessed I even wrote my own novel based on the idea of a killing game. But we don't talk about that, I was 14 okay So it makes sense that I'd be drawn in by a Hunger Games Simulator. You can find it here > https://brantsteele.net/hungergames/reaping.php
I've seen a few people do this so I decided to host my own, cause it looks super fun and some of the things that happen are really hilarious.
This is basically what it will look like, but replace the tributes with your OCs: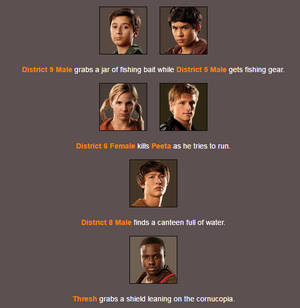 What Do I Have To Do?

1. Choose your tribute from amongst your OCs! One tribute each! WARNING: Your OC will most likely die in this event, and while there are no pictures (and it's not graphic or anything, it's just written down what happens) you must be okay with that concept!
2. Comment below with the fo



All right it's late I should get to bed night guys!



Art and Coding by Deceptib0t

Watch

I just had a thought. If just twelve folks got together they could pick two of their OCs and be a district. '3'
Reply

(I kinda stole this idea for Smurfy Amino whoops)

I'll probably hold something like this on dA too if people are interested XD
Reply

XD That was awesome. I'm definitely gonna play around with that site now.
Reply

You should! It's a ton of fun XD
Reply

This was hilarious to read, those smurfs XD Thank you for spreading the word about mine!

Reply

I have no idea how these little buggers are managing to kill people off honestly XD
Youre very welcome!

Reply