3K Favourites
183 Comments
19K Views
Ayyy!! I've wanted to make something like this ever since I saw someone suggest it on Redbubble. Something more than stickers, a design for T-shirts and stuff!

Suggestions for improvements are always welcome! Let me know what you think, and if you're interested in getting the design on a shirt, case or sticker, then head on over here:
www.redbubble.com/people/river…
Characters are (top left/right) : Bluestar, Tigerstar, and Scourge. (mid left/right) : Tallstar, Silverstream, Cinderpelt, Yellowfang. (bottom left/right) : Greystripe, Fireheart, Ravenpaw.
Hope you like it!
Second Series Design: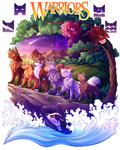 IMAGE DETAILS
Image size
2400x3000px 4.94 MB