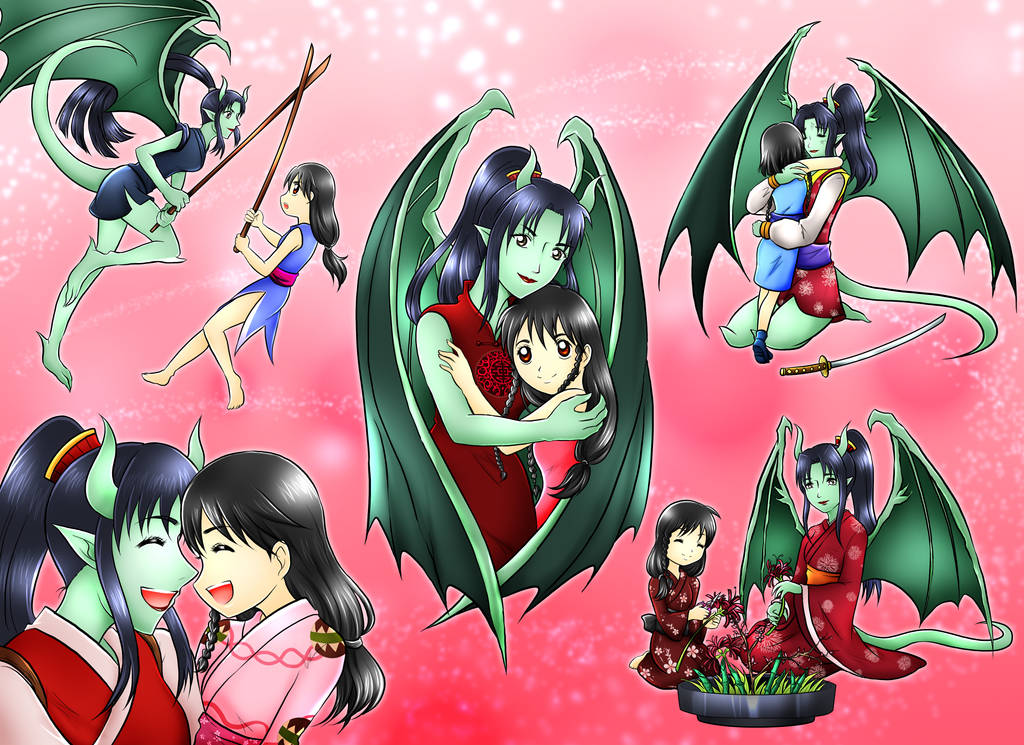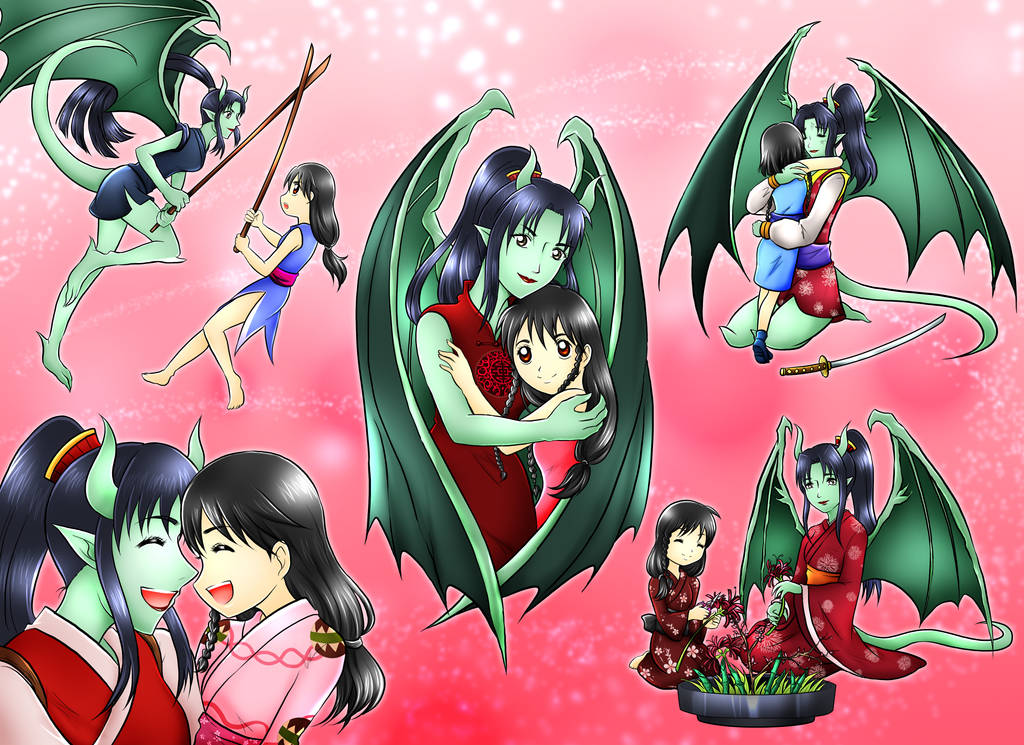 Watch
Another great commission picture done for me by my good friend

.









To go along with the motivational screenshot I posted a few months back about the 1994 animated Disney series called Gargoyles existing in the same universe as Rumiko Takahashi's InuYasha.
www.deviantart.com/rivaanime/a…

After which, I have posted quite a few other motivational screenshots about Gargoyles and one in particular was of character who made her appearance in a community fanfiction series that picked up where the original one ended. That character is none other then Sata: www.deviantart.com/rivaanime/a… She made her introduction after she left a harsh impression on the timetraveller or in this case, timedancer (www.deviantart.com/rivaanime/a…) Brooklyn after he was sent to Ishimura Japan during the Feudal Era where women were not meant to do much not even pick up a sword but in Sata's case she not only learned to wield a sword and learn the ways of Bushido, but she was her clan's most fierce warriors which was enough for her to earn the title of "second-in-command" to her clan. One of the best things about Sata (if you read the link I put) is how despite knowing how to be deadly with a Katana and literally knowing how to kick some ass she also is able to maintain and assume her gracefulness and still be very lady-like in appearance and in manners as well which is another reason it's so easy for others to let their guards down around her which would be the biggest mistake anyone could make.

Despite knowing her way around a sword really well, Sata is also very compassionate and truly cares for and loves her clan very much. Sata is really one of the perfect examples around for other female characters that you can still maintain your elegant, feminine ways while and also still be a badass.

So it got me thinking...WHAT IF...Sata became a mentor to none other then Rin from InuYasha? In my own honest opinion I can totally see this happening and also Rin needs better role models in her life unlike Kaede, Sango and Kagome as I pointed out before in another motivational screenshot that Rin and Kagome will have a bad falling out but unseen events will also lead to a bad falling out with Kaede and Sango as well (can anyone guess what it is?

).

This would lead to Rin either running or being taken away from Kaede's village and certain events will lead her to none other then the ancient village of Ishimura where in some other untold events that takes place, Rin leaves quite an impression on the villagers and the clan which is enough to have them both accept her in and enough to place her under the tuleage of their most fierce warrior, Sata.
Sata would start out "weary" of taking on a student solo and it wasn't because she hated humans or outsiders but she never had someone individually placed into her own care and guidance, but needless to say that those feelings didn't last long. After Sata takes Rin under her wings (no pun intended

) Sata begins to show a different side to herself that she has never shown anyone makings others wonder if there is more to Rin then meets the eye.

CENTER PICTURE: The two would go on to form a very close bond with one another that has lead many to believe that it is no longer one of a student and teacher but one of a mother and child as Sata would show on several occasions to be very protective of Rin.

TOP LEFT PICTURE: Despite her "motherly" affection towards her, Sata begins to show Rin the ways of the sword and despite her young age shows to have great potential which makes it even more interesting for the Onna-bugeisha (女武芸者, "female martial artist"). In some cases, Sata likes to throw in a few sneak attacks that does catch Rin off guard but this is moreso to test out her quick reflexes which Rin found to be annoying at times.

BOTTOM LEFT PICTURE: As stated before, they truly come to form a very close mother-daughter bond with each other and do alot activities together. Having maternal feelings towards one particular individual is a very unique thing for Sata to feel as Gargoyle children are raised by the entire clan, and the concept of biological parentage does not exist so even having those motherly feelings towards a human child makes it even more interesting.

BOTTOM RIGHT PICTURE: Sata would not only be Rin's teacher when it comes to learning martial arts and swordsmanship, she would also teach Rin on how to maintain and perserve her feminine ways as Sata would show her some of the other gentle and traditional noble ways of their culture such as properly hosting Japanese tea ceremonies and Ikebana which is Rin's favorite, no doubt from her love for flowers

.

TOP RIGHT PICTURE: Rin would indeed become Sata's beloved pupil but also one of her greatest prides as well. Sata proudly hugs Rin after a long battle which due to Rin's quick thinking and her sacrificing her long hair they were able to be victorious. Sata put up quite a fight as the bruises on her face shows it but right now that is the furthest thing from her mind as gives Rin a warm, long hug proud of her and her passionate, couragous spirit but more importantly; Sata is just thankful that Rin is okay as her mothering instincts subconsciously kicks in again as one of her wings covers her over as if to protect her from anymore on-coming danger.


Since Rin is being trained by Sata she is also being raised alongside the clan and would soon realize that she identifies with them closely such as their own aspect and philosohy on life as in the Gargoyles culture and society they see all things as part of the whole and as equals and would also come to learn the Gargoyle way of protection and service as the gargoyle culture is defined primarily by their natural instict to protect. They are very loyal to and protective of their territory and community. They are gaurdians by nature and will continue to help and protect any humans or within their "castle" or protectorate, even if those humans hate and fear them another trait that Rin would quickly adapt too and strongly carry with her as she gets older.

Rin has always been very different from other girls and in this case humans due to her own interaction with demons at a young age and not seeing them all as evil there is really no doubt that she would feel much more at "home" with a gargoyle clan who doesn't put labels onto everything or everyone and the Ishimura clan are the perfect example that one day there could be peace among the other races as they already co-exist peacefully with humans.




Rin - Inuyasha © Rumiko Takahashi

Sata - Gargoyles © TGS



heh that so until *the Portuguese and the west shows up and gives the lot the meaning of christanity and what the west views of the lot. but dominates them over all fairly and show rin true humanity in the process.* that.

the west never dies.

especially the catholic church.

Reply

Everyone has their own views on humanity and I doubt that Rin would be suave from what the Japanese beliefs are or what she was brought up to believe. Everyone has their own views on things and also their own religions to believe as well.
Reply

Intresting and well done.
Reply

Thank you for your comment. My good friend

worked on this for me. He does all of my commission pictures. It's quite interesting indeed and a very believable thing that I can see happening as well.
Reply

no problem on that front.

also saw your other stuff regarding the cannonal paring of the two in the show left some replies on it.

and that was nice of him or her to do that.

Reply

Reply

Cool.

Reply

OMIGOSH,this is just so cute! X3
Reply

Isn't it though?


I absolutely love it. Sata would be an excellent role model for Rin and help her develop into a strong, beautiful woman with moral values.
Reply

Should rename this: Mother and Daughter. Cause Holy Shit! Is this PURE AF!!!
Reply