This Zodiac chess set is created by

and drawn by me.
We've spent almost a year on Gemini!

At first we were planning just 2 sets - Dark and Light, but there were so many awesome ideas... So we ended up with 6 full sets and I like them all!

is writing about
the concept of this set
:
Gemini is a dual sign (The Twins), so I decided to go with a dual theme-Light and Darkness. The different 'classes' are due to my recent interest in Dungeons and Dragons. I don't have all 12 D&D classes, but that wasn't my point. Since this is my own sign, I may have gone quite overboard with it, and as a result, there are three complete sets. So more to come!

1st row - Superhero, Dancer, Bard, Enchantress, Maid
2nd row - Stargazer, Haven, Count, Dove, Chrysalis
Here you can see other chess sets: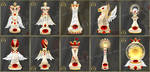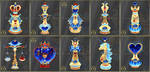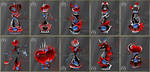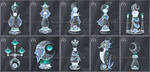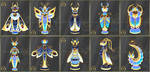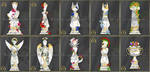 Image details
Image size
1700x815px 1.12 MB