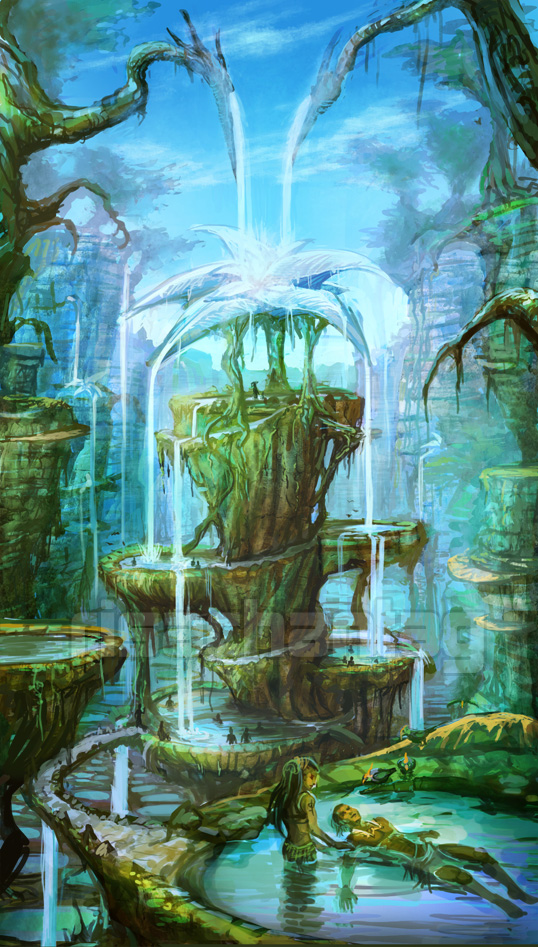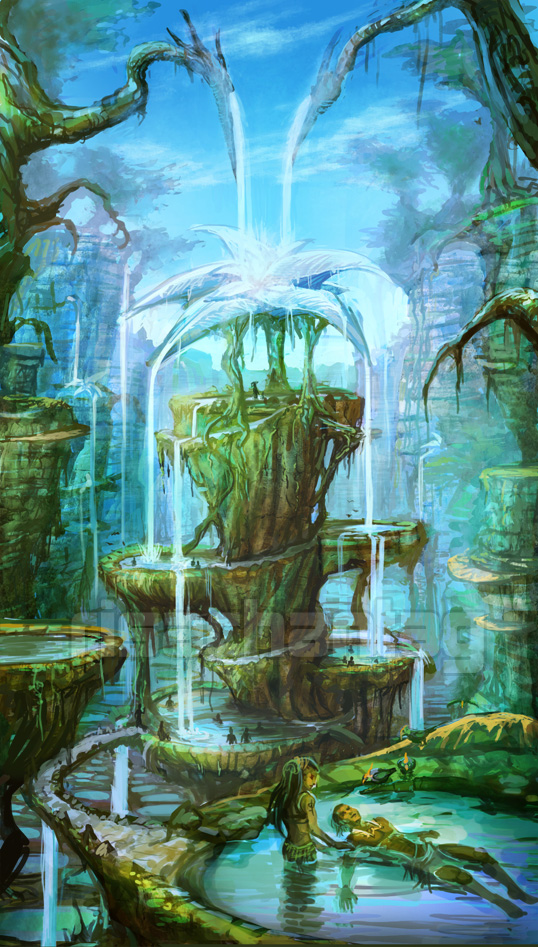 Watch
This started off as a mostly human-made structure in concept, but I decided to make it more organic in the end. Cool colours again, must be the heat getting to me.
Edit: Made characters in foreground a little bigger and moved a few elements. Reduced contrast on central area. Thanks for the crits, guys!
Edit:
Step by Step tutorial available
Time: 5-6 hours
Tools: Photoshop CS2 & Wacom Intuos tablet
I was extreamly tired after working all christmas break on majors and summatives until I saw this. This idea, this concept is beautiful executed with wonderful deapth an extreamly unique version of a healing spring. I have never seen a healing spring like this in my life.

The colors are beautiful and vibrant, they really bring out that lush feeling in the enviornment. The water is cascading here and there really add to the flow in the picture and the height that this person has taken on this wonderful idea of healing springs.

The flowers and natures vegitation that are creating these shapes, these structures, gives off a wonderful feeling of tranquility and peace.

My favoirte part about this work of art is the water coming from the trees at the top and gently falling onto the flower and from there cascading down into the many little puddles below.

Overall this was a very refreashing work of art that will catch and sooth the hearts of many. Wonderful inspiration for other artists to ponder about.

One of the only things that I find a little out of place is the tops of the trees. To me it doesn't seem to fit the pictures and they seem to oppose the flow by flowing upward (as if wind blew hard on your unbrella and it became weird \/ shape)

The last thing i just noticed is that the trees again that you have around the top seem like some of them on the right should have some roots sticking out of the rock (since it looks like some of the cliff fell away or eroded away)

Those are the only things i could find unusual about this piece of art. What i have said about is my perosnal opinion and is neither right or wrong. Just my thoughs about this wonderful and refreashing take on a healing spring
The Artist thought this was FAIR
108 out of 113 deviants thought this was fair.