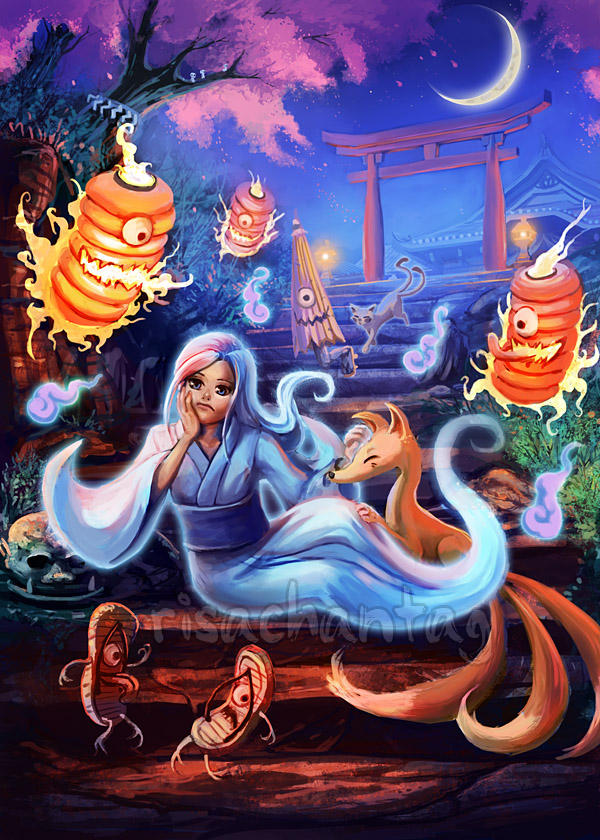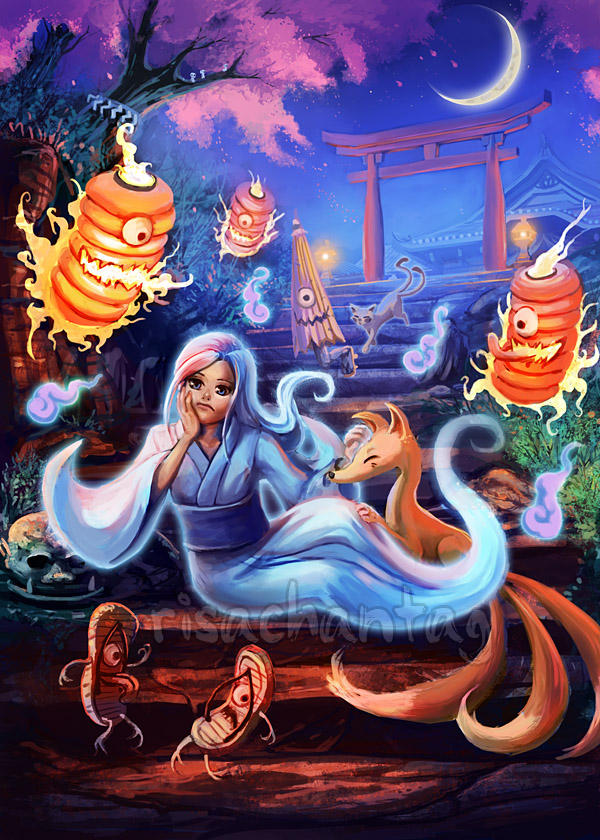 Watch
I needed a break from commissions, and luckily had another half day of free time at work for my own projects.
The inspiration for this comes from how beautiful and spooky Japanese temples can be at night. That and Japanese ghosts are neat; they've got everything ranging from truly terrifying to just plain silly. Anywhere that has sandal and umbrella spirits is doing something right!
I modeled the temple and gate as 3D modeling practice; renders of the models are here:
[link]
[link]
[link]
Info on all the obake here can be found here:
[link]
Well this is fairly adorable, lol. Something about her nose and mouth bug me though. Maybe the mouth could be a couple pixels lower? The nose though - it seems to sort of just jut out at that precise spot, rather than traveling all the way to the brow, thereby pronouncing the eye sockets and really giving the whole face some dimension.

You'll also want to consider not making the fire on the orange guys so clear and defined. The flames look more like a physical body part than actual fire. You'll want to blur the edges a little more, and maybe play with the Liquefy tool on the tips.

Otherwise, wow, amazing.
The Artist thought this was FAIR
26 out of 27 deviants thought this was fair.
The colours in this picture and how they blend are beautiful. I like how peaceful and calming it is up near the temple and the purples and blues really helps give that effect.
The ghost is very pretty and makes your eye go straight to her because she is so blue in an area that has more warm colours. But her mouth is the only thing that bothers me. I think it is too long looking on the left side, and a little too close to her nose. And the flames on the lanterns look a little too define. The ends of the flames should (I think) have faded out towards the end of the flames,and become more transparent, like the end of the ghosts tale.

But besides that I really like this piece.
The Artist thought this was FAIR
16 out of 16 deviants thought this was fair.