OFFICIAL KING OF BADGERS
My name is RinkuSonic41 and i'm a nerd that spends most of its time on internet(and that can probably explain the way I am now).
I'm also what a lot of people would consider "a fucking nostalgicfag"
I like lots of things, which some of those you can watch in the description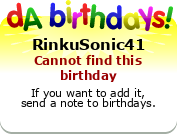 rinkusonic41.deviantart.com/?g…
I am on various sites like Roblox(SkullRinku24) and
YouTube(RinkuSonic41 - りんくそにっく 24), Facebook, Twitter, GBATemp and lots of other sites
But I mainly use my YouTube channel, DeviantART and Discord (you can find the link to my server below)
If i committed an error, please understand, i'm Italian but i try to improve my english
Thanks to appreciate my hard work and enjoy~
#Twitter
:
twitter.com/RinkuSonic41
Discord Server: discord.gg/RAb96mT
ROBLOX Profile:
www.roblox.com/users/34321037/…
OFFICIAL T3RROR---



OTHER IRL FRIENDS---



DeviantArt friends(i knew them online <3 )






Beautiful artists like I FUKKIEN LOVE YOUR STYLE








Favourite Visual Artist
Kushinov Ilya, Ken Sugimori, etc.
Favourite Movies
Stand by me - Doraemon, Back to the Future, Chibi Kero - Secret of the Kero Ball!, Sonic OVA, Pokemon - I choose you!, Dragon Ball - Legend of the Seven Balls
Favourite TV Shows
Keroro Gunso,Shingeki no Kyojin, Death Note, Evangelion,etc
Favourite Bands / Musical Artists
i liek soundtracks,so people like Koji Kondo, Junichi Masuda and John Williams(?) I also really like Elio e le Storie Tese
Favourite Books
Harry Potter and the Philosopher s'Stone (i don't read lots of books)
Favourite Writers
I don't read that much as I've said before
Favourite Games
EarthBound,UNDERTALE,Master Heroes,Pokémon(my favs are HGSS and BW),Sonic the Hedgehog etc.
Favourite Gaming Platform
DS,it has a lot of great games(like the GBA) :3 (also pc. PC has E V E R Y T H I N G)
Tools of the Trade
Rapidograph, 2B pencil for traditional, Paint Tool Sai and Wacom Intuos Small for digital
Other Interests
I like badgers and axolotls,they're so pretty :3