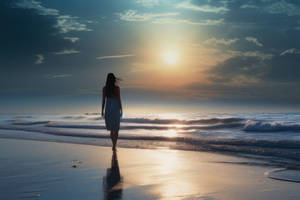 Journey to the future!
Discover a whole new world of art generated by artificial intelligence! Join this exclusive tier and get access to a variety of unique images, with stunning themes and regular updates. Plus, you'll have access to exclusive and never-before-seen content that you won't find anywhere else. Don't miss the chance to experience the unmatched quality of AI-generated content!
---

Description
EDIT: like the other images, finally got around to watermarking and putting back up. Now no one will want to steal XD I hope or borrow without asking
Done as a commission for Yuuta-chan from Gaia-online. This is the completed colour version of the lineart in my Scraps section

This is an angel and Ochibi (Yuuta's chara)
A bit on the shojou-ai side as per request.
Completed June 8th, 2004.
Done in pencil then lined in ink then coloured with markers. Touch up and fix for that sky background had to be done in Photoshop but majority of this piece is traditionally created.
Image size
700x474px 88.04 KB

aww cute n beautiful the angel reminds me of Meroko yui of when she turned into an angel