Thank you for your interest in Riker Creatures!
All creatures for sale are posted first on my
facebook page
Photos and details are made available the day of the sale, at which point the creatures will be put up on my shop page.
rikercreatures.com
Below is important general information about Riker Creature poseable dolls, along with policies on sales, shipping, returns etc. Please familiarize yourself with these terms. Once you have purchased the doll, it is assumed that you have read and agreed with the seller's terms.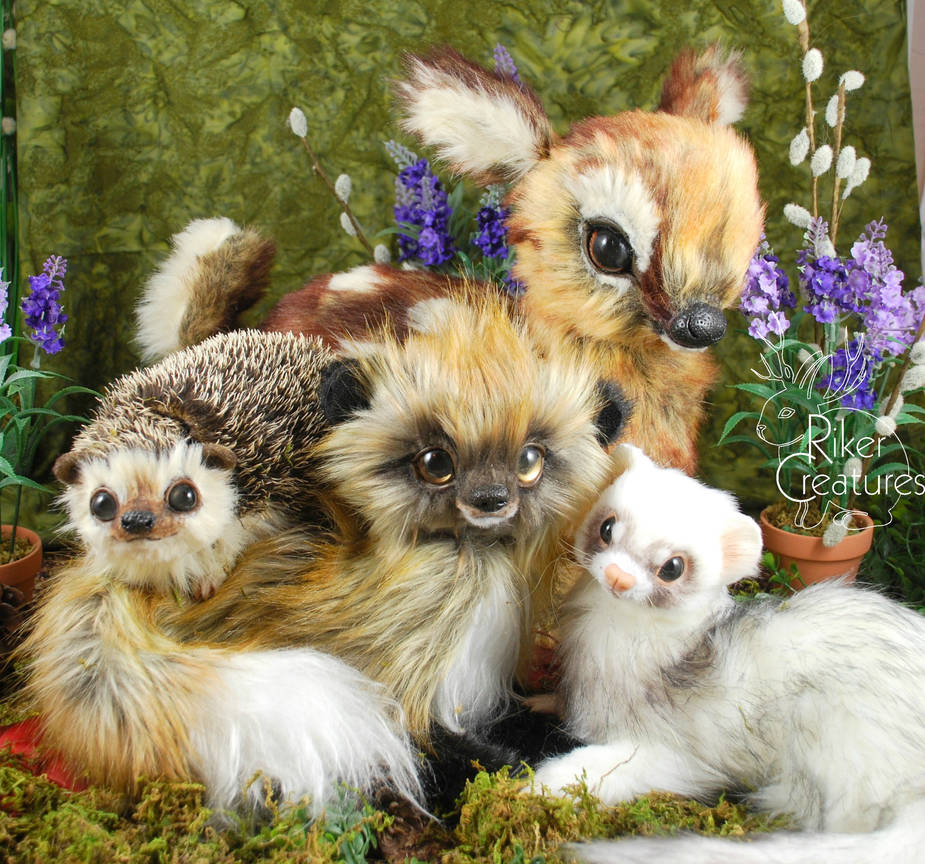 About the Dolls:
Poseable dolls are artwork, not meant as childrens' toys. Do not handle roughly or abuse the wire armeture. They are very detailed and many parts are sculpted; rough handling or dropping can result in breakage. Although they are built very sturdily and meant to be held and cuddled, bending and re-positioning them hundreds of times could cause armeture fatigue and breakage, resulting in that body part becoming loose and floppy. Do NOT under any circumstances get them wet or wash them, as dyes can run and metal armeture can rust. If they become dusty, use a hairdryer on cool or compressed air to gently clean the fur. As with any artwork, avoid leaving directly in the sun for extended periods of time as this may lead to sun bleaching.
Sales of Already-Made Originals:
Each doll is guaranteed original and completely designed and made by myself, Heidi Riker, the artist. It is uniquely sculpted without reproductions and sold as it appears in photos. Materials vary according to each doll. It comes with a signed, numbered wooden charm stating it's name/species and the date for authenticity.
Commissions:
Commissions are subject to availability of materials and time. Each commission is uniquely priced and in general, a $100 deposit at least is needed to begin. Creature will be finished and shipped within 4-8 weeks of payment unless otherwise specified. If at any time you pull out of a commission, you will be refunded half the agreed upon value of the doll. Should for any reason you pull out of the transaction, the doll remains my property and I retain all rights to ownership in the concept, design and the doll itself including the right to complete, exhibit and sell the doll. I do not accept returns on uniquely commissioned creatures.
Shipping:
Whenever possible, I ship using a tracking code and shipping insurance. Times vary greatly depending on the country. If you have any preferences for shipping, they can be worked out beforehand.
Damage During Shipping:

In the rare case your item is damaged during shipping, I will work with you as the buyer to provide photo evidence of the damage for insurance claims. The buyer must provide evidence of the damage within 10 days of notification of delivery. All shipments are insured with the posting company (in very rare cases remote delivery locations do not allow for insurance, in these cases you will be notified of such before shipment). The buyer has the option of sending the doll back to me for repairs; however the buyer must provide shipping costs both back to me for repair and return costs. In this case, any claimed insurance money will be refunded to the buyer as soon as the claim is approved by the shipping company (which can take several months).
In the case that the doll is so badly damaged that the buyer wishes to return it,
they must wait until the insurance claim is processed and approved before returning it for a refund
. This process can take several months. Once the claim is approved and the doll successfully returned, any insurance money claimed will be refunded to the buyer.
Returns:
I only accept returns on already-made Riker Creature Originals, not uniquely commissioned pieces. If a buyer is unsatisfied with their purchase for
*legitimate
reasons, they may request a return refund for an already made Riker Creature Original within 10 days of notification of delivery. If the buyer wishes to return their original doll for a refund, they will be responsible for the safe return postage. The buyer will be refunded the full price of the doll minus shipping
once the doll has been successfully and safely delivered back to me
. Any damage or loss during return shipping is the buyer's responsibility and they will not receive refunds on missing or damaged goods.
*(product damaged, product not as pictured)
Copyright:
I retain all copyright. No reproduction or manipulation of my work in any form is allowed without my permission.You may take photographs of the work but I retain copyright of the doll itself and credit must be given by linking back to me. I retain the right to display all work on my websites, whether a commission is of your personal design or not.
These policies will be made available both before and after purchase and automatically apply to any transaction, regardless if the buyer took the time to read them or not. The seller retains the right to amend this document.
If you have any direct questions for me, you can contact me:
From my shop
www.rikercreatures.com/contact…
Through my
Facebook Page