Art by the awesome axiimori
| She / Her / They / Them |
Hey there! My name's Riioleu, and I'm an artist!
My icon is made by the amazing N3rdy-B1rdy
I do digital, traditional, and some photography here and there!
I am the maker and owner of the peekabuns species! Peekabuns
I love the beach, drawing, plants, goats, tea, and taking walks
Please don't hesitate to talk to me, I don't bite!
~Do not judge people based on race, sexuality, gender, beliefs etc.
~Don't fight
~No hate comments please
~Break one of these, and you will be blocked
Thank you for visiting my page and I hope you have a great rest of your day/ night!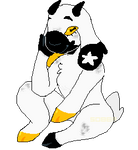 Some really nice people!
(no order)















lovely stamps by the awesome Destinywillow