Well I wanted to call this journal entry "It's almost autumn again..." so badly... but I didn't even manage to get it done until the next season was around the corner. So what am I up to at times like these?
RL is taking it's toll. I used to be used to train my coworkers but I seem to need more and more time to assemble training lessons and memorize the contents. It seems this could be related to aging. I still feel the urge to ferociously argue against such helpful suggestions, but there is a side line to that. It could be true...
Pushing that thought aside for a while. I plan to steer my three dimensional ventures into a more productive or self rewarding direction during the next few month. I need illustrations for my homegrown Sci Fi RPG badly and I hope to leave Traveller illustrations alone for a while and do some internal artwork for a change.
I have committed to get a piece done for the next official Traveller Calendar and will try to get that out of the way first. But then I will try to create a few sci fi metropolis illustrations and starships for my project. And with futurisctic cityscapes at my artistic horizon, I leave you for now with some artwort that inspired me a lot and in no particular order.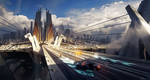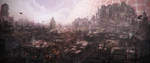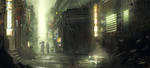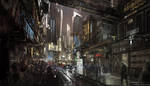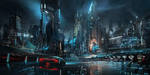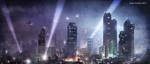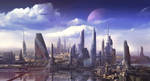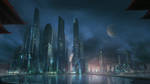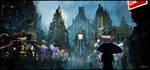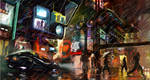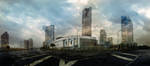 Cya