Status : CLOSED (I think i must "Answer" this question(s) first. Sorry... )

Note : Be Polite and don't "Too Far" please...
Note :
- Use your manner and i will try manner too...
- Don't be "Rude",please...
- Respect everybody's artworks because you don't know how difficult they made it.
- If you think i'm an "Amateur" You...Are...Right!
This is my "Emotions":
:thumb687010455:
The Most Amazing "Artists" ever i see:






















Bad News:
Sorry, i feel "Trauma" about "This".... Once again sorry, for this time i will close to "Respond" the request for few time..... (I am not sure when i will open the "Request" because i need to "Rest"...)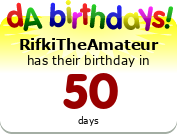 My Another Account(s) :
:

Another active account recently...
:

Another account to post my artwork
:

Some "Exclusive & Variate" artwork and reblogged, a lot of reblogged posts