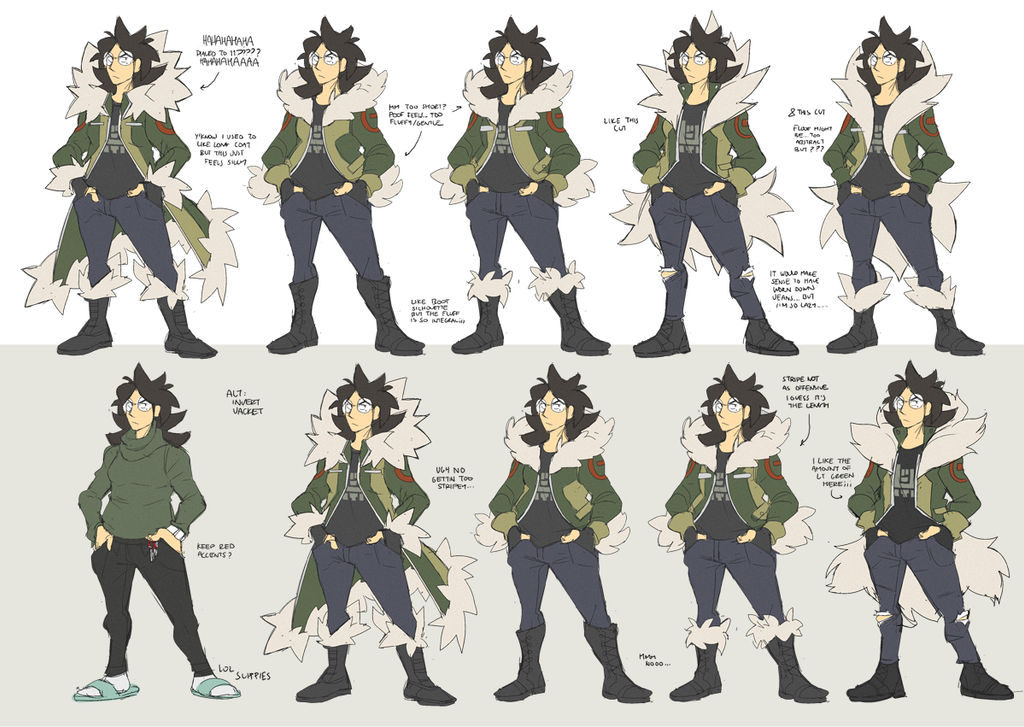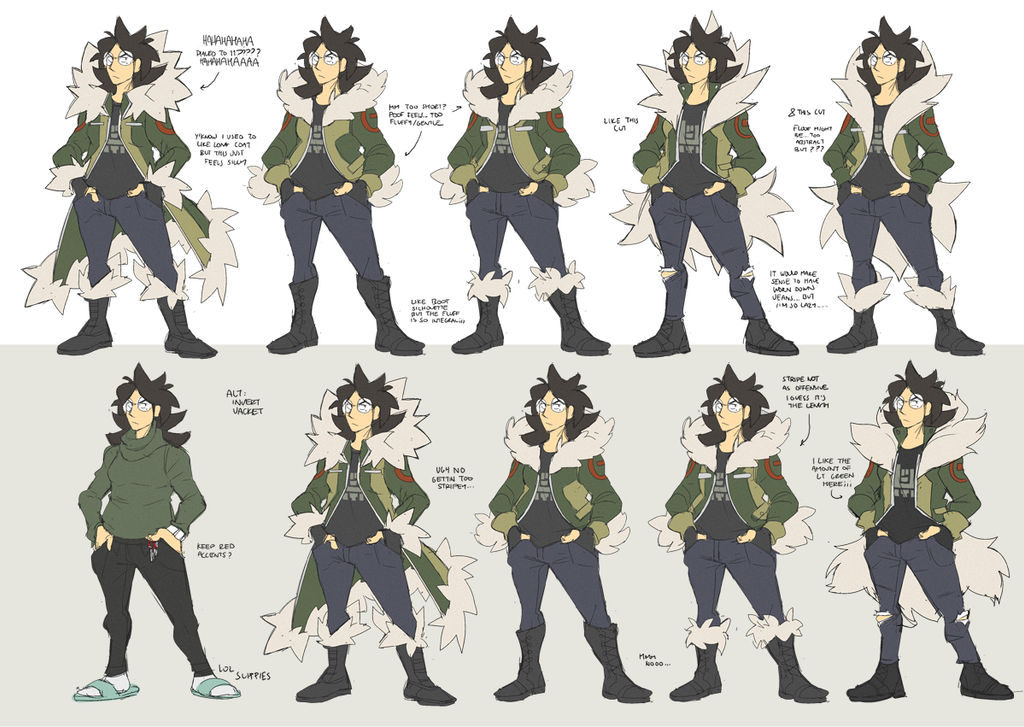 Watch
My main struggle with Katie's design has always been colour and...surprise, the cut of her jacket.

I think the most important thing for me to pin down here was the way I wanted to render her jacket fluff, which. Is. RIDICULOUS, but it's so integral to her scruffy look. The most exciting thing about this study to me is that her silhouette on white looks great until you actually color her entire silhouette in -- it's a bit of a night-and-day scenario that I'm actually really proud worked out, I'll have to find more excuses to draw her on white backgrounds haha.

Anyways i think I will give her torn jeans look, but if my writing's too small, one of the notes is that i've avoided doing that for YEARS because I'm literally too lazy for consistency hahaha,

Another big struggle goes back to her jacket fluff, it's how her hair plays with it. It's just. Bad times all around haha. I'm still actually not super sold on any of these renderings of the fluff on hair, and I'm a little vexed I'll probably keep struggling with it until I die.

I am very excited with how her colour palette turned out though, because it's taken me forever to find the right shade of green to go with the blue of her jeans and the brown of her hair. I actually regret the color I chose for her hair when I first designed her, but it's working out these days HAHA.

I personally love the top fourth one! A very nice balance of scruffiness while also being cool, but not too cool! It's also got a really great silhouette to it OvO
Reply

Thanks! I think it might be my favourite too, just gotta make the shapes a little less sharp, but definitely keep the overall sizing. It also just looks super ridiculously fierce haha, I'll have a lot of fun drawing it.
Reply

I personally like the very last one on the bottom right with the midlength super fluffy coat and torn up jeans.
Reply

Thanks for your thoughts

I felt pretty similarly, I like that variant too! Though I definitely need to keep exploring how I render the coat fluff. It's not supposed to be realistic but I also don't want to be lazy with the design, so there's this really specific shape I want to get even if it means exaggerating. That's been a huge challenge haha
Reply

Imho, third one with in the first row is the best.
Fluff is actually important - fluffiness and thickness of it indicates which season and what climate it should be worn in.
Reply

I like the third one a lot too just because it's the most functional/realistic, but the struggle is breaking out of that realistic look for the sake of design - which honestly is a pain point for me cos I'd rather design with functionality in mind than a cool design LOL but it's something I definitely wanted to push.

I do want to go back and keep iterating when I have the chance. Keeping it functional to the climate is something I'm keeping in mind, though the character herself is definitely someone who goes overkill with everything -- including trying to stave off the cold HAHA. So, thank you for your thoughts.
Reply

Always welcome)
I live in cold climate so people who originally got for cool look first make me scream internally. XD
Reply